Colton Stone had just one request before sitting down to a 16-inch sandwich — weighing more than four pounds and stuffed with nine kinds of meat and six varieties of cheese — Wednesday afternoon in downtown Lincoln.
"I just don't like the texture," he said.
Makes sense in the same way you don't put egg shells in the garbage disposal. It messes with the plumbing. If that's too much information, we apologize. We'll press forward.
Dan Patrick, owner of Danny's Downtown Deli, 941 O St., quickly agreed to the no-tomato stipulation. He knew. Of course, he did. He knew a garnish as trivial as a couple of slices of tomato would matter little in this story. 
Over the years, he's watched 37 people attempt to eat the Tornado Challenge, in the allotted one hour. It's been done just once.
It happened in 2010 when a behemoth named Ryan Dunn strolled into Danny's and slayed the giant by making short work of the sandwich with 15 minutes to spare. Rumor has it he even ordered a brownie for the ride home.
Eight years later, Dunn still has a mythical presence at Danny's. His name comes up in remember-when fashion anytime someone asks about the Tornado Challenge poster that adorns the wall behind the counter. His picture still sits above one of the deli's doorways. 
Stone, a 21-year-old senior at the University of Nebraska-Lincoln who works part time as a clerk in the Journal Star's sports department, had planned on his picture finding an honored spot next to Dunn's.
And we had little reason to doubt him.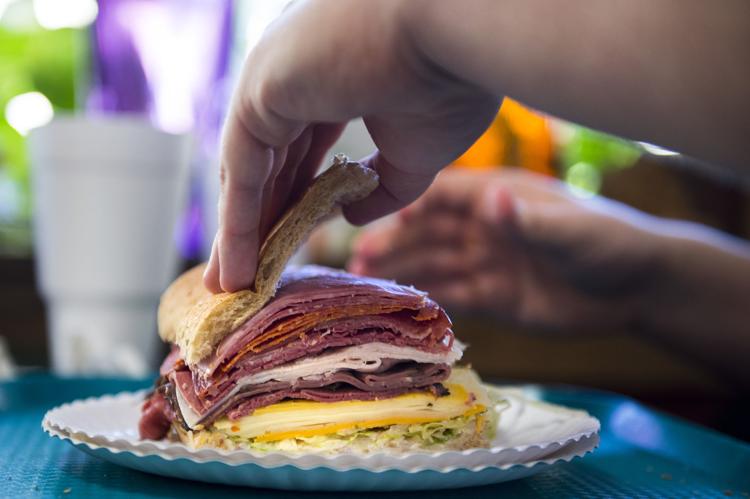 You see, sports clerks often while away the time between phone calls from coaches calling in their scores by talking among themselves. The stories of Stone's appetite are legendary. He told the tale of nearly eating a 3 1/2-pound bacon cheeseburger and the accompanying pound of waffle fries at an Arizona eatery. His journey to Big Ten Football Media Days in Chicago was made complete by witnesses telling of him nearly eating an entire deep-dish pizza.
That boy can eat, no question.
It got us to thinking, why not test him against some of the most notable eating challenges Lincoln has to offer. 
He was game — especially since it is on our dime.
And he took the challenge seriously. He prepared for his huge lunch Wednesday by eating a cup of yogurt and 10 ounces of black coffee for breakfast, then heading to a gym for his morning workout and a sauna. 
The preparation appeared to pay off. It took Stone all of six minutes to eat the first of the sandwich's four sections.
"My favorite meats are pastrami and corned beef and I'm really enjoying that part of the sandwich," he said. "But the salami is overpowering. The salami and the pepperoni kind of jump out at you. Still, it tastes pretty good."
All the while, though, he knew the cheese would be his biggest challenge. Six kinds of cheese created an inch-thick layer over the length of the sandwich. He could open the sandwich and eat the meats separately, which he did, but there was no getting away from the wrath of the cheese.
"There are enough different things on this sandwich to balance out the flavors," he said. "I'm not eating the same thing, tasting the same thing, over and over again."
He was halfway through the sandwich in about 21 minutes, but the third quarter proved to be his undoing. His pace slowed and it starting to become apparent that Ryan Dunn's lore would not be challenged on this day.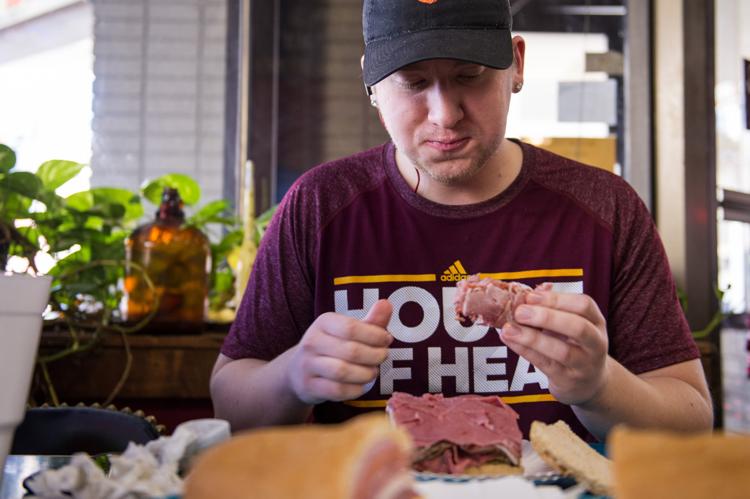 "I'm feeling very full right now," Stone said, with about four bites remaining of the third section. "It's starting to set in. Looking over and seeing one quarter still left to eat ... it's a little daunting."
Shortly after, Patrick appeared with a white towel. A sign of surrender, which he handed over. The game couldn't end until the clock ran out or Stone cried "Uncle." Throwing in the towel was required.
The silver lining to this story is that Stone knows he'll be hungry again. He wrapped up the uneaten sandwich portion and took it home. He might not have a taste for it today or tomorrow, but he'll finish that sandwich.
Top sandwich shops in Lincoln