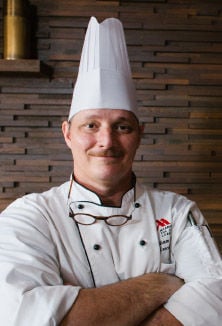 The secret is in the brine.
That'll be one of the tips William "Bill" Wilkinson, executive chef at the Cornhusker Marriott, will share for cooking the perfect turkey during his demonstration at the Lincoln Holiday Cooking Showcase.
"Brining is really essential," he said. "We even do it with our 6-ounce chicken breasts. It helps lock in the moisture."
Presented by the Lincoln Journal Star and Woodhouse Alfa Romeo, the showcase runs from 4 to 9 p.m. Dec. 1 at the Cornhusker, 333 S. 13th St. It will feature Lincoln culinary experts and mixologists showing patrons how to create a holiday meal to remember.
General admission tickets are $12 (plus fees) and are now available at eventbrite.com. The showcase features a three-segment cooking class, recipe guidelines and instructions handout and a goodie bag. VIP tickets are $25 (plus fees) and include chef-prepared samples, wine pairings and assigned table seating.
Wilkinson, who came to the Cornhusker after four years  at the Divots Conference in Norfolk, also will offer tips for cooking hams and roasts as well as wine pairings during his presentation, which will include a Q&A.
"With me being me, if I don't know the answer to a question, I'll make up something so convincing, you'll believe me anyway," he joked.
The event will begin with a cocktail hour followed by a meet-and-greet with the chefs. Then Keenan Cain, executive chef at Legacy Estates, and Robert Darrah, director of dining services at Legacy retirement locations, will present a session on appetizers and holiday cocktail pairings.
Next up is Wilkinson, followed by one of culinary teachers from Southeast Community College, who will lead a session on desserts and offer up a few more cocktail concoctions.
What's up with Wendy's?
The Daily Nebraskan, the University of Nebraska-Lincoln student newspaper, reported Wendy's at 1336 Q St. will be closed for up to seven weeks while it undergoes renovations to its interior and exterior. The update will include new seats, counters and order menu stations.
Thanksgiving openings
Don't want to cook on Thanksgiving Day? MetroDiningDelivery.com has compiled its annual list of restaurants that will be open on Nov. 23 in Lincoln. The delivery service also creates a list for Christmas, which it will post later as the date draws near.