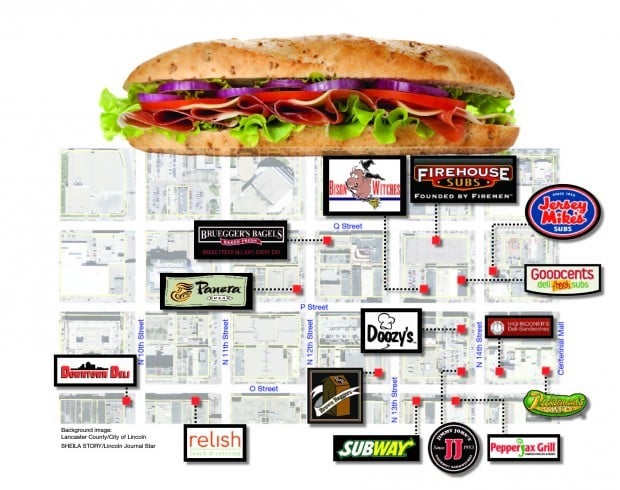 Tyler Thomas works downtown and, as a foodie, enjoys eating out for lunch.
He's found, as many downtown workers and university students have, that his options are many, especially for sandwiches.
"We have a ton (of sandwich shops)," said Thomas, who blogs about food at www.nebraskafoodie.com. "I was going through it last night and came up with 12 just off the top of my head."
The Journal Star pinpointed 15 places within a 3-by-5-block area in downtown Lincoln. That's not counting the bars -- The Watering Hole, 12th Street Pub, Main Street Cafe, etc. -- which also have sandwiches on their menus.
The 15 are places that specialize in sandwiches, including four -- Goodcents, Firehouse Subs, Jersey Mike's Subs and Pepperjax Grill -- that have opened within the last three months.
Homer Simpson would be in heaven in downtown Lincoln.
"I get excited when I see a new place opening, but then I find out it's going to be another sandwich spot," Thomas said. "That's all right, but I like variety."
Having something different helps explain why Raising Cane's downtown store is off to such a tremendous start since opening last fall. It's not competing with 14 other places to sell chicken strips.
"It's kind of amazing," Downtown Lincoln Association President Terry Uland said of the sandwich situation. "It seems like a lot to us, but it's a dynamic environment. Some come, and some go."
Sandwich chains Planet Sub, Quizno's and Erbert & Gerbert's came and went.
But lately, downtown has seen more sandwich shops coming than going, with Uland noting that the Lincoln Journal Star reported on the abundance of sandwich shops two years ago.
"It seemed like something was going to give, but since then there has been more," Uland said. "It's hard to predict."
Diane Kann gave up her crystal ball a long time ago.
She owns and operates Highnooners on O Street, believed to be downtown's oldest sandwich shop. Highnooners opened in 1987, with Kann taking it over in 1989 when her business was surrounded by empty storefronts.
That's not the case anymore.
When asked if she thought downtown was oversaturated with sandwich shops, you can guess her answer.
"What do you think?" she said with a laugh. "I just love it. I love all the competition."
On a more serious note, she said, "It's just what happens."
"I can't really do anything about it," Kann said. "I'm not thrilled. I used to get upset, sad and freaked out."
Uland said he believes new sandwich shops are opening downtown to capitalize on foot traffic. Nearly 30,000 people work downtown and more than 20,000 students attend the university.
Ross Olsbo, co-owner of Lincoln's first Jersey Mike's Subs franchise, said he and his partners planned to open three or four stores in Lincoln. Downtown, one of their targeted areas, was the first with a spot that opened that they liked.
"It's a scary thought," Olsbo said when told 14 other shops were within walking distance of his store on 14th Street between P and Q streets.
He said he and his partners knew Firehouse Subs was opening around the corner, but Goodcents setting up shop across the street came as a complete surprise. Both places specialize in cold subs.
"What we try to do," he said, "is to operate within our four walls. We try to give guests a great experience. It's what we can control. We're not trying to push anybody else out or take over."
He also said construction of the arena had nothing to do with their downtown arrival, though he said many customers have asked.
"Our master plan was to have three, maybe four, stores in Lincoln," he said. "One of them was going to be downtown."
University of Nebraska-Lincoln's Theresa Welbourne and Nebraska Wesleyan University's Loy Watley said identifying a market is one of the factors in opening a new business.
Another is the product, the business professors said. Is what you're offering different from anybody else? If not, are you providing services (delivery, late-night hours, catering, etc.) that others are not? Kann, for instance, introduced a breakfast menu last week, opening her doors at 7 instead of 9 a.m.
"We thought about staying open later when everybody else is open," she said. "But why not open when nobody else is open? We'll try it to see if we get more people in the door. It might work. It might not."
Welbourne, director of UNL's Center of Entrepreneurship, said she's seen what's happening in downtown Lincoln occur in three other college towns where she lived: Ann Arbor, Mich., Ithaca, N.Y,. and Boulder, Colo.
"Seventy percent of them will survive," she said of the sandwich shops, "and the others will see turnover in their location."
Watching from afar, Watley sees the "dynamics," which Uland from the DLA referenced, playing out downtown.
"It seems to me there are a lot of places, but time will tell," Watley said. "If there are too many, the weak will be weeded out."
Oftentimes, he said, it's the small, locally owned operations to go first. They don't have resources or the deep pockets of the chains.
"With the mom-and-pops, when a new business competes directly with them, there's sure to be interest in the new one, and they may not be able to withstand that in the short term," he said. "It can be a shock to the business."
Danny Patrick is feeling the shock.
He's operated Danny's Downtown Deli since 2001, first at Eighth and S streets, and since 2004 at the 10th and O streets.
The sandwich surge is his latest obstacle to overcome. He said he lost business last year when the city shut down O Street between Ninth and 10th streets for several months to tear down a neighboring building destroyed by a fire. Then he lost 20 spots of parking behind the Terminal Building to street renovation. Now, he's dealing with an increase in competition.
He called the situation a "perfect storm," and when asked Thursday afternoon if he had time to talk, he was blunt.
"Sure," he said. "I haven't been busy for seven weeks." Kann, too, noted a drop in business at Highnooners since the four new shops opened.
Danny's Patrick said the downtown market "definitely is flooded" with sandwich shops. So much so, he recently looked into moving his operation to a site with parking, but decided to stay because he felt it would be too expensive to move. Plus, he's built a good relationship with his landlord.
"I don't want to be downtown anymore with the flood of sandwich shops," he said. "But the rate per square footage for something outside of downtown will go up dramatically."
Patrick just hopes he can hang in there.
"It's made it tough for us little guys," he said.
Foodie Thomas has sampled several of the downtown sandwich shops for his blog. He finds he often returns to BisonWitches or Doozy's. He likes their atmosphere and sandwich variety, saying "they are always good and spot on."
"I think (the sandwich shop number) is a little excessive," he said. "Downtown has a lot of pizza, subs and tacos. If you like those three things, then there are multiple locations for them."
The question is: Are more coming? And when is enough enough? Stay tuned.