Established on the nation's coasts, co-roasting could be considered a subculture of the coffee industry. And it has found its way to Lincoln.
Co-roasting spaces allow people to rent time or take classes to learn how to roast their own coffee using a professional roaster. 
Jon Ferguson — who is something of local coffee guru — has brought the concept to Lincoln with a shared roasting space inside Chez Sodo, the lunch cafe at 440 S. 11th St.
"I think there is potential here, there is interest in coffee," Ferguson said. "It is about time that it happens in Lincoln."
Sean Carmichael, owner of Chez Sodo, said those who come to co-roasting events will benefit from Ferguson's long history in the coffee industry.
"What they're going to learn is the encyclopedic knowledge of coffee that Jon has," Carmichael said. "The main thing they'll gain is an appreciation for something in their everyday life. I'd liken it to a steak or a hollandaise sauce. It is something you can buy powdered, but until you really make it yourself you don't really have that appreciation for what goes into it and what you actually enjoy."
Ferguson said learning about roasting coffee is like learning a craft.
"I could type up a paper about what roasting coffee can teach you," Ferguson said. "You learn life lessons. You learn the same way as you would learn any other craft. To actually get into this room and getting hands on experience, it's raw."
Roasting coffee also teaches important cooking skills, like convection, conduction, airflow and heat transfer, Ferguson said.
Ferguson said for someone to go from cheap coffee to fresh, personally roasted coffee will raise the bar of what can be expected from coffee.
"The more you can make it yourself and own, it will blow your mind," Ferguson said. "I want to raise the bar of expectations for myself, and help others also be inspired to do that for themselves."
Carmichael said the experience would be similar to going from eating a fast-food burger every day to an expensive cut of steak.
"All of a sudden, your world gets color," Carmichael said.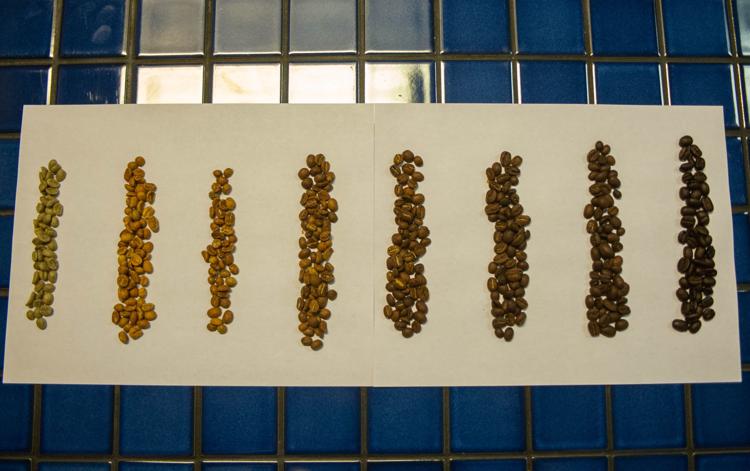 Classes will be similar to the classes Ferguson has hosted at Southeast Community College.
"I've done classes covering coffee from seed to cup, explaining the journey from the farm to your table," Ferguson said. "We talk about agronomy, the economics, the exportation of it, and carbon footprint of coffee. I also talk about how do you brew coffee, what temperatures, time, what's the coffee-to-water ratio? Then there is a barista class."
With access to the roaster, Ferguson can now include roasting classes with other class options.
"The new adventure here at Chez Sodo is the roaster, and I've never been able to have access to teaching classes about roasting," Ferguson said. "There's also a big cupping table in there, which is the tasting table, where I can put about 40 different samples up there and cup all the coffees."
While his original plan was to open on National Coffee Day, Sept. 29, it's important to have baristas that are highly trained and will be able to serve in a way that will do justice to the coffee.
"It's going to be a work in progress, but the roasting can start right away," Ferguson said. "I'll start scheduling classes to see what the community interest is. If we have three people wanting to do it, I'll tell them, 'Lets get started,' and we will go through the requirements."
People already familiar with the coffee roasting process can sign up to use the shared roasting space with or without Ferguson's guidance. The space is available by reservation only 5:30-10 p.m. Mondays-Fridays, 8 a.m.-10 p.m. Saturdays and 2-10 p.m. Sundays.
Chez Sodo and the shared roasting space also plan to host an omelette "throwdown" — with blind judging and an "omelette trophy" for the winner — on Nov. 11. Ferguson said anyone can sign up to compete, and people will be able to pay $15 at the door to taste the omelettes and enjoy espresso and coffee drinks.
"Beer culture was able to explode in Lincoln. It's time for coffee to do the same," Ferguson said. "I know it can."
6 steps from unroasted bean to delicious beverage