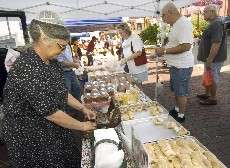 Note: Every other Wednesday throughout the summer, Savor offers a taste of something awaiting you at a local farmers market. The Haymarket market is every Saturday 8 to noon; the Old Cheney Road market is Sunday 10 a.m. to 2 p.m.
 Loretta Burkey has woken up at 4 a.m. on Fridays during the summer for the past 18 years.
Sure, she's a morning person, she said, but that's not the reason she does it.
No, she's got stuff to do on Friday.
Stuff like baking over a hundred loaves of bread, dozens of angel food cakes and pans of dinner rolls to bring the Haymarket Farmers Market the next day.
Burkey, her husband and their daughter and daughters-in-law have been bringing their baked goods to the market since 1990, making them a sort of mainstay of familiar faces at the Haymarket Farmers Market.
But Burkey, 56, said she wasn't so keen on the idea of going to the market every Saturday when she first started out.
"I wasn't sure I wanted to do that —– Saturday morning is a time to do other stuff," she said. "But it worked out fine."
Apparently so. She's been coming back every weekend since the first time her husband, David, convinced her to bring along a few baked goods to supplement their surplus of corn. The corn is gone now, but the baked goods stayed.
It's not surprising considering  Burkey grew up on baking. She said her father built her mother a bakery at her home in Maryland. There, Burkey would help her mother bake every Tuesday and Thursday.
The tradition carried over to Burkey's adult life, and now she and her daughters bake together.
The women split the duties, with Burkey's daughters-in-law, Amy and Beth, with her daughter, Rachel, helping out.
The Burkeys' extensive list of baked goods includes French and sourdough bread loafs, $3; dinner rolls, $3; loaf of wheat bread, $4; angel food cake, $8; individual cinnamon rolls, $2; Ezekial bread, $2.50; apple bars, $1; cookies, $3.50; zucchini and pumpkin bread, $2.50; and egg noodles, $3.
They get the ingredients for most of their products from the store and bake their bread with whole grain that they grind themselves.
Burkey said the most popular items are the angel food cake and cinnamon rolls, but she said the dinner rolls are good sellers, as well.
Come September, Burkey will bring her apple tart to the market. The fall favorite is made with a baking powder crust and apples from the farmers market.
"I get customers asking in the summer, 'when are you going to bring those?'" she said.
Burkey said she's built quite a loyal following over the past 18 years, with many customers coming back every week to get their favorite items.
The Burkeys arecertified to sell only at the market, but she said that while she has considered selling elsewhere, she's usually ready to turn off the oven come mid-October.
"It's a nice break to be done," Burkey said. "We're all ready to quit come the middle of October, but for customers who want things for Thanksgiving and Christmas, I meet them in Lincoln."