Rusty Taco can look across the street to know that a restaurant can succeed specializing in one menu item.
That's where the wildly successful Raising Cane's is found. Rusty Taco, which opened Sept. 11 at 210 N. 14th St. in downtown Lincoln, hopes it can be to tacos what Cane's is to chicken fingers.
There's no reason to believe it can't.
Owners Bob Harris and Steve Stender are putting out a tasty, affordable product. The most expensive menu item — guacamole and corn chips — is just $3.50. The tacos range from $2.25 to $3.
Rusty Taco gets its name from founder Rusty Fenton, who along with his wife, Denise, and partner Steve Dunn, opened the first Rusty Taco in 2010 in a converted gas station in Dallas, Texas.
The restaurant specializes in street-style tacos featuring a variety of meats (brisket, roasted pork, skirt steak, fried chicken, shrimp, grilled or fried fish, etc.) with fresh vegetables and cheeses on corn or flour tortillas.
These, of course, are several steps above the kind of tacos you'll find at fast-food Mexican restaurants. Rusty Taco also serves alcohol, with $5 margaritas as a specialty.
Food
Harris told me I did what most diners do — order a variety of tacos. I selected roasted pork ($2.75), fish ($3) and fried chicken ($2.75). I also ordered chips and guacamole ($3.50) as side/starter.
Of the tacos, the fried chicken was my favorite — primarily for the jalapeño ranch that accompanied it along with slaw and cilantro. I enjoyed the other two as well. The fish taco featured a chipotle crema, red cabbage and a ton of cilantro, while roasted pork included cotija cheese and pickled red onions.
The menu features 13 handmade tacos and eight breakfast tacos, which are available all day. The sides include corn chips served with salsa, pico de gallo, guacamole or queso. Rusty Taco makes its own sauces: a mild tomatillo, red salsa and an extremely hot habañero (you've been warned). Grade: B+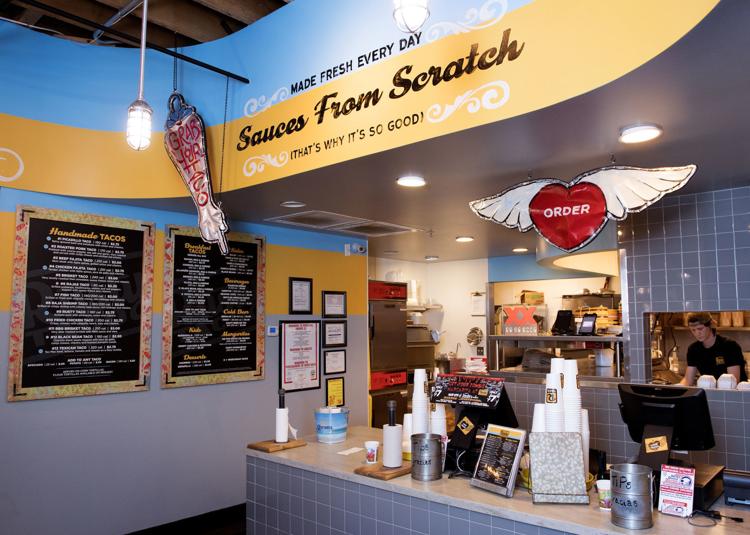 Atmosphere
The layout is the same as Wahoo's Fish Tacos, which previously occupied the space, but Harris and Stender gave the site a major facelift with new paint and decor. Stender, Harris said, spent a bunch of time working on the bar and shelving in the back dining room. Seating is a mix of tall and regular-sized tables. With concrete floors, other hard surfaces and large windows looking out onto P Street, the place can be loud when it's crowded. Grade: B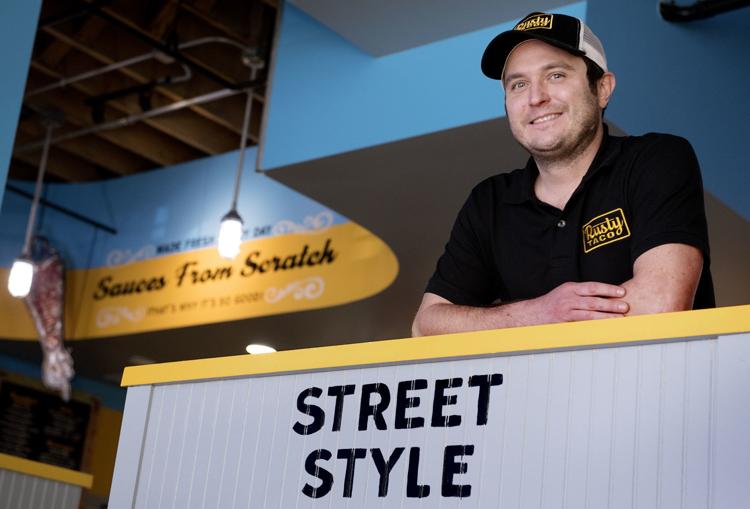 Service
Rusty Taco operates as fast-casual, meaning there is no table service. Patrons order at the counter, grab a seat and wait for food to be delivered or have their name called over the sound system.
No table service means getting your own drinks. The soda machine, condiments and plastic utensils are located near the order counter. There also are no napkins at the tables. Instead, tear-away paper towels are strategically placed throughout the restaurant. The beer cooler is behind the order counter, but margaritas and other drinks are made at a nearby bar, so that requires some movement on your part, too.
On my visit, Harris worked the counter, which was refreshing to see. You don't always see a franchise owner getting involved in day-to-day operation of a restaurant. Harris handed me my chips and guacamole before I left the counter. My three tacos arrived about 10 minutes later. Grade: B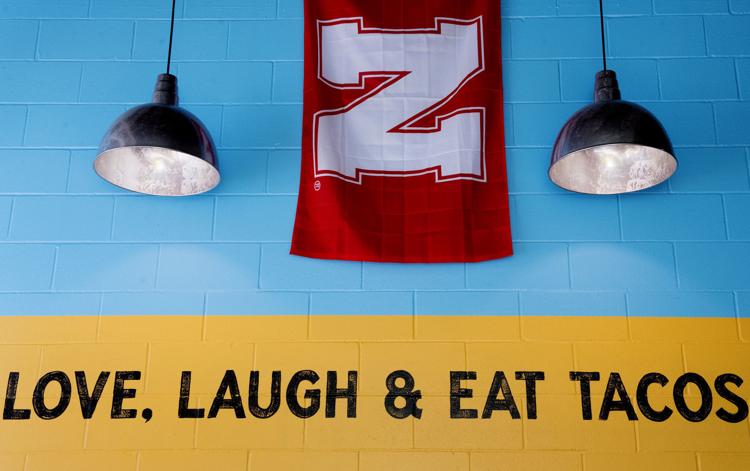 Specialty diets
Harris said Rusty Taco's vegetarian tacos have been selling well. There are five of them listed on the menu, including rajas (grilled poblanos and mushrooms, $2.25) and black bean ($2.50). Gluten-free diners can opt for corn tortillas in place of flour. The restaurant also lists calorie counts for each taco on its menu. Grade: B
Essential Lincoln spots for Taco Tuesday