This isn't your grandmother's meatloaf.
Instead, the entree served at the new Local Beer, Patio and Kitchen as an open-faced sandwich has some zing to it. I was expecting something, well, fairly bland, but filling, which is how most meatloaf dishes have been served to me.
Local's meatloaf was well-seasoned, even peppery. The hamburger was served atop a sliced baguette with roasted-garlic mashed potatoes and mushroom gravy featuring stout beer. The topper, literally, was a fried egg.
It was heavy, filling and delicious.
The open-faced meatloaf sandwich ($12) is one of the gastropub offerings at the new bar and grill.
Local has been open since January. It's part of a trio of businesses — totaling more than 12,000 square feet — operated by the Yin family at 5730 Hidcote Drive (56th and Pine Lake), which also includes the sushi restaurant Hiro 88 and 5168 Brewing. Hiro 88 also operates in the Railyard.
"We thought it would make a great spot," Charlie Yin told the Journal Star about 10 days after opening the three businesses. "It's a little underserved — like, when you look around, what's open past 8 or 9 o' clock on a standard night? There's not a lot here. So we thought it would be great to house both of our concepts."
Local is a gathering place, featuring weekday happy hours (3-6 p.m. Monday-Friday) and a trivia night (7 p.m. Tuesdays). In addition to 5168 beers, the restaurant features craft brews from other local brewers. The selection is immense, ranging from lagers to stouts to porters and more.
Food
Local is a gastropub — the first in Lincoln since Brix & Stone closed a couple of years ago. What's a gastropub? It's no different really than a bar and grill, except the food is what I call "more heavy" — with lots of fried stuff and starches.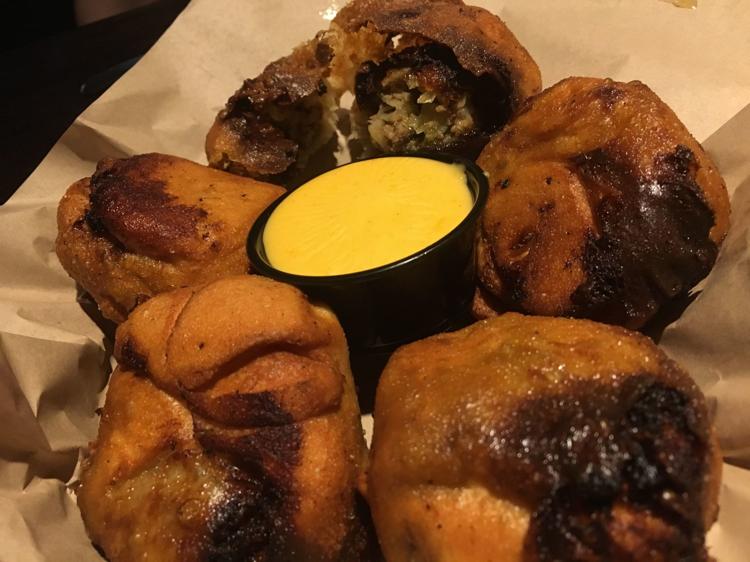 Take, for instance, our appetizer. We ordered the bierocks ($7.50 for 5), which are similar to a Runza. The bierock is seasoned ground beef, cabbage and American cheese in a pastry. Instead of baked, these were fried and served with either beer cheese or Ranch dressing as a dipping sauce. So heavy and filling, we could have stopped there and been done eating.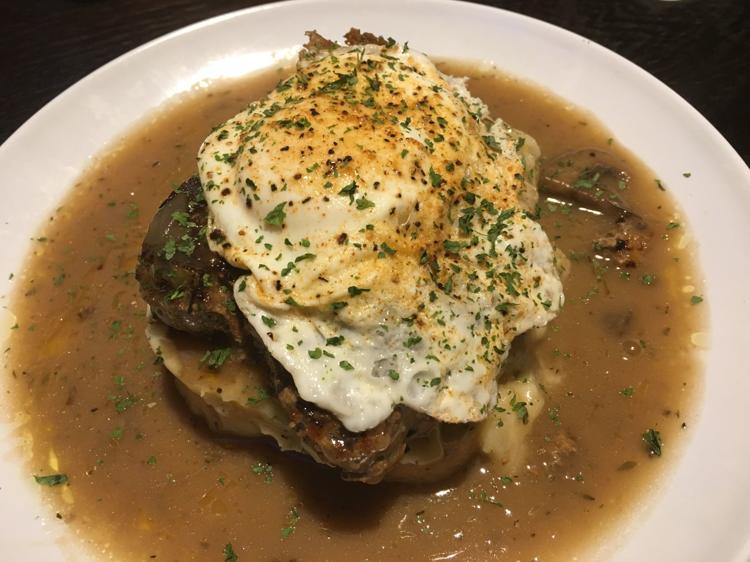 We soldiered on. I had the meatloaf sandwich and my wife enjoyed the salmon BLT ($12), a twist on the common menu item with grilled salmon and an avocado spread. The sandwiches are among 15 available. They come served with tots (Did I mention starch?) or you can substitute a salad, waffle fries, onion rings or, surprisingly, fries for $1 to $2 more.
The menu also includes "plates," featuring flatbread pizza, fish and tots, mac and cheese and a build-your-own hot dog and salads.
Like Lazlos, Local offers beer suggestions to pair with the foods — kudos for that.
The beer, by the way, is as much of a draw as the food. We ordered a five-pour sampler, featuring 4-ounce beers. Two of those — a lager and a German pils — were from 5168. We liked both of them.
Against our best judgment, we finished with a peanut-butter pie for dessert ($7). Quite tasty, but we didn't need it. We needed a nap after eating the heavy fare and imbibing. Grade: B+
Atmosphere
Local has a sports bar feel, with TVs tuned to various games around the perimeter of the dining room and bar. The color scheme is dark, with black used as the dominant color. The entrance opens into the bar. The dining area is at the back.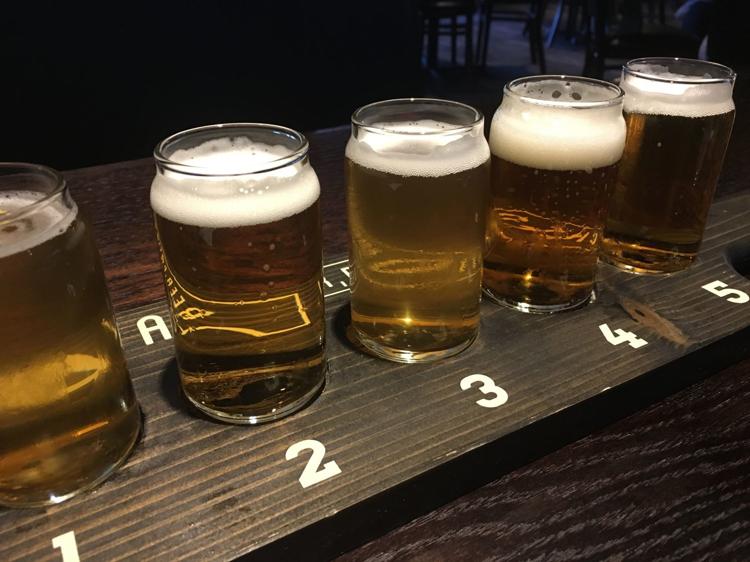 Noise is an issue with many diners, and Local addressed it during its build. The dining area features low-hanging ceiling tiles and carpet to absorb noise, while the bar area is more open with high a ceiling.
Local has one of the most appealing outdoor dining spaces in town, with the patio overlooking nearby Campbell's nurseries. The view is gorgeous. Grade: A
Service
On our visit, there was no check-in table. We just grabbed a seat, which is the way most sports bars operate.
Our server, Tatum, was superb. She checked on us multiple times and was quick with recommendations. She guided me to the meatloaf sandwich.
The turnaround time was speedy. We had our bierocks with 5 minutes of ordering, and our entrees arrived 5 to 10 minutes after that.
Parking can be an issue. We went late on a weeknight and found a spot by the restaurant, but when it's busy you can expect slots to be at a premium. The lot is small and difficult to navigate. Grade: B+
Specialty diets
Menus given to us at the restaurant didn't notate vegetarian and gluten-free options, but they are so noted online (localbeer.co/south-lincoln). Local does a very good job in catering to vegetarians, including a crispy mushroom sandwich ($11.50), grilled cheese ($6.50), flatbread pizza (served on naan, $8) and Greek salad ($7 or $8.50). The only item specifically marked gluten-free was the waffle fry nachos ($7). Grade: B+
Top 5 sports bars in Lincoln
Jeff Korbelik is tasting room manager at James Arthur Vineyards in Raymond. He's been writing restaurant reviews for the Journal Star since 1998.
Stay up-to-date on what's happening
Receive the latest in local entertainment news in your inbox weekly!