MALCOLM — Thanks to some divine intervention, the braised beef short ribs are on the menu at the Genoa Food Co. in Malcolm.
The meaty entree, juicy and delicately seasoned, is one of owner and chef Aaron King's signature dishes, but King hadn't planned to make it a part of the pub-style fare at the new restaurant because he knew he wouldn't be around all the time to prepare it.
"But my wife and my priest told me I had to have the short ribs on the menu," King said Monday from a catering gig at Lincoln's Memorial Stadium.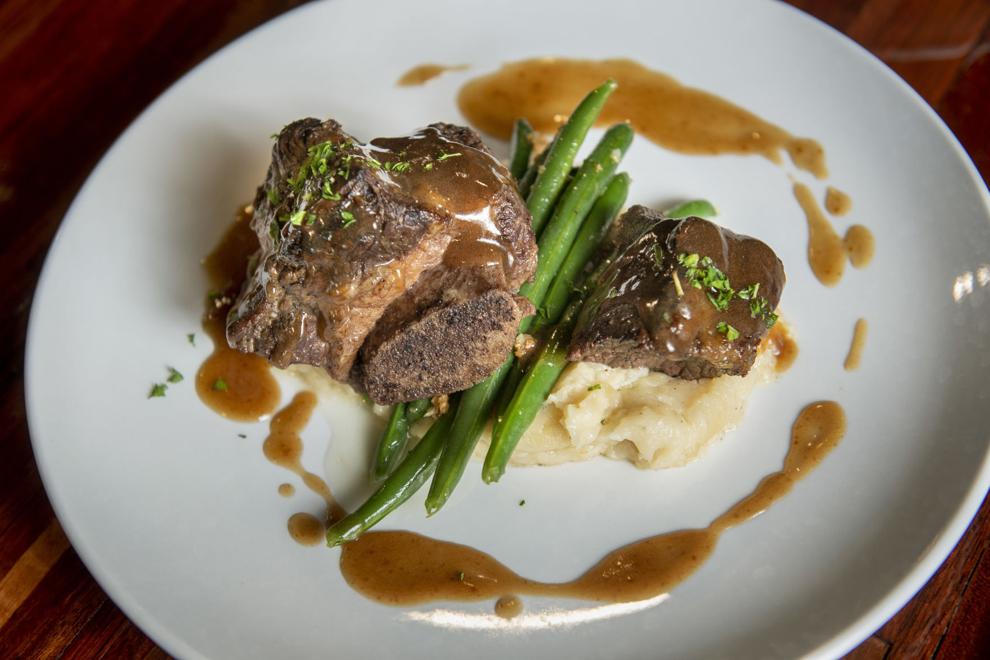 A priest? Yes, you read that correctly. King said his short ribs have been a part of catered menus at his church, where his priest fell in love with them.
"Fortunately, I've trained a couple of people who can make them," King said.
That's a huge plus for Genoa Food diners. Seeing them as the "chef's specialty" on the menu, I ordered the short ribs as my entree. At $26.49, I thought they may be a little pricey for a small-town restaurant. But they were well worth the price.
King serves the ribs atop a mound of garlic mashed potatoes, with sautéed green beans as a side. The ribs are melt-in-your-mouth tender and quite flavorful from the touch of seasoning that doesn't overwhelm the beef taste.
King and his wife, Melissa, opened Genoa Food in May 2021 in downtown Malcolm, where Lippy's Barbecue used to be, and, before that, the Branched Oak Inn. King is the former operations manager at the Lincoln Marriott Cornhusker, who had a dream of owning and operating his own restaurant.
Genoa Food also includes a market, which King said is still a work in progress. The market features a meat counter, grab-and-go entrees and homemade desserts. Genoa Food also, eventually, will boast an upper-floor events room with a 200-person capacity.
Food
The restaurant serves a pub-style menu, with appetizers, two-patty gourmet burgers, sandwiches, steaks and artisan pizzas. There's also four entrees: grilled chicken with truffled macaroni and cheese, pork loin, the famed short ribs and salmon. The only thing missing is fish and chips (hint, hint!).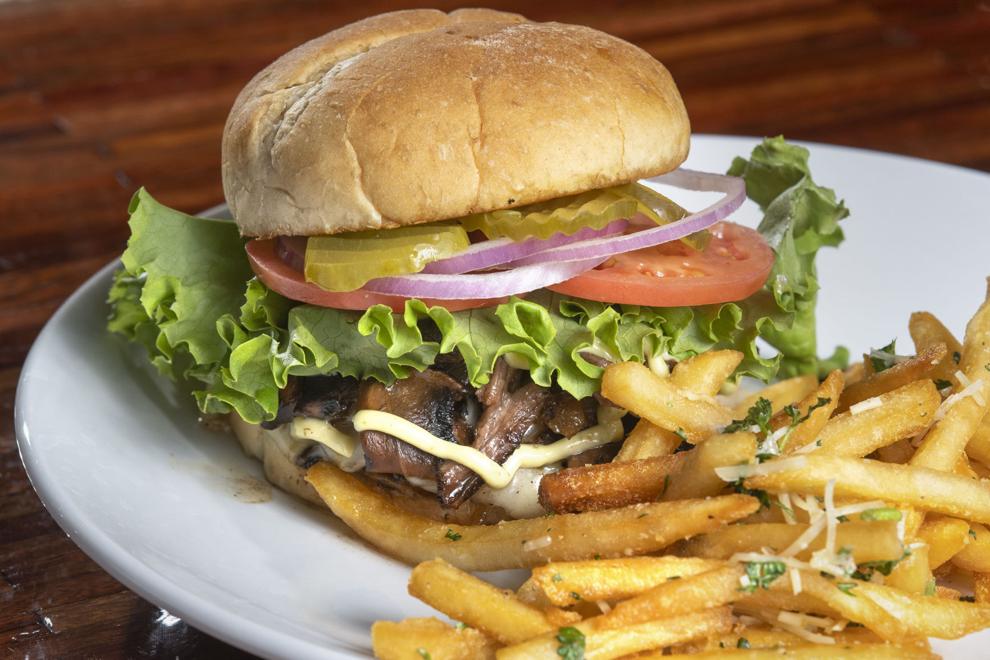 Prices range from $9.99 to $13.49 for burgers and sandwiches. Entrees are $17.49 to $26.49. Steak options are an 8-ounce top sirloin ($27.49), a 10-ounce bottom sirloin ($29.99) and 12-ounce ribeye ($39). Pizzas are available in 12- or 16-inch sizes, ranging from $14.49 to $22.49. Diners can build their own pizzas.
We started our meal with Boursin mushrooms ($8.99) from the appetizer menu. These are baked mushroom caps filled with a soft, mild Boursin cheese, which resembled a toasted marshmallow. They were quite a tasty option that differed significantly from fried mushrooms often found on bar-and-grill menus.
For entrees, I enjoyed the short ribs, while my wife chowed down on the Philly ($12.49), one of five gourmet sandwich choices. The Philly, served with a choice between fries or sweet potato fries, featured steak, caramelized onions, peppers, mushrooms and a cream cheese gouda blend, which is what made the sandwich memorable. The sandwich was big and filling.
The house-battered pork tenderloin sandwich ($11.49) and the burgers have merited mention on social media. The burgers include "Old #12" ($12.49), which is topped with caramelized onions, seared mushrooms, braised short ribs, aioli and Swiss cheese.
King said he's recently hired a bar manager. Specialty drinks, along with a selection of wine and beers, are available. I enjoyed a porter from local brewer Cosmic Eye ($5) and my wife had a Malcolm Clipper ($10), which, of course, was blue (the school color). Grade: A
Atmosphere
The Kings spent four-plus months renovating the below-street-grade restaurant and bar and the work is evident. The dining room, with a painted concrete floor and new tables and chairs, is big and spacious. The bar, which also has been redone, sits opposite the dining room and includes additional seating. The walls are burnt red, light brown (to match the floor color) and black. The area is fresh, clean and inviting. Genoa also has a large patio with outdoor seating. Grade: A
Service
Having been in the hotel biz, King knows service is a priority. We had a stellar experience. Our server, Shelly, offered menu tips, including steering my wife toward the Malcolm Clipper from the bar. She was quite friendly and engaging. Our drinks and food arrived in a timely fashion from the bar and kitchen, respectively, with our entrees coming out shortly after we finished the appetizer. I noticed other patrons around me had similar experiences. Grade: A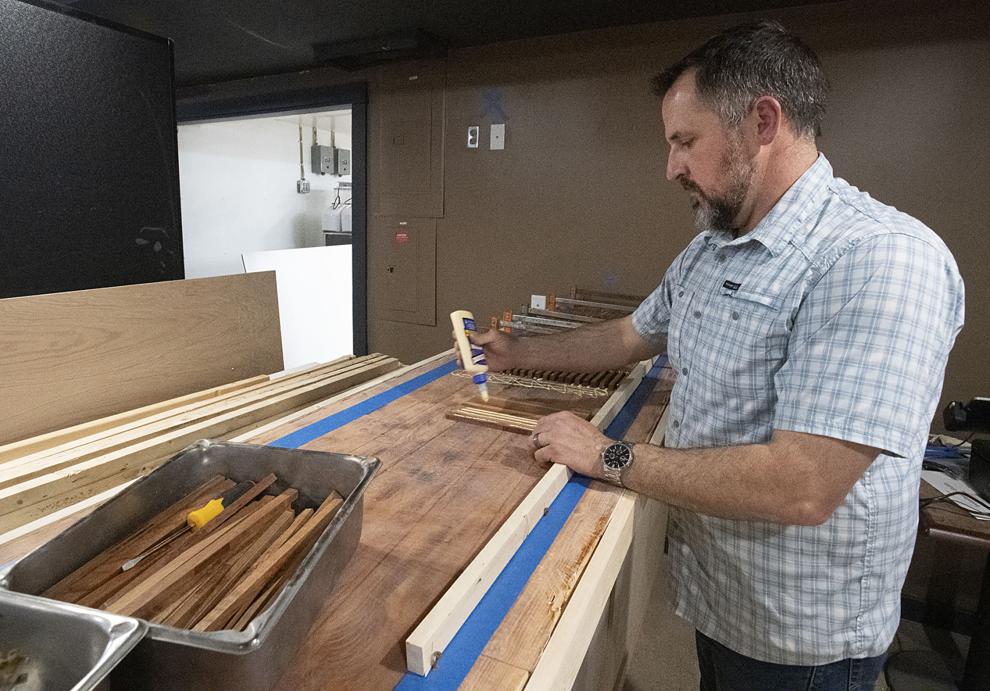 Specialty diets
The menu includes two vegetarian entrees: the veggie burger ($11.99) and veggie lover's pizza ($16.49/$20.49). The burger is prepared with sautéed peppers and onions and includes a house-made remoulade, lettuce, tomatoes, pickles and Swiss cheese. The pizza is topped with seared mushrooms, caramelized onions, peppers, artichoke hearts, asparagus, olives, roasted red peppers and smoked gouda.
The menu also has two salads -- house and Caesar -- without meat. Non-meat appetizers are the Genoa fries featuring truffle oil, parmesan and parsley ($7.99), focaccia ($7) and cheese ($7.99) breads, the aforementioned Boursin mushrooms, queso dip ($6) and onion rings ($7.99) served with the remoulade and sriracha catsup.
The menu doesn't note gluten-free items, so check with servers. Grade: B-