Some folks call Dino's a sports bar, but I describe it as a "neighborhood restaurant" and a local one at that.
It's a big reason why the eatery has done so well in east Lincoln. The area has embraced it.
Dino's -- named for co-owner Dean Hart and located at 84th and Van Dorn streets -- will celebrate its 12th anniversary in July. It's also owned by Paul Kuhl, whose family opened the famed Kuhl's Restaurant in downtown Lincoln.
Last year, Dino's introduced a new menu.
"We basically simplified it," general manager Ashley Langenberg said. "We upped the quality."
The menu is another reason why I call Dino's a "neighborhood restaurant." Sure, it has burgers and sandwiches like a sports bar, but Dino's has upped the game with them. The burgers, for instance, are served on a buttery brioche bun. And fries that accompany the burgers are hand-cut potatoes -- not frozen fries pulled from a bag and tossed into a fryer.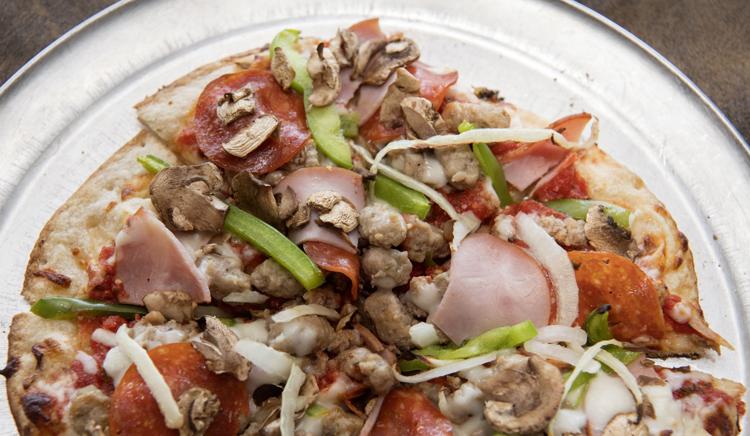 Langenberg said Dino's worked with Hart's son-in-law, Tanner O'Dell, now a chef in Dallas, in creating the new menu, which features appetizers, burgers, sandwiches, pizza, salads and entrees such as spicy, peach-glazed salmon and a Philly macaroni and cheese.
I've long been a fan of the restaurant's fish and chips -- some of the best in Lincoln and a big seller during Lent. The restaurant uses locally brewed Zipline as the beer for its batter.
I'm also a fan of Dino's charity work. The restaurant partners with local organizations through its Good Cause Program.
Food
The four of us started our meal with crispy, fried Brussels sprouts in a chili caramel sauce ($7.99). How many sports bars have Brussels sprouts on the menu? The sauce, as indicated in the name, was sweet and spicy, a nice precursor to our meals.
For entrees, we happened upon two crowd favorites -- the mac 'n' cheese pizza ($10.29) and the bacon cheeseburger ($9.95) -- along with a giant cobb salad ($8.99) and a turkey burger ($9.95).
I hadn't seen a mac 'n' cheese pizza on a menu since the former Pies & Pints in the Haymarket. Dino's used a beer cheese sauce crafted from Zipline and a Panko bread crumble on a thin crust. As you can imagine, it's a favorite among kids, Langenberg said.
My wife's turkey burger was quite something on the flavor spectrum. Dubbed the Green Goat, it featured goat cheese, mushrooms, arugula and pesto. It was pretty darn tasty.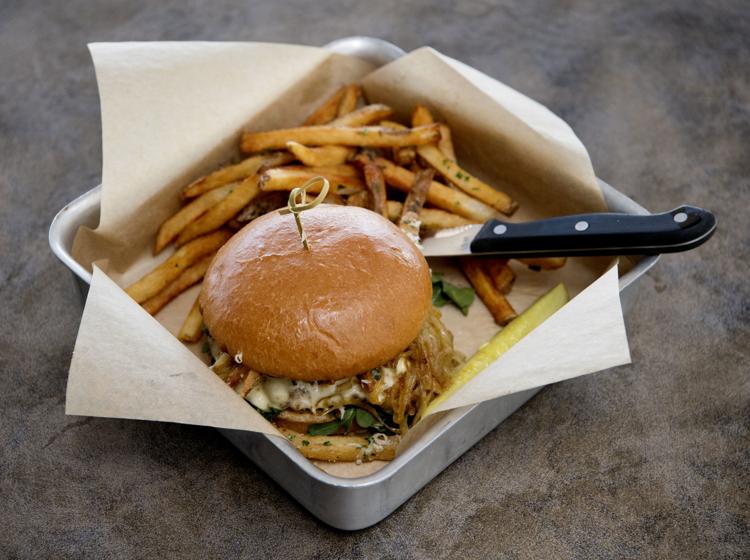 The Fancy Time burger ($9.95) is a customer favorite, Langenberg said. It features brie cheese, caramelized onions, Parmesan fries, arugula and a truffle aioli.
The Brick House is a best-seller among the pizza choices. It's Dino's version of a "special." Grade: A
Service
I was about 45 minutes late in meeting my dining companions, and when I arrived, they raved about the server before the Brussels sprouts. Avery, they said, had kept an eye on them as they waited for me, making sure water glasses were filled and getting drinks and appetizers ordered. He was at the table shortly after I arrived. The turnaround from the kitchen also was impressive. We had our four entrees -- a salad, two burgers and a pizza -- about 10 minutes after ordering. Grade: A
Atmosphere
After nearly 12 years, you might expect Dino's to show some wear and tear, but that's not the case. The restaurant looks as clean and neat as it did when it opened in 2007.
Dino's is an atypical sports bar in terms of appearance. You won't find a bunch of neon beer signs or sports team memorabilia and paraphernalia. Instead, Dino's has opted for a more classic look, with black and gray predominant on the walls, the bar and tables and chairs. There are TVs, but not an overwhelming number of them.
The floor is concrete which, when the place is crowded, doesn't help with noise. The tables, however, are spaced far enough apart to help alleviate some of the sound issues. Grade: B+
Specialty diets
Dino's has menu items for special diets, but it'll cost you more. Gluten-free buns and pizza crusts are available for an extra $2 and $3, respectively. The vegan burger, "Happy Cow," is the most expensive burger at $11.95. In addition to the vegan patty, it features a beer battered onion ring, arugula, barbecue sauce and is served on a vegan bun.
Meat-free pizzas are cheese ($9.99 individual, $17.49 large) and margherita ($10.29 and $19.99). Appetizers include the Brussels sprouts, spinach and artichoke dip ($8.79) and Dino's Double Dip (garlic flatbread with cheese dip, $7.99). Grade: B
Top 5 sports bars in Lincoln