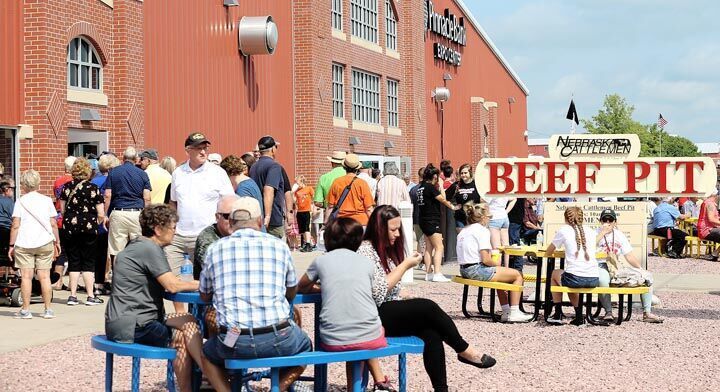 Many people wouldn't consider coming to the State Fair without stopping at the Nebraska Cattlemen Beef Pit.
On Monday, about 1,400 sandwiches were sold at the Beef Pit, which is inside the Pinnacle Bank Expo Center. 
Another big day is expected this Sunday, when fairgoers are expected to buy 2,500 to 3,000 sandwiches.
During the course of the 11 days, Nebraska Cattlemen sell about 20,000 sandwiches, 65% to 70% of which are prime rib.
The secret to the Beef Pit's success is not complicated.
"Everybody likes a good piece of meat," said Joel Bruns of Wakefield, a member of the Nebraska Cattlemen's Beef Pit Committee.
Volunteers cook 10,000 to 12,000 pounds of beef during the fair.
"The bulk of it's ribeye," said Lee Weide, referring to the meat used in prime rib sandwiches.
The meat is prepared in a rotisserie cooker outside the building.
Bruns says a lot of people like the Beef Pit because it's air conditioned. Fairgoers like to sit down and have a sandwich, cole slaw, corn and maybe iced tea. "People know the food's going to be quality," he said.
Bruns' wife, Connie, encountered a somewhat skeptical customer who asked what the best item was on the menu. When she said prime rib, he asked if she was sure. A short time later, he said, "That was the best sandwich I've ever had" and ordered a second one.
A line extending outside the Beef Pit is a common sight during the fair.
But Weide says the line moves faster than you might think. Once you get to the Beef Pit doorway, it takes about 7 or 8 minutes to get your food, he said.
Weide has done the math. During the course of the fair, "we put a sandwich out that window" every 22 seconds, he said.
A banner on the wall points out that the Beef Pit has been a Nebraska State Fair tradition since 1984. More than 500,000 beef meals have been served during that time.
Mostly, the Beef Pit serves as a promotion for Nebraska beef. The place does make some money, Bruns said. But much of the profit goes toward scholarships.
About 350 people volunteer their time at the Beef Pit during the fair.
Many of the volunteers belong to groups affiliated with Nebraska Cattlemen. Others come from feedlots, the beef industry and Beef Pit partners.
Students also come to help from the University of Nebraska-Lincoln and the Nebraska College of Technical Agriculture at Curtis.
The Beef Pit is open from 10 a.m. to 9 p.m. A prime rib sandwich with two sides and a drink is $13. Instead of prime rib, people can have the same special, with a roast beef or barbecued beef sandwich, for $12.