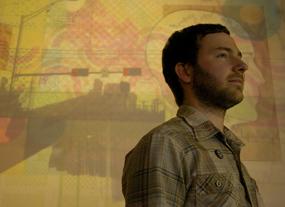 When Denny Schmickle listens to Rilo Kiley, he hears Jenny Lewis singing about relationships in contemplative alt country-tinged songs.
So when he was called on to make a poster for the Los Angeles band's May 12 show at Omaha's Sokol Auditorium, Schmickle set a '60s-era photograph of a woman sitting on a straight-back chair against a deep green background, then put a Spirograph-like pattern over the upper half of her body.
For an M. Ward concert, Schmickle juxtaposed a man reading a newspaper with a cut out of a woman drinking a cup of coffee, creating a sense of isolation that he says was as much inspired by Edward Hopper's "Room in New York" as it was by Ward's mellow acoustic music.
When Death Cab for Cutie and Ben Kweller were billed as co-headliners for a Sokol concert, Schmickle jumped on that idea by finding a shot of a pair of '70s-era kitchen stoves, creating a nostalgic feel for concertgoers who grew up around those kinds of ranges.
"They're my way to illustrate what I think the band sounds like," Schmickle said of his posters. "A lot of times, I've heard the groups and know the music. I try to keep up, but it's impossible to hear what everybody sounds like. I try to listen to something by all the bands I do posters for. I might find an image in the lyrics or just go from the feel of the song."
So what do posters mean to those who see them — both the bands and the fans?
Here's how Wayne Coyne of The Flaming Lips addresses that basic query.
"What does the Rock Poster suggest? What does it want us to believe? The Rock Poster tells us there is a thing happening at a certain place in time. It gives this event meaning even before the event has happened," Coyne wrote in his introduction to "Art of Modern Rock: The Poster Explosion."
"This is the power of The Poster. Both before the event and beyond the experience it will turn out to be, The Poster says, 'The event will be like this, it will feel like this, it really will have this atmosphere, this philosophy, this identity, and a certain type of person will be there.' And then the event happens and is over. Yet The Poster, still living on, still having its purpose, is interpreted to say 'The event was like this, it felt like this.'"
Schmickle, who is studying for a Masters of Fine Arts degree in graphic design at the University of Nebraska-Lincoln, is among a legion of rock poster designers across the country who have used the silkscreen process to transform the tattered, photo-copied rock poster of the '70s and '80s into an art form of its own.
Schmickle moved to Nebraska from Missouri two years ago and found a burgeoning music scene, particularly in Omaha, and a notable lack of posters promoting the shows.
He decided to change that. So he hooked up with 1% Productions to do posters for many of the concerts it brings to Omaha's Sokol Auditorium and has also done posters for Lincoln shows at Duffy's Tavern and Knickerbockers.
For the first six months Schmickle designed the posters and others did the printing. After he figured out the silkscreen process, Schmickle began printing the posters himself.
In March, Schmickle joined poster makers from around the country, displaying his wares at Flatstock, a poster exhibition/sales event in Austin, Texas. Held in conjunction with the South By Southwest Music Conference, the annual show draws thousands of poster aficionados who have an opportunity to pick up some work by many of the top artists in the business.
Austin is a highly appropriate location for Flatstock, because that's where the modern silkscreen rock poster originated in the 1980s.
According "Art of Modern Rock: The Poster Explosion," an Austin artist named Frank Kozik transformed the punk rock handbill into a full-color silkscreen visual explosion in the early 1980s. By 1990, Kozik's bold, vivid posters went from being things he produced for free to artwork sold in galleries.
Kozik was not working in a vacuum. But he paved the way for hundreds of poster makers across the country, including Minneapolis' Aesthetic Apparatus and Chicago's Jay Ryan, two of the major influences on Schmickle's work.
Schmickle is part of the most recent wave of rock poster makers — graphic artists who have brought a new sensibility to the posters, creating imagery that departs from the more traditional posters that draw on cartoons, devil girls, hot-rods and other rock 'n' roll iconography.
"When I got here, I saw this as three years to do what I do — investigating graphic design in all its variations," Schmickle said in an interview at the Tugboat Gallery, where his work is on exhibit.
"Posters, Web sites, gallery installations like this one just put different focuses on it. Some people make art by painting. Instead of painting, I do graphic design."
Kozik helped set the standard for silkscreen poster makers in another way, creating the business model that is used across the country.
It works like this: A promoter, such as 1% Productions, commissions a poster for a show. The artists design and print the poster, delivering a specific number to the promoter and "overrunning" a limited number to be sold to allow the artist to recoup costs of production and, hopefully, make a small profit on each poster.
Local bands such as Schmickle's friends in Eagle*Seagull and Papers are thrilled to have Schmickle make posters for their shows. National touring bands are generally OK with the posters too, even if Schmickle is making a little money off their name. Only one band, which had an airtight merchandising contract, has objected to his selling overrun posters.
"It's their music, their thing," Schmickle said. "But because I'm about the same age as those people and doing an artistic thing, they're open to it."
As is the case across the country, many of Schmickle's posters disappear from walls and windows well before the show they are advertising occurs.
"As the artist, it's great," Schmickle said. "It's nice to know somebody wants your stuff enough to pull it down. I don't think the promoters are too enthralled by it."
Rockin' about rock posters
In the gallery: Denny Schmickle's installation "Lens Flare: Recent Work" is on view at the Tugboat Gallery through Aug. 27. The installation features projections of his graphic art along with a wall made of combinations of images from his posters. Schmickle's rock posters also are for sale at the gallery. Most of his posters sell for $5 to $15. Tugboat Gallery, the alley entrance behind Gomez Art Supply, 1020 O St., is open Thursdays, Fridays and Saturdays from noon to 3 p.m.
On the bookshelves: "Art of Modern Rock: The Poster Explosion" is a lavishly illustrated history of rock posters since 1980 compiled by Paul Gruskin, who wrote the coffee-table classic "Art of Rock," and Dennis King. This 10-pound, 490-page volume is filled with examples of the work of top poster artists, including Frank Kozik and Lindsay Kuhn, two of the medium's pioneers. At $75, "Art of Modern Rock" is pricey, but it is well worth the cash.
On the Web: At gigposters.com poster artists hold discussions and fans can see and purchase examples of their work and keep up on the latest happenings in the poster world. Denny Schmickle's posters and other artwork can be seen on his Website, dennyschmickle.com.