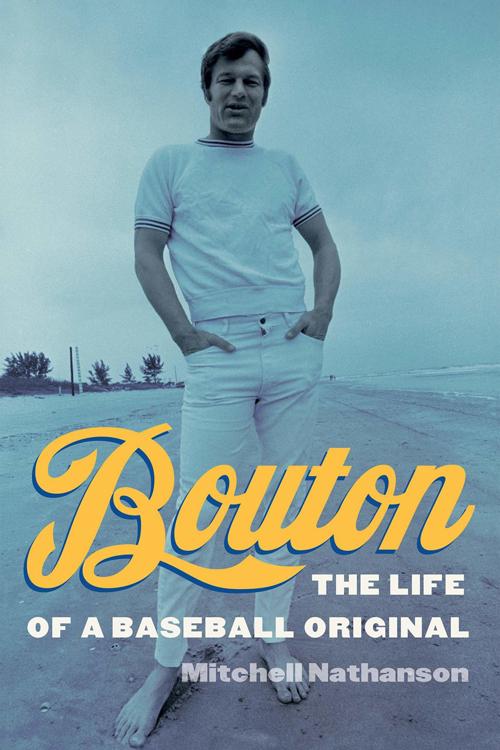 "Bouton: The Life of a Baseball Original" by Mitchell Nathanson, University of Nebraska Press, 407 pages, $34.95.
Fifty years ago a journeyman major league pitcher published a controversial book, "Ball Four," which bathed previously lionized baseball players and owners in an unflattering light. Jim Bouton eventually won three World Series games with the New York Yankees and a total of 62 games in his major league career. The reviewer never bothered to read his book and later confused him with Jim Brosnan, another pitcher who had published a less lurid "tell all" book a decade earlier.
It is doubtful that Mitchell Nathanson's recent biography, "Bouton," would have appealed to the reviewer had it not been released by the University of Nebraska Press during this pandemic-induced ennui. Fortuitously, Bouton's life proved to be so mesmerizing that the idle minutes passed apace and the book's end seemingly arrived too soon.
Author Nathanson is a law professor at the Villanova School of Law and his lawyer's insight allows him to peer into Bouton's driving motivation to succeed throughout life. His resulting book encompasses much more than the occurrences on a baseball diamond. Indeed, the dichotomy between Bouton's life as an athlete and a serious writer comprises a major theme in the book. Bouton, who died in 2019, was never comfortable in either role.
Bouton's baseball career began in 1959 in the class D Nebraska State League, which existed from 1956-59 and was comprised entirely of teams in south-central Nebraska. His manager with the Kearney Yankees immediately ordered him to throw his first pitch behind the head of a batter from the Holdrege White Sox who was suspected of sharpening his spikes. His throw came so close to beaning the unfortunate target that the shaken Bouton vowed to never again intentionally throw at a batter.
Although future major leaguers Jim Perry and Gary Peters pitched in the league, Bouton's debut was so unimpressive that he was not listed on Kearney's roster. Remarkably after that inauspicious start, his competitive nature propelled him to three World Series wins with the Yankees and his nickname, "Bulldog," before his arm failed.
Despite the critical success of his book, he became a pariah to the Yankees for revealing clubhouse secrets such as the alcoholism of media-darling Mickey Mantle and the widespread use of green "upper" pills in the Major Leagues. Later exposés of steroid abuse and the lengthy rap sheets of professional athletes like O.J. Simpson made his revelations become pale by comparison.
Undeterred by the failure of his first marriage and the modest success of several later books, Bouton persisted in vigorously pursuing new ideas in multiple arenas.
He eventually made and lost a fortune by patenting "Big League Chew" gum and produced and starred in a dismal television sitcom based upon his book. Along the way he acted in a Hollywood movie directed by the acclaimed Robert Altman and was commissioner of a failed baseball league which used 19th century rules and vintage equipment and uniforms. He remained involved in a myriad of unpopular liberal causes throughout his life and was an iconoclast and "outsider" to the end.
The book is organized into three stages of Bouton's life, with accompanying notes and bibliography and includes a generous section of black and white photos. Readers who choose to visit "Bouton" will feel pleased to have made the acquaintance of a truly unique player in the panorama of American sports.
J. Kemper Campbell, M.D., is a retired Lincoln ophthalmologist who has finally ordered a copy of "Ball Four."
Stay up-to-date on what's happening
Receive the latest in local entertainment news in your inbox weekly!