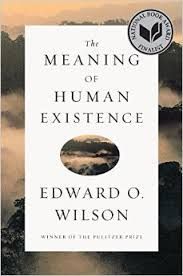 "The Meaning of Human Existence" by Edward O. Wilson, Liveright Publishing, 187 pages, $23.95
"…with frightening ease, good people do bad things." Why? Because we are human and have the ability to make choices.
Edward Wilson dismisses the notion that a higher power is responsible for our actions -- good or bad. Evil and good are part of human nature and the emphasis is on nature. Life is not a stopover on the way to a better existence. This is it.
Winner of two Pulitzer prizes, Wilson and his work in biology at Harvard University have made him one of the worlds leading authorities on why we exist -- from a scientific perspective. He supports the theory of natural selection but also sees the need for religions -- except for the grand creator part. Millions of people need religion, just not everyone.
It makes for some interesting contemplations for the reader.
A major theme in the book is the relationship between the study of science and the study of the humanities. Drawing on the philosophers from the Age of Enlightenment, he argues that the two often divergent approaches to life are much more alike than different. In order for human kind to exist, we need to experience and embrace both science and the humanities.
Wilson hypothesizes (a fantasy) that like the world of science fiction, if aliens from a far-off galaxy were to subdue earthlings, they could not survive. While their science and technology would be far superior to ours, they could not cope with our creativity learned through the humanities.
Wilson believes that humans should not take the meaning of existence as "just is" but rather seek the answer to "just is, because."
This book is not for readers who thrive on airport bookshelf hits. It is a fascinating philosophical endeavor that takes some rereading and will stretch the reader's mind.
Jim Danielson is an emeritus professor in the College of Journalism and Mass Communication at the University of Nebraska-Lincoln.