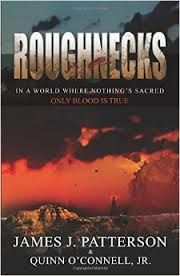 "Roughnecks" by James J. Patterson and Quinn O'Connell Jr., Alan Squire Publishing,  460 pages, $25
Gritty. Rugged. Tragic. Those words well describe this novel of the early days of oil field exploration and drilling in the late seventies in North Dakota and Montana. They were the precursor to the Wild West scene of oil fracking that is playing out there today.
You have free articles remaining.
This is fiction, but the authors give their story a harsh realism of the rough work and tough times of roughnecks in a hostile environment. Quinn O'Connell used his own experiences in the oil fields to give this book a severe authenticity. The work is highly dangerous and too often the blood flows.
Zachary Harper is a 27-year-old college dropout, enthralled by the adventures of a friend who worked on an oil rig. He loads up his worldly possessions in his Jeep and sets out to become a worm, the lowest newcomer on oil rig 34 of the Bomac Drilling Co. He is immediately caught up in the exhausting 12-hour shifts on the drill, where a single slip could mean death to someone.
This is the real stuff. If you want to know how a drilling rig works, what the roughnecks face every minute in a treacherous place, this is a book you must read. And, as hard as these guys work, they play even harder. Off hours are often drunken sprees in frontier towns where anything goes.
All too soon, the oil will run out, and the bust will follow the boom. And that will be good for a world on the edge of environmental disaster. But the stark life of a roughneck will join the history of Plains cowboys in the myths of the West. They will have well earned their fame.
Francis Moul, Ph.D., Lincoln, reads books and drinks tea at The Mill.