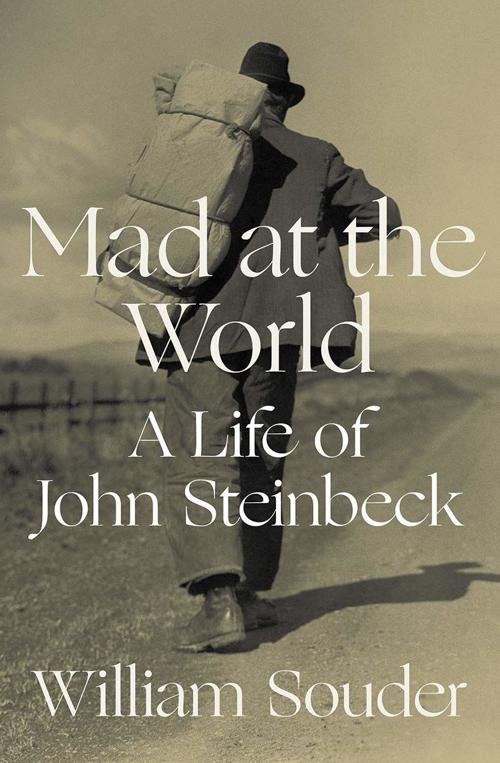 "Mad at the World: A Life of John Steinbeck" by William Souder, W.W. Norton & Company, Inc., 446 pages, $32.
In 1962 John Steinbeck was awarded the Nobel Prize for Literature. Some critics felt he was not as deserving of the honor as his more stylistically-innovative peers, William Faulkner and Ernest Hemingway, who had previously been recognized.
Since all three American writers died during the 1960s the controversy waned long ago. William Souder's new book, "Mad at the World," offers a fresh appraisal of Steinbeck's life and literary legacy, which should re-establish his reputation as one of the preeminent observers of life in the United States during the 20th century.
Author Souder has provided a scholarly and thoroughly researched review of both Steinbeck's extensive published work and his rather messy private life. The book keeps each topic moving at a lively pace aided by the black and white photos punctuating the narrative.
Most readers, including this reviewer, are familiar with Steinbeck primarily through the numerous movie and stage adaptations which have been made of his fiction.
Omaha's Henry Fonda as Tom Joad in "The Grapes of Wrath," Nick Nolte as Doc in "Cannery Row," and Marlon Brando's inexplicable casting as a Mexican revolutionary in "Viva Zapata" have certainly contributed to Steinbeck's lasting fame. Legendary actor James Dean made his debut in "East of Eden," and Steinbeck's adaptation of "Of Mice and Men" was chosen Broadway's best play of the year in 1938 over Thornton Wilder's sentimental classic, "Our Town."
Steinbeck gave a voice to impoverished "paisanos" residing in California and sympathetically portrayed the destitute "Okie" migrant workers displaced during the Great Depression of the 1930s.
He was an early proponent of preserving California's ecology and maintained a lifelong friendship with Ed Ricketts, a pioneer marine biologist who studied the Pacific coastal ecosystem. The two men made a seminal trip to Baja California in 1940 resulting in Steinbeck's book, "The Log from the Sea of Cortez." The wooden fishing boat, "Western Flyer," used on the trip was recently salvaged and given a $3 million overhaul so that acolytes of both Steinbeck and Ricketts could re-experience their epic journey.
Steinbeck's dedication as a writer becomes obvious with his persistence during bouts of depression, struggles with alcohol and tobacco addiction and three tumultuous marriages to remain faithful to his first love which was putting pen to paper. Wild Bohemian scenes foreshadowing the "hippie era" of the 1960s are contrasted with solitary self-isolation in a remote cabin. Both were components of Steinbeck's maturation as a writer.
What emerges by the book's end is an insight into the discipline needed to become a successful writer and to develop the skill required to convert life experiences into viable works of art. One of Steinbeck's last books, "Travels with Charley: In Search of America," supposedly a log of his 10,000-mile journey with his dog in a battered camper to explore the United States, was largely fiction, completed during stops at five-star hotels. Art does not necessarily mirror reality.
This book is recommended to any reader with an interest in the craft and mind of an acclaimed writer or to anyone who has admired the work of John Steinbeck.
J. Kemper Campbell, M.D., is a retired Lincoln ophthalmologist who remains fascinated by the iconic authors of his youth.
Stay up-to-date on what's happening
Receive the latest in local entertainment news in your inbox weekly!