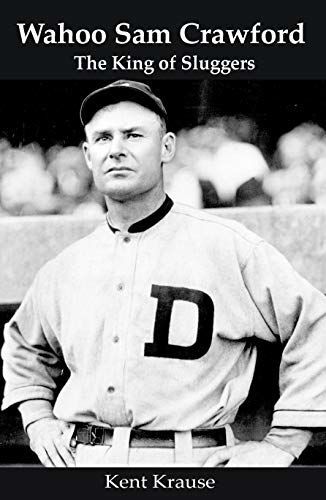 "Wahoo Sam Crawford: The King of Sluggers" by Kent Krause, Kodar Publishing, 311 pages, $14.95 (paperback).
Kent Krause is a Lincoln writer with a doctorate from the University of Nebraska-Lincoln whose previous book on the Kansas City Royals' 2015 Championship season, "Keep the Line Moving," was reviewed in this space on July 10, 2016. His latest book, "Wahoo Sam Crawford," rides the "Wayback Machine" a bit longer to examine the life of a Hall of Fame baseball player born only 30 miles north of Lincoln.
Since Samuel Earl Crawford died in 1968 and played during the turn-of-the-century "dead-ball" era. Many baseball fans would have undoubtedly forgotten about him entirely without his colorful nickname, "Wahoo Sam," which was a favorite chant of Detroit Tiger fans when he stepped into the batter's box.
Wahoo, the county seat of Saunders County, had only 1,000 residents at the time of Crawford's birth in 1880 yet was also the home of Darryl Zanuck, who became the Hollywood mogul who later founded Twentieth Century Fox.
The origin of its name was probably derived from the Native American word for the "burning bush" shrub, which was plentiful in the area. The unusual name was instrumental in Wahoo being designated the spoof "Home Office" of the David Letterman Show in 1996.
Krause's meticulous documentation of the slugger's diamond exploits during his lengthy career in both the major and minor leagues demonstrates that he probably deserved recognition in Cooperstown sooner than his induction in 1957 via the Veteran's Committee. Crawford's Major League record for career triples will never be broken.
Even more compelling than his baseball highlights are the book's glimpses into Wahoo Sam's personal life. His longevity unquestionably was related to his lifelong adherence to healthy habits. He abstained from alcohol and cigarettes, ingested modest amounts of red meat, retired to bed early and exercised vigorously throughout the year.
In other words, he did not fit the stereotype of professional baseball players who were then considered hooligans and carousers by most Americans. He also managed to maintain his sanguine disposition in contrast to his volatile and vilified teammate, Ty Cobb.
Another joy of the book is the insight into the earliest days of the "national pastime," which often involved runners rounding the bases while avoiding being tripped, elbowed or spiked by opposing infielders. First base coaches occasionally distracted opposing pitchers by employing strategically placed rubber snakes or jack-in-the-box toys.
Since a single ball was expected to last an entire game and was usually stained with saliva and chewing tobacco, it appeared to have been spawned by the Creature from the Black Lagoon by game's end.
Despite these hardships, Crawford achieved success in living his boyhood dream for 88 years through two world wars, the devastating 1918 pandemic and the Great Depression. Trained as a barber, who once cut William Jennings Bryan's hair, he much preferred playing baseball.
Despite a formal education only through seventh grade, he became a voracious reader and admired the French novelist, Honore' de Balzac. He traveled the world on barnstorming teams but never lost the humility, honesty and frugality, which had been instilled during his rural childhood in Nebraska. After his playing years he umpired in the Pacific Coast League and helped begin the successful USC baseball program.
In summary, any reader who wants a brief visit to the "old-timey" comfort of America's past will enjoy the story of Wahoo Sam. Those who desire further information on the era should read Lawrence Ritter's classic, "The Glory of Their Times".
J. Kemper Campbell, M.D., is a retired Lincoln ophthalmologist who believes Wahoo's miraculous comeback in the 1989 Boys' Class B basketball final was the most remarkable contest ever played in the Bob Devaney Sports Complex.