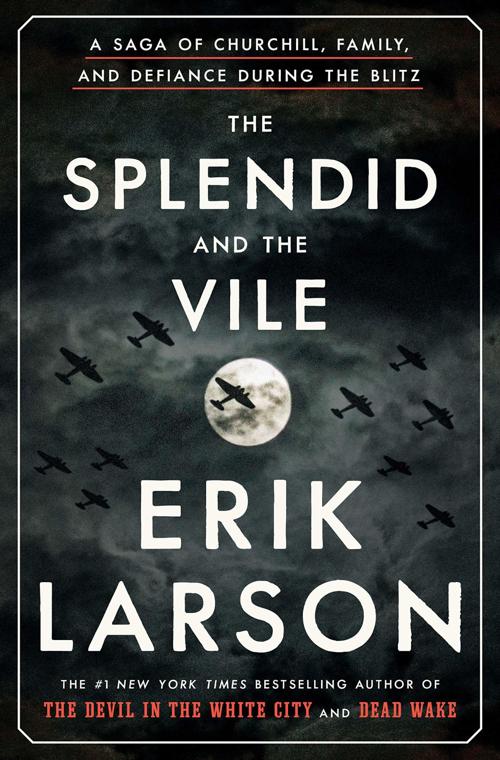 "The Splendid and the Vile: A Saga of Churchill, Family, and Defiance During the Blitz" by Erik Larson, Crown, 585 pages, $32.
Revisiting Winston Churchill and World War II geopolitics might seem a musty endeavor to undertake during a pandemic. However, Erik Larson's latest book, "The Splendid and the Vile," contains an optimistic message for today's anxiety-challenged readers.
Certainly, a mountain of information is readily available on Churchill, including an eight-volume biography and a myriad of newsreel, radio, television, literary and archival sources. Larson, who has written five previous nonfiction best sellers, keeps his material fresh by limiting this book's scope to Churchill's first year as prime minister, before the United States entered the conflict. Moreover, he broadens his topic to include members of Churchill's family, trusted advisers and employees, and, eventually, all the beleaguered inhabitants of England during the air war, which became known as the "Battle of Britain."
The book is hefty enough to last through a two-week quarantine and is peppered with enough new facts, including the tonnage of marmalade destroyed by Nazi bombs, to make the pages turn rapidly.
On one occasion the entire Churchill household's vehicle entourage was forced to backtrack on the way to a weekend at his country retreat, Chequers, in order to retrieve Nelson, the family cat, cowering at 10 Downing Street in London following the previous night's bombardment. Readers will discover a trove of equally unfamiliar facts and incidents described by Larson, who drew extensively from the diaries kept by many of his book's subjects.
Although Erik Larson is an American writer, he has provided a uniquely Anglophilic book. Churchill's family include his profligate son, Randolph, and his love-stricken teen-aged daughter, Mary, who seem worthy of a Jane Austen novel.
The great man himself was a functional alcoholic who demanded two hot baths daily and often wandered about wearing a red dressing gown, a helmet, and slippers with pom-poms, or a favorite sky-blue one-piece "siren suit" which he had designed. He delighted in amusing guests by tripping or marching through his Great Hall to appropriate musical accompaniment on the gramophone.
Both he and his favorite adviser, Lord Beaverbrook, who was often referred to as "the toad" by his numerous detractors, could have sprung directly from the imagination of Charles Dickens. Christmas scenes during the war years are reminiscent of those found in the British television series, "Dr. Who".
This book showcases the marvelous ability of the human species to adapt to stress. During the nightly onslaught of devastation which waxed and waned with the phases of the moon, the mundane tasks of ordinary life still managed to be accomplished. Fires were extinguished, birthdays were celebrated, business was transacted, and romantic liaisons were ardently consummated or unhappily discontinued as always.
Each morning, citizens picked their way between still-smoking rubble to complete their quotidian duties and said farewell to those unfortunate enough to fall beneath the randomly dropped bombs. Yet, the people endured. Larson's book becomes the perfect panacea to alleviate our present society's angst.
J. Kemper Campbell, M.D. is a retired Lincoln ophthalmologist who prescribes frequent perusal of good books during the immediate future. 
Stay up-to-date on what's happening
Receive the latest in local entertainment news in your inbox weekly!