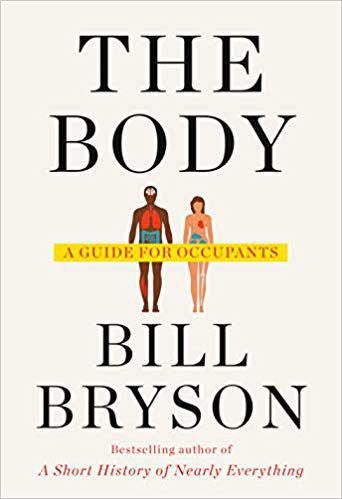 "The Body: A Guide for Occupants" by Bill Bryson, Doubleday, 450 pages, $30.
Bill Bryson's many successful books have demonstrated his ability to extract unique and humorous snippets of information on virtually any subject and weave them into a narrative which is both educational and pleasurable. "The Body" shows that Bryson's nimble wit is still functioning at peak level. Indeed, Bryson's writing style makes the reviewer wish he could invite him over for a convivial evening of conversation on any topic.
The human body, especially when aging, would not seem to be particularly appealing for the general reader who is already constantly reminded by pharmaceutical advertising and compliant news media of nature's imperfections. Fortunately, as Bryson guides us through each organ system in our bodies, he tends to emphasize the miraculous construction and marvelous adaptability of our seemingly weak species.
You have free articles remaining.
Like unanticipated nuggets of flavor discovered in a delicious fruitcake, Bryson mixes in unfamiliar anecdotes concerning the often-eccentric investigative scientists and experimenters who pioneered the medical innovations during the last century which increased average life expectancy in the US from 46 to 74 years. Many of his examples risked their own lives to advance knowledge such as the first person to undergo cardiac catherization, a physician who performed the procedure upon himself.
Like a Thanksgiving cornucopia, the book overflows with previously unknown statistics and accounts of the forgotten contributors who helped prolong the body's stay on the planet. Many of the discoveries described were serendipitous. For example, the supply of the life-saving antibiotic penicillin originated from mold found on a single cantaloupe purchased at a grocery store in Peoria, Illinois. Similarly, the immunosuppressive drug cyclosporin, which prevents the body from rejecting an organ transplant, was found in fungus from a random soil sample gathered by a pharmaceutical employee on a Norwegian vacation.
The premise of the book is occasionally derailed by Bryson's shotgun approach to his subject as he digresses into chapters on nutrition, health care systems and diseases which are not specifically dedicated to parts of the body but, nevertheless, contain worthwhile information. A generous section of appropriate photographs is also included in the book.
To summarize, this book is a broad, but superficial, survey of the entire body with an ample supply of fascinating sidelights the reader may use to perk up lagging conversations. Had this reviewer been able to read Bryson's overview of the wonderful organism known as Homo sapiens before entering medical school, the first two years of his education would certainly have been much less frightening and tedious.
J. Kemper Campbell M.D. is a retired Lincoln ophthalmologist who would heartily recommend this book to anyone still inhabiting a human body.