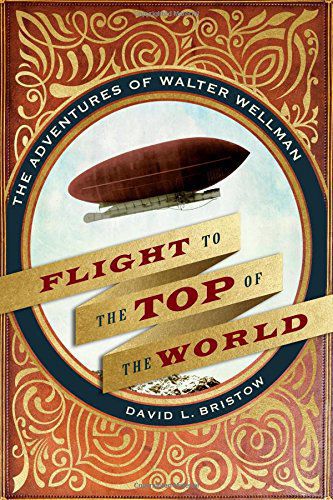 "Flight to the Top of the World: The Adventures of Walter Wellman" by David L. Bristow, University of Nebraska Press, 368 pages, $29.95.
Walter Wellman is a name virtually unknown to most readers. Yet, he was one of our country's most famous individuals during the late 19th and early 20th centuries, recognized as both a journalist and an adventurer.
A combination of P.T.Barnum, Henry Morton Stanley and Jules Verne, Wellman was comfortable dining with either former president Theodore Roosevelt on the Nile River or presidential nominee William Jennings Bryan at his Fairview estate, now part of the Bryan hospital campus in Lincoln.
The widely read newspaper columnist was also a bona fide candidate in the race to become the first person to reach the North Pole. Later, he championed the use of hydrogen-filled airships and attempted to be the first to fly across the Atlantic in one of them. Sadly, by the time of his demise in 1934, his reputation was tarnished and the world had already forgotten his exploits.
Author David L. Bristow has managed to resurrect the memory of Wellman's remarkable life in his sprightly book, "Flight to the Top of the World." Bristow, who is an associate director at the Nebraska State Historical Society, has amply documented his work, and his re-examination of Wellman's life deserves a new audience among those who savor vicarious adventure.
Although Wellman never achieved any of his well-publicized goals, the risks involved make this book a suspenseful narrative with period photographs included to enhance the reader's experience. While the book does not provide as horrific a portrait of the hardships encountered during polar exploration as Hampton Sides' "In the Kingdom of Ice," or "To the Edges of the Earth" by Edward Larson, Wellman's life was certainly endangered by his own reckless grasps at fame.
As a member of the printed news media trusted by two U.S. presidents, he was also an early user of wireless communication to enhance his self-promotion. Bristow portrays him as one of the first "instant celebrities" now embraced by our present culture. Indeed, had he been born a century later, he would have undoubtedly starred in his own reality show. Perhaps he might have even occupied the White House himself.
Readers should appreciate Bristow's reintroduction of this colorful reminder of America's past.
J. Kemper Campbell M.D. is a retired Lincoln ophthalmologist who enjoyed making the acquaintance of this unique American.