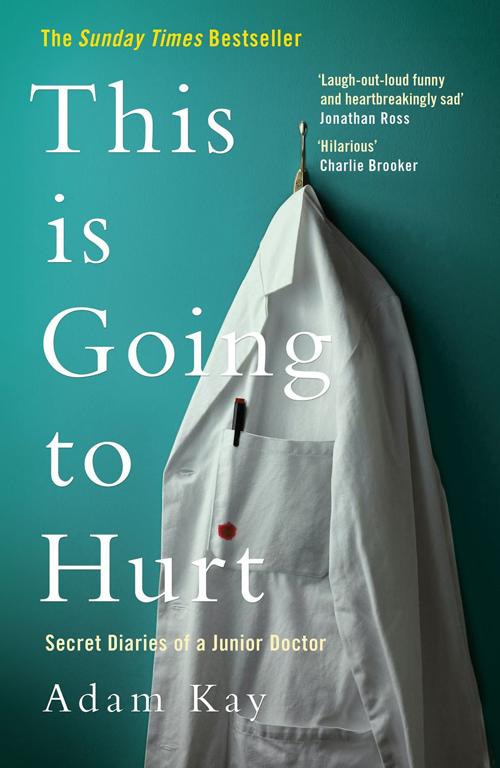 "This is Going to Hurt: Secret Diaries of a Medical Resident" by Adam Kay, Little, Brown Spark, 278 pages, $28.
In 1965 a shocking bestseller, "Intern," was penned by an anonymous author, "Dr. X." The book exposed the virtually sadistic methods employed by hospitals exploiting underpaid and overworked physician trainees. Medical students, like this reviewer, and the lay readers who would become our patients found the subject fascinating. The writer's true experiences in a Seattle hospital became the proverbial sausage factory which should never be visited
Many subsequent sources including William Nolan's "The Making of a Surgeon," "Last Night in the OR" by Bud Shaw (reviewed in this space Sept. 26, 2015), and television series' such as "M*A*S*H" have explored the terror-evoking learning experience necessary to become a physician by using dark humor.
"This is Going to Hurt" by Adam Kay is the recent United States release of his 2017 book which sold 1.5 million copies in the U.K. and Europe. It has been updated to explain the differing terminologies used by the British and American systems to designate the levels of expertise attained by trainees in each country.
Kay's book consists of diary entries made as he progressed from House Officer (junior doctor) in 2004 until 2010 when he became a Senior Registrar, eligible for promotion to a consultant with no ongoing hospital responsibilities.
Each diary entry contains a vignette or epigram delineating his degree of exuberance or (mostly) frustration with his trek toward his rather unfathomable goal of becoming an OB-GYN specialist. His encounters vary from wildly hilarious episodes reminiscent of a Monty Python skit to those bathed in sentimentality worthy of Charles Dickens.
Fortunately, training in the United States has been revised since "Dr. X"'s exposé with the mandatory internship year no longer a prerequisite before beginning specialty training. This reviewer began his year as a rotating intern in a busy general hospital by being placed in charge of a newborn nursery and delivered more than 100 babies during two months of every-other-day duty in the delivery room. In retrospect, the primary value of the internship year seemed to be ruling out each assigned specialty as a viable future career.
Kay's book indicates the National Health Service training in the U.K. still adheres to the brutal methods employed in the U.S. 50 years ago. Readers wishing to understand the health compromises necessary to achieve the benefits of a free national health care system should read this book, which should also be required reading for prospective medical students.
Less discriminating readers will enjoy the book for the caliber of Kay's writing. Numerous dry chuckles at Kay's snarky comments, some hearty guffaws at his risque observations, gasps of disgust at the indignities he endured, and a few tears are guaranteed as he describes his journey.
As a final disclaimer, it should be noted that Adam Kay is now a full-time comedy writer and that "Dr. X" ended up writing science fiction novels including the inspiration for the title of the film classic, "Blade Runner."
J. Kemper Campbell is a retired Lincoln ophthalmologist who never took the eye rotation during his internship.
Stay up-to-date on what's happening
Receive the latest in local entertainment news in your inbox weekly!