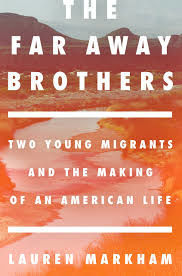 The author of a book highlighting the true story of two brothers immigrating to the United States visited Lincoln High School on Tuesday to share her experience of writing about child immigrants.
In "The Far Away Brothers," Lauren Markham wrote about twin brothers who escaped gang violence in El Salvador and journeyed to the U.S. on their own at the age of 14. 
"The Far Away Brothers" was chosen as the 2019 selection for One Book-One Lincoln. The community reading program is sponsored by Lincoln City Libraries and encourages people to read one book. 
Markham, a reporter from California, said she wanted to write the story of the Flores brothers to help immigrants with similar stories feel less invisible.
"I wondered 'Why is not everybody talking about this when such a large number of people from one place all move elsewhere?'" Markham said. "It's an issue I wanted to learn more about and that I thought other people needed to learn about as well."
Markham, who previously worked as an administrator and counselor for immigrant children in public schools in Berkeley, California, met the brothers through her job.
"My co-worker asked me to help them because they missed their immigration court date," she said. "The world doesn't give young people like them a lot of room, so that's when I decided to write a book about it, to inform people of what these kids go through."
You have free articles remaining.
Director of Libraries Pat Leach said "The Far Away Brothers" is an important story to back up what's happening to children who don't have documentation in the United States.
"Hearing what she has to say about her work and the process of writing the book adds so much to reading it," Leach said. "Nothing can replace hearing the author talk about their work and their thought process."
"The Far Away Brothers" is the 18th book to be chosen for One Book-One Lincoln, which started in 2002.
"It's a great way to demonstrate how reading within the community builds a stronger community," Leach said.
David Smith, the chair of the One Book-One Lincoln selection committee, said Markham's book stuck out to him because of the human touch it gave to the immigration crisis.
"It's hard to read the book and not feel empathy for those boys," he said. "The story shows how hard it is to seek refugee status in the U.S. and that they aren't taking advantage of the U.S. by coming here. It's how they'll survive."
Markham said she didn't realized how much she didn't know about the immigration crisis until she started writing the book.
"So few of the things I had read before did it justice," she said. "I wanted to bring attention to the issue without telling the same story over again."