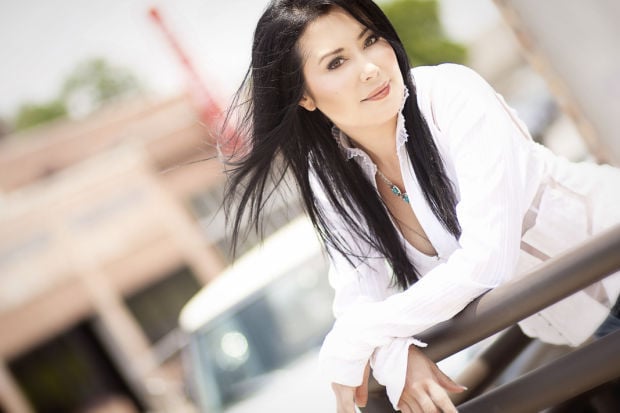 New York Times best-selling author Tosca Lee, raised in Lincoln and now juggling residence between the Capital City and a farm in Fremont, says the fun part to her writing is the research.
That's kind of scary because Lee is beginning to distinguish herself as a world-class dystopian storyteller.
Her stories at their best paint a terrifying apocalyptic scenario — something you might not expect from someone who excelled in the glass-is-half-full world of beauty pageants, where she was named Mrs. Nebraska America and Mrs. Nebraska United States in the late 1990s.
"I love entertaining readers," she said last week, a couple of days before she was to appear in downtown Lincoln for a book signing party at Francie & Finch Bookshop.
"When I started this, I thought it was about telling stories. I was wrong. It's all about the reader. It's about giving them a chance to escape."
Ironically, her genre gives readers the uncomfortable opportunity to escape to a place where the characters are attempting to get away from life-threatening, world-in-ruins predicaments.
Her latest thriller, "A Single Light," the sequel to "The Line Between," hit bookstores last week.
Her latest novel is set in an America that has been devastated by pandemic, which leads to widespread disease and dementia. As this is going on, the nation's power grid goes down, causing sweeping bedlam.
Doomsday cult escapee Wynter Roth and dozens of others, including ex-soldier Chase Miller, her love interest, and 5-year-old niece, escape the sickness by climbing into an underground silo created by a survivalist.
It seals them from the world for six months, when the time lock is programmed to open -- supposedly when the sickness has finished spreading across the country.
The conditions inside the silo are cramped and a debate rages — and leads to acts of violence from within — about whether it would be better to leave and take their chances on the outside.
"She was starting to start life over again in a world she was raised to believe is evil," Lee said. "When all of this starts happening, she begins to believe everything she was taught."
And as far-fetched as this might seem, Lee did the research -- gleaned newspaper headlines and various environmental, medical and government reports — and learned that such a catastrophe isn't as unlikely as you might think.
"Could the power grid go down?" she asked rhetorically. "There is reported documentation that it could. I'm not making that up. I saw the newspaper headlines, scarily enough."
Before chalking up the 49-year-old Lee as a resident doomsday believer, understand that she lives a pretty normal life. She married Fremont farmer Bryan Ritthaler a few years back and immediately became a mother to four, including current high schooled-aged twins.
The idea of being an author always appealed to Lee, who after her freshman year of college was actually paid a salary by her father to spend the summer writing a book.
"He wanted me to treat it like a job so he paid me," she said.
That was in 1989 and she did finish the novel, which she said was "soundly rejected" by every book agent who laid eyes on it. She kept plying her craft and eventually was published for the first time in 2006.
"That first novel is still somewhere in a box," she said. "I would be afraid to read it today."
No need, but the message of continued work on a dream should resonate. It only makes sense that singers must sing. And writers must write -- or keep writing.
"Write as though no one will ever read it. I know that might be the exact opposite of what you hope, particularly if you hope to publish your writing, but doing so allows you to be as bold and audacious as you want and set aside the fear."
Stay up-to-date on what's happening
Receive the latest in local entertainment news in your inbox weekly!