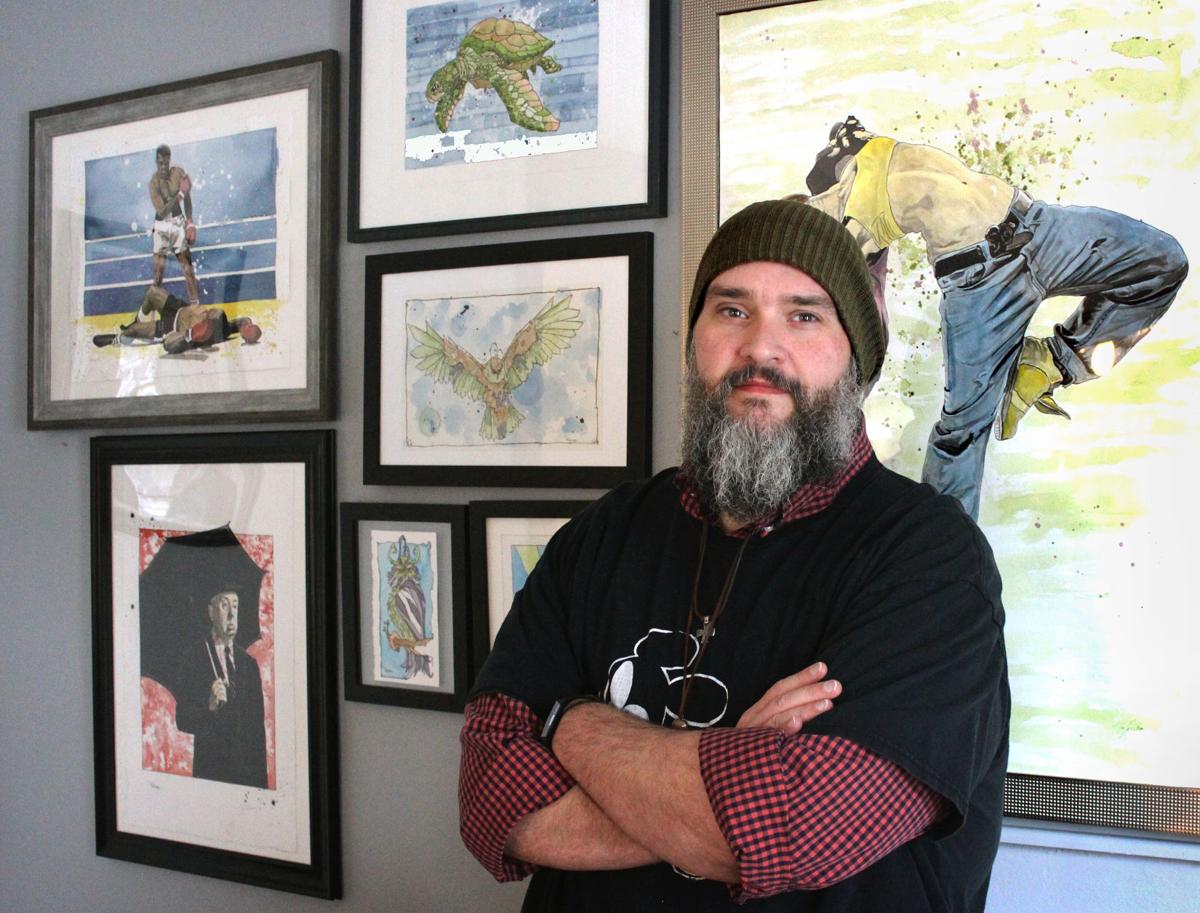 How do you illustrate a children's book titled "The Magic of Winter"?
If you're Danny Reneau, you send the kids outside to play when it's cold, and when there's snow on the ground.
Reneau and writer Abby Slife "focused on a little boy, and I have three boys, so it was easy for me to watch them and see how they reacted to the weather and being outside and knowing what they really enjoyed," Reneau said. "I used my sons as kind of a reference. Then I just wanted to really buy into the imagination part of being a child, imagining that there are all these different kinds of winter animals, and being outside enjoying that."
While London, 13, and Copper, 5, provided some of the raw material for Reneau's watercolor-and-ink paintings, 6-year-old Oxford became the star inside the hard covers.
"Ox is definitely the inspiration for the little boy," Danny Reneau said. "He even looks pretty much just like that. He was my reference. I had him running down the stairs and making snow angels and jumping around and just kind of seeing how a little boy that size would move around."
Then, last winter, the Lincoln artist sat down to do the paintings that have been transposed onto the book's pages.
That, however, was months after he was contacted by Slife, who'd purchased a Reneau print of Soundgarden singer Chris Cornell that he was selling online to raise money for suicide prevention.
Slife, who lives in Ankeny, Iowa, and had been thinking about doing a series of four children's books set around the seasons, began following Reneau on Instagram.
"I had noticed he clearly enjoyed painting animals," Slife wrote on the Kickstarter page she used to raise funds for the book. "Animals are featured in this book, so having a passion for them was a must. I also recalled his delicate ink-and-watercolor technique, which I envisioned when I dreamed of how to bring this book to life. On a whim, I reached out to him and asked if he'd ever considered illustrating a children's book. When he called and said he was into it and wanted to give it a go, I was beyond-the-moon excited!"
That was in May 2018, when the duo started a summer-long interaction, working out precisely what the book would be.
"We started storyboarding it out and (it) ended up being about 30 pages worth of illustrations to tell the story," Reneau said. "We just kind of went back and forth on how we wanted the book to read. We wanted it to be a quiet book to read before bed, so we started on that process. And at the dining room table over the winter, because it was cold in the basement where I usually work, I illustrated the entire book."
Reneau finished the illustrations in March. He and Slife, who wrote and lettered the book, found designers at Lincoln-based Redbrush, an independent publishing service, to assist them in putting it together — "They really helped us make sure that the book looked great, felt great and that it read well," he said.
You have free articles remaining.
In the book, the little boy sees it snowing, asks his mom if he can go outside, bundles up and dashes out the door. He starts throwing snowballs, building snowmen and then lays on his back to make a snow angel. Then his imagination kicks in and he starts to see penguins, polar bears and cardinals — all painted by Reneau.
"I've never done anything like this," he said. "I've been doing gig posters for a band out of Omaha for a while. I do my own art and illustrations and I have a show coming up of individual work. But I've never done a story illustration like this."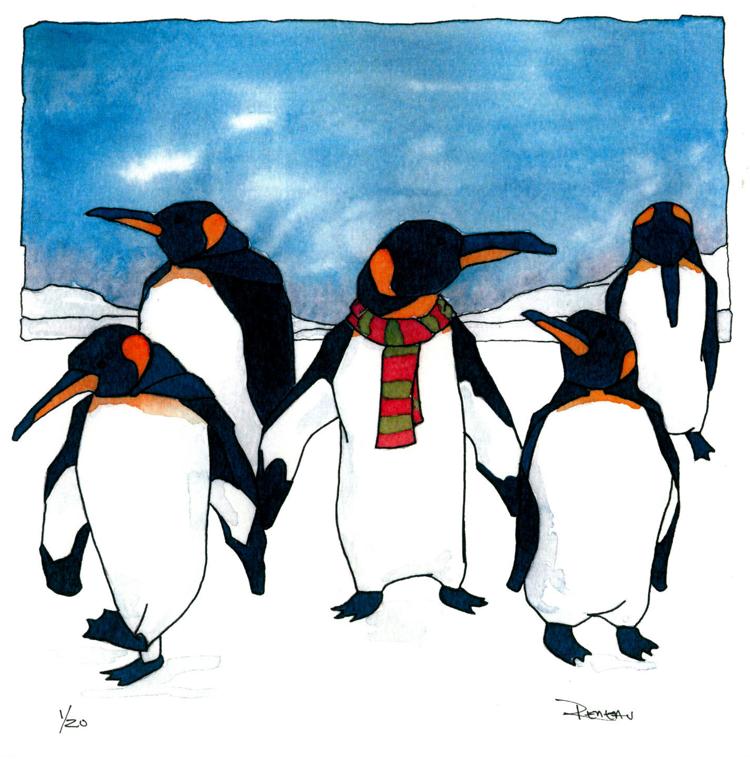 Reneau, a Kansas native, has been drawing since he was in fourth grade. He went to the Art Institute of Seattle, got a degree in video production, married JeriLee and, in 2011, decided they wanted to get closer to home.
"We wanted to get to the Midwest again, closer to family, but we didn't want to be right down the street from family," he said. "We had friends in Lincoln, so we decided this would be a good place for us."
Reneau has been making his art in Lincoln since, selling paintings, drawings and adult coloring pages online, exhibiting at Metro Gallery, doing posters for OmniArts productions and contributing work for benefits for the Lincoln Arts Council, the Lincoln Children's Zoo, Girl Scouts, suicide prevention and other causes.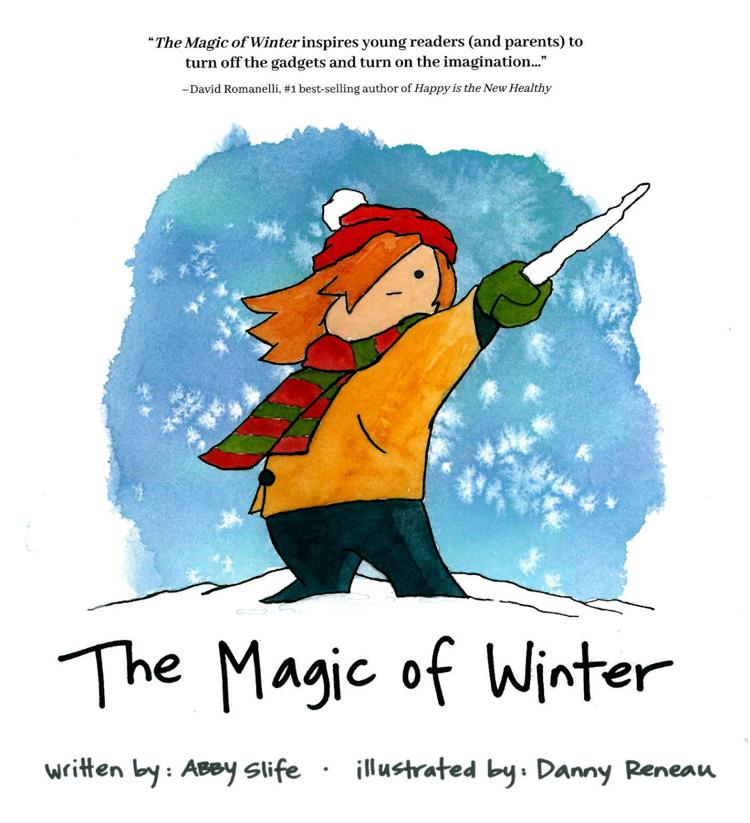 "The Magic of Winter" has a theme that will continue through the other books Slife imagines for the series.
"We're encouraging families and children to not get locked into television over the cold winter," Reneau said. "It's really easy to default to just your streaming services and video games when you're in the warm house, avoiding the cold. We wanted to encourage parents and children to shut off the TV, and play and use your imagination and enjoy the elements of the season."
Reneau and Slife are now promoting the book, which they will get into local bookstores and, more importantly, schools.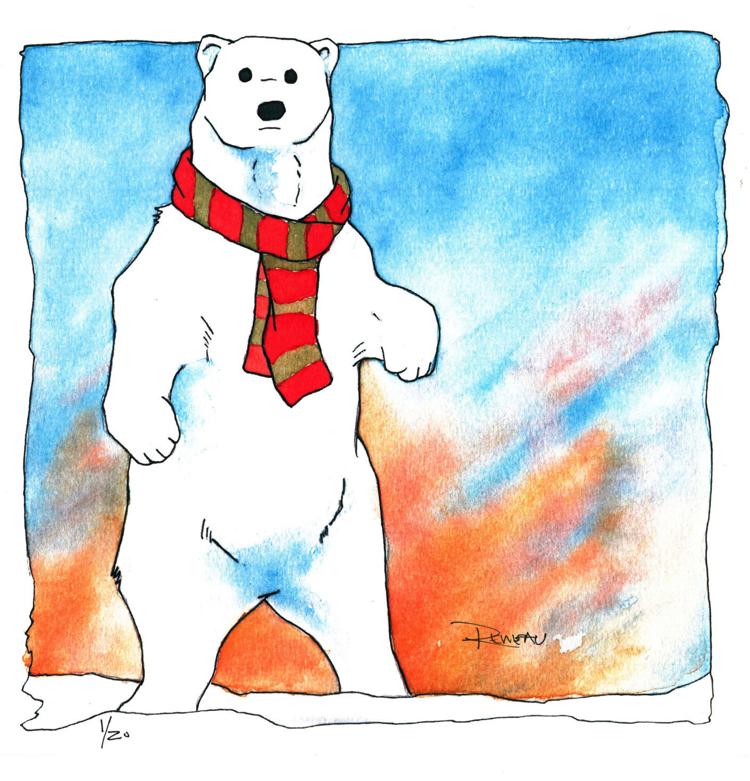 "I just got done talking to a first grade class at Prescott Elementary School about the illustration process and creating a children's book," Reneau said. "We're really going to try and focus on getting it into our own respective school districts and libraries first."
Reneau will also have a stack of books at Metro Gallery on Dec. 6 for the First Friday opening of his collaborative exhibition with Tom Sullivan.
Reach the writer at 402-473-7244 or kwolgamott@journalstar.com. On Twitter @KentWolgamott