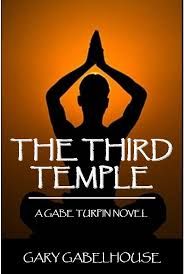 "The Third Temple: A Gabe Turpin Novel" by Gary Gabelhouse, 420 pages, $19.95
Gary Gabelhouse is a master of the metaphysical thriller.
He carries with him a great deal of special learning, based on his extensive travels, his in-depth study of numerous religions around the world and his mastery of various forms of martial arts. This novel, which begins in Thebes, Egypt, in 1462 B.C. and comes to the present with many flashbacks in time and shifts in location from Colorado to Jerusalem to Switzerland and other places, is complicated, demanding, but finally worth the effort.
You have free articles remaining.
Besides the mystery and the suspense, there is also romance and a very deep underlying theme of betrayal. There is even an unidentified character who is constantly and unexpectedly contacting the various players, mysterious, all-knowing and, yes, his voice sounds like the whispering of serpents. His identity is never revealed, but of course we know who and what he is.
One of the major feats of virtuosity Gabelhouse performs is to take a number of institutions that we tend to consider as benevolent -- the Jesuits and the Knights of Malta on the Catholic side and the Knights Templar and Hospitallars, both of which have historic Masonic connections -- and turn them into murderous enemies and conspirators, for the search of the Ark or perhaps the series of Arks, which can invoke the very presence of God and whose potential destructive power, all parties believe, is limitless.
There is a great deal of violence in the book, but none of it is gratuitous. It all fits in perfectly with the themes, plots and the characters.
And Gabelhouse is a persuasive enough storyteller that he can get us to suspend our disbelief and to believe that various groups we generally believe to be benign or at least harmlessly eccentric (the wealthy televangelist, a militant survivalist group in Colorado, etc.) engage in a complicated, multilevel war that must conclude with absolute victory or destruction.
Gabelhouse leads us along, teaching us in order that we may understand what we need to know about Super-Conductors, Meissner Fields, modern weaponry, ancient religious texts and even geography to follow his story. To have put so much into a relatively short space is remarkable in itself, but the most remarkable thing is that with all of the barriers the storyteller sets up for himself, he tells a compelling story. The book is well worth reading.
John Stevens Berry Sr. is a Lincoln attorney and author.