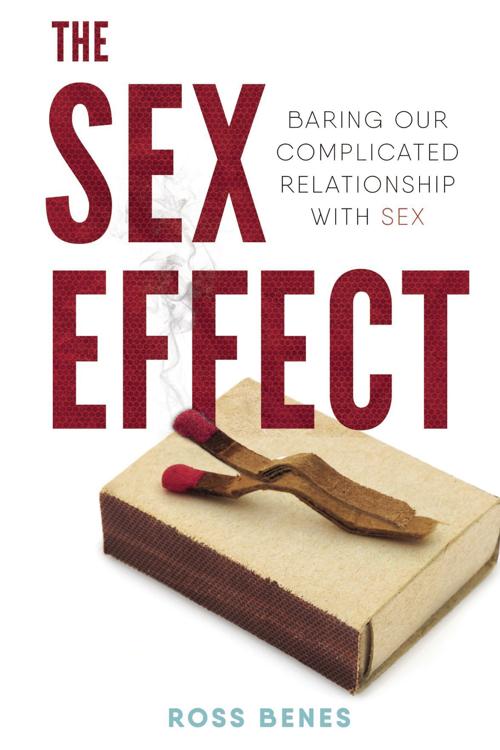 There is a old adage in journalism about whether a story passes or flunks "the breakfast test." As the Baltimore Sun's resident linguist John McIntyre succinctly put it a few years ago, the test "identifies our habitual skittishness about publishing language or images that would make readers spew into their cornflakes as they read the morning paper."
There are times when editors and reporters decide to endanger your morning meal with images or words that, while upsetting, are relevant to the story. That brings us to Ross Benes, a Brainard-raised, New York-based journalist whose first book is called "The Sex Effect: Baring Our Complicated Relationship with Sex." It also brings us back to those cornflakes.
That most basic of cereals, the brainchild of John Harvey Kellogg, the cornflake was not created with a balanced breakfast foremost in mind. Kellogg was a staunch advocate of degeneracy theory, a man who never consummated his marriage.
"Kellogg believed sex was always bad. Period," Benes writes in "The Sex Effect," due out Tuesday from Sourcebooks.
In an attempt to pass the breakfast test, let's say that the cereal that once had an even blander name (Granose, yum) was created to deliberately temper prurient interests with its blah flavor when it was first unveiled in 1895. It turned out that the breakfast cereal, even the un-frosted kind, doesn't do that.
Instead, as Benes learned in researching "The Sex Effect," Kellogg's brother, Will Keith, renamed the product Kellogg's Corn Flakes and tweaked the recipe, adding more sugar to the mix while driving a lifelong wedge between the two brothers in the process. A cupboard mainstay was unintentionally born from a product intended to sandbag libidos.
Learning facts like this led Benes, a 2013 University of Nebraska-Lincoln graduate who majored in journalism, economics and psychology, to go on a years-long deep-dive into an array of topics related to the subject of sexual behavior and its consequences -- particularly the unintended ones -- on society.
Benes said there was no a-ha moment over the course of writing and pitching the book, but a series of interrelated subjects that he said he had to further explore.
"There were definitely a handful of anecdotes that I thought were so fascinating that there had to be more to them, that there could be a chapter built around them," Benes said. "One is that I heard the Castro (District) in San Francisco, the gay neighborhood there -- its population size was so large indirectly because of the military discharging gay men during World War II out in San Francisco. And I thought, wow, that's incredible that there's this huge LGBT symbol that has this link to a policy that was meant to exclude them. And it was only after knowing that that I thought I should dig into all these academic books about gay people in the military, and then I found out some interesting things, and made a chapter."
Inspired by social science bestsellers he'd read such as "Bonk: The Curious Coupling of Science and Sex," "The Armchair Economist: Economics and Everyday Life," "Stumbling on Happiness" and the "Freakonomics" volumes, Benes spent much of his spare time the past five or six years researching and writing what would become his first book. 
Across three sections -- politics, economics and religion/culture -- "The Sex Effect," Benes examines everything from the origins of monogamy to the myriad technological advancements, from VCRs to broadband, driven in part by the pornography industry, to the ineffectiveness of a Ugandan-based condom initiative meant to lower the rate of AIDS infections.
"Everyone says you shouldn't talk about sex, politics or religion with people if you want to get along with them, and those are three of the four things that the book is about," Benes said.
You have free articles remaining.
Friends who've known Benes from his time in Brainard and Lincoln said that those are the types of conversations he most prefers.
"As far as 'The Sex Effect' goes, I wasn't surprised in the slightest," said Colton Bailey, who's been friends with Benes since high school.
Back then, they recorded boundary-pushing songs and shot admittedly weird movies together, including, Bailey said, Benes' first foray into journalism -- a filmed interview of a "uniquely strange" local. Bailey, now an engineer in Blacksburg, Virginia, said that they enjoyed exposing and celebrating what made their town weird in its own way, like all towns are.
"Out-of-bounds topics don't exist for Ross, and he revels in digging up weirdness that people try to bury," Bailey said. "(The book is) probably the most refined thing he's done so far."
In his first three years in New York, Benes has written for Esquire and Deadspin, among others, on all kinds of topics -- his experience trying to shut up for once at a silent retreat and his devotion to orange Hi-C. The material in "The Sex Effect" was not his first foray into writing about the subject of sex -- go to Benes' site (rossbenes.com) and you'll find some titles intended to tank the breakfast test.
The book balances serious subject matter with strange-but-true outcomes across 10 chapters. 
"I'd say it's 'Freakonomics' without pants," author A.J. Jacobs, who Benes met while interning at Esquire, writes in the book's foreword.
Crete author and retired UNL adjunct professor Richard Kimbrough worked with Benes on developing the concept of the book while Benes was still in college, even though he never took his class. (Benes' then-roommate, Jordan Behrens, introduced them.) 
Kimbrough helped Benes shape the structure of the book and taught him how to pitch it to literary agents. 
"I would honestly say it was what you would hope a higher education experience would be like," Benes said. "(Kimbrough was) someone who had nothing to gain from just helping a UNL student -- someone who wasn't even his student."
Kimbrough said he Benes did his homework to develop the book into its published form. When he received an advance copy, Kimbrough flipped to the notes and counted the number of sources the 336-page book includes -- "920 references, and that's just incredible," he said.
He said the final version of Benes' first book held up to its early promise. 
"As soon as I read (early passages), I thought, this is going to be interesting," Kimbrough said. "He took a look at things I would have never thought about."
Excerpts of "The Sex Effect" have recently appeared on the websites of Rolling Stone and Vice, with a few more likely to follow.