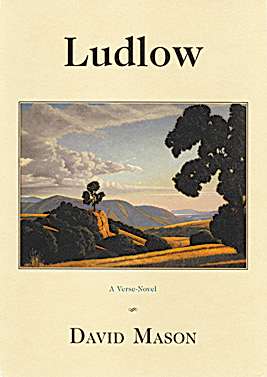 ("Ludlow; A Verse-Novel" by David Mason, Red Hen Press, paperback, $18.95). Mining accidents have been much in the news during the past year, and despite human mistakes, nature has taken the great part of the blame. The earth is heavy, and it falls. But, over the years, there have been plenty of mining disasters caused by human beings, too.
On April 20, 1914, the Colorado National Guard, at the instigation of mine owners and investors, rode down on a tent city at Ludlow, Colo., and attacked more than a thousand striking coal miners and their families. Men, women and children were killed. The Ludlow Massacre, as it came to be called, precipitated the Colorado Coalfield War, the most violent labor conflict in U.S. history.
David Mason, who teaches at Colorado College, says in his preface that this conflict has fascinated him for many years. Out of that fascination he has given us a deeply compelling story, presented unconventionally in lines of poetry.
The verse narrative descends from Homer and other great early epics, and it has never really been out of fashion, though very few poets have taken the big risk of trying to shape a lengthy and complicated story into a poem. One big risk is that people read novels for pleasure, hoping to lose themselves in what they read. When confronted by a story that looks like a poem, those readers may not so easily slip through the screen of the printed words into the story. Lots of us jump back and make a king's-X as soon as we see a poem, the result of dreadful experiences when our teachers taught poems not as pleasurable experiences but as problems that had to be solved.
At one point in the book, Mason explains what he is offering us:
Imagination's arrogance is all
You have free articles remaining.
I bring to this, a storyteller's hope
of touching life in others, a poet's love
of tropes and cadences, the sway of words.
Though this is a poet's statement about his love of language, the most important words as they relate to this book are "storyteller's hope," for "Ludlow" is an engrossing and deeply touching story in which the author is ever present, humbly hoping to offer us something of lasting value. And it is a credit to Mason's talent as a writer that the fact that "Ludlow" is told in verse doesn't get in the way of the telling. In fact, the rhythmical lines and stanzas draw us ever forward, into and through the story in ways in which prose writing is not always capable.
The novel has two principal characters. One is an orphan girl, Luisa Mole, whose mother is dead by the time the story opens and whose father is soon killed in a mine explosion. Luisa, half-Mexican, half-Welsh, is taken in by a well-to-do family as a house servant. Her story is one of endurance in the face of being thought inferior, as well as a longing for her father's people, the disenfranchised coal miners and their families as they struggle against the union-busters. The other major character is Louis Tikas, a dapper Greek union organizer at the center of the standoff between the United Mine Workers, and the mine owners and Colorado militia. Tikas enters the story as a scab, hired by the mines, but soon sides with the strikers and becomes a leader among them. "Ludlow" follows these two figures along parallel narratives that occasionally brush hands. Luisa and Louis, as well as the others in the story, are marvelously well drawn, and the settings and historical moment in which they move are engaging and authentic.
"Ludlow" is also a story about Mason's efforts to fashion the past, as he has discovered it, into an engaging literary work that can hold to the truth as he has absorbed it. Some of the most touching passages place the poet, alone at some milepost, struggling to find adequate language with which to reach back through almost a hundred years.
I read the book in an early draft several years ago, and was completely absorbed by it and it is a fresh pleasure to have it bound into handsome paper and hardcover editions.
Ted Kooser lives in Garland.