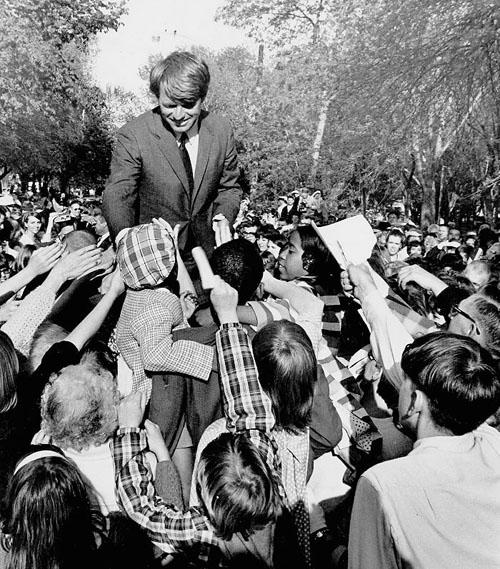 ("The Last Campaign: Robert F. Kennedy and 82 Days That Inspired America" by Thurston Clarke, Henry Holt, 321 pages, $25).  
There have been novels I have not wanted to end, so I found myself reading increasingly short sections. So it has been with this account of Robert Kennedy's final campaign, the 82 days in the spring of 1968 that ended with his assassination in June. In a sense, I didn't want the book to end because I knew the ending.
Part of that campaign for the Democratic nomination for president was spent in Nebraska, where many of us saw and heard him and hoped that he might bring peace in Vietnam and racial harmony in the United States.
1968 was a tough year. Martin Luther King Jr. had been murdered in March, and some inner cities had exploded in fury.
The Vietnam War slogged on. President Lyndon Johnson had declared he would not run for reelection. For some of us, Bobby Kennedy brought hope and, with his death in June, despair. Doug German, a young Nebraska volunteer, is quoted in the book as saying that with the death of Kennedy, he was through with politics, as "the music died for me." And Mark Shields, now a political commentator, worked for Kennedy in the Nebraska primary and would later say, "I'll go to my grave believing Robert Kennedy would have been the best president of my lifetime."
But, as the book reminds us, Kennedy was not universally loved.
Left wing opponents remembered his mottled political past, while right wing Southerners (and some Northerners, to be sure) could barely disguise their racism or their dislike of Kennedy's outspoken concern for issues such as health care and poverty. America is spending $30 billion a year in Vietnam, Kennedy told a Pine Ridge gathering, and "it seems it could spend some in the United States to alleviate the great poverty here."
The crushing poverty in parts of the United States and the high ratio of black soldiers fighting in Vietnam disgusted Kennedy. When a student at Creighton University in Omaha asked him "… isn't the army one way of getting people out of the ghettos…? Kennedy angrily replied, "Here, at a Catholic university, how can you say that we can deal with the problems of the poor by sending them to Vietnam?"
On the night of Martin Luther King's murder, Kennedy stood on a platform in Indianapolis' inner city to speak to the mostly black crowd and closed his extemporaneous talk by asking his listeners, some of whom had not yet heard of King's death, to follow the advice of an ancient Greek, "to tame the savageness of man and make gentle the life of this world."
In mid-May he was in Nebraska, crossing the state, west to east, by train, with crowded rallies in Kimball, Scottsbluff, Ogallala, Lexington and other stops, ending with an Omaha rally. In Lincoln, the Colosseum was packed with students and townspeople who came to hear him, and later, my son David and I watched him leave a downtown hotel in an open car to ride to the airport. I saluted as he rode by. He would win the Nebraska primary, garnering 51 percent of the vote.