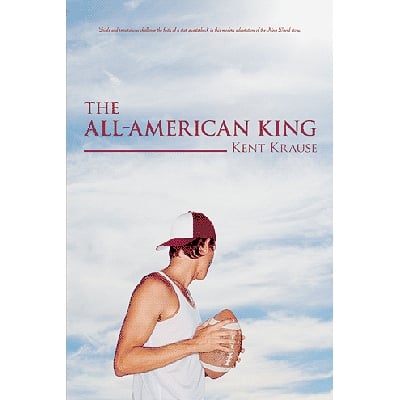 ("The All-American King" by Kent Krause, iUniverse, 532 pages).
Have you ever found Bible stories hard to understand? After all, can you really relate to a teenage boy facing a giant? What if that teenage boy happened to be a bench-warming sophomore baseball player from Des Moines, Iowa, and the giant was an opposing pitcher with wicked heat?
Lincoln writer Kent Krause based his first novel on the life of King David - the King David of biblical lore, who fought Goliath, angered an incumbent king, led armies, committed adultery with the beautiful Bathsheba and, after all of that, was still known as "a man after God's own heart."
In Krause's "The All-American King," the central character is Dave King, the youngest of nine children growing up in an Iowa family during the late 1960s and early '70s.
In the Bible version, the family business is herding sheep; in Des Moines, the King family runs a local restaurant called The Royal Court. Rather than fighting off the bears and lions that threaten the sheep, Dave faces down lions and tigers and Bear Bryant on the athletic field. Instead of becoming king, Dave King becomes American royalty - an NFL quarterback. He later channels his sports celebrity into politics.
But just like King David, Dave King stumbles along the way. Though he makes a commitment to God in his teens, life happens, and Dave strays from his faith and faces tragic consequences for some of his decisions.
I must admit I was skeptical that a rookie novelist could re-set the story of such a well-known character without the effort feeling contrived. About three chapters in, however, I found myself so caught up in the story of Dave King that I stopped trying to figure out exactly which of Krause's characters related to which Bible character. (For those who want to keep track of who's who, Krause has provided a handy character guide on his Web site, www.kentkrause.com.)
Krause grew up in Des Moines, and Midwesterners will appreciate the familiar details. References to sites in and around Des Moines, Council Bluffs, Omaha and even a few shoutouts to the University of Nebraska-Lincoln, where Krause has taught history, make the story even more relatable.
Krause previously has had his writing published in The Great Plains Quarterly and The International Journal of the History of Sport. His love of sports shows in the vivid descriptions of the baseball and football games Dave King wins and loses. Krause, like many writers of Christian fiction, sometimes loses his voice and allows his characters to lose theirs when he tries too hard to pound home a moral message. The book is at its best when Krause allows the story to speak for itself without becoming preachy.
If Krause's mission was to reframe a story of character, redemption and hope in a relevant way that stays true to its original inspiration, he has more than succeeded.
Cindy Conger is a free-lance writer and marketing director for US Property.