Ben Victor scraped a thin layer of clay out of the folds of the skirt on his sculpture of Dr. Susan La Flesche Picotte, working to ensure it would appear to be blowing in the wind, while creating upward sweeping lines that will animate the bronze version when it is finished this fall.
The bronze image of the first credentialed Native doctor in the U.S. will be placed on Centennial Mall in October, where it will join Victor's now iconic sculpture of Standing Bear a few blocks away.
Another version of the Standing Bear sculpture now stands in the U.S. Capitol as one of Nebraska's two representatives in National Statuary Hall. 
There, in 2019, the sculpture of the Ponca leader joined Victor's sculptures of Sarah Winnemucca, representing Nevada, and Dr. Norman E. Borlaug, representing Iowa, making him the only living sculptor to have three works in the hall.
As he did with the clay version of Standing Bear in 2017, Victor loaded up the La Flesche Picotte sculpture on a trailer — "it had to be air-conditioned this time. If it was outside in this heat today, the oil-based clay would melt" — and drove it to the Jayne Snyder Trails Center in Union Plaza.
There, for four days this week, he worked on the 7 1/2-foot sculpture, literally day and night.
He did detail work and touch-ups on her face while in Lincoln, often working late when the light was better.
"I can see now that it's starting to really express the things I want," he said in an interview Thursday.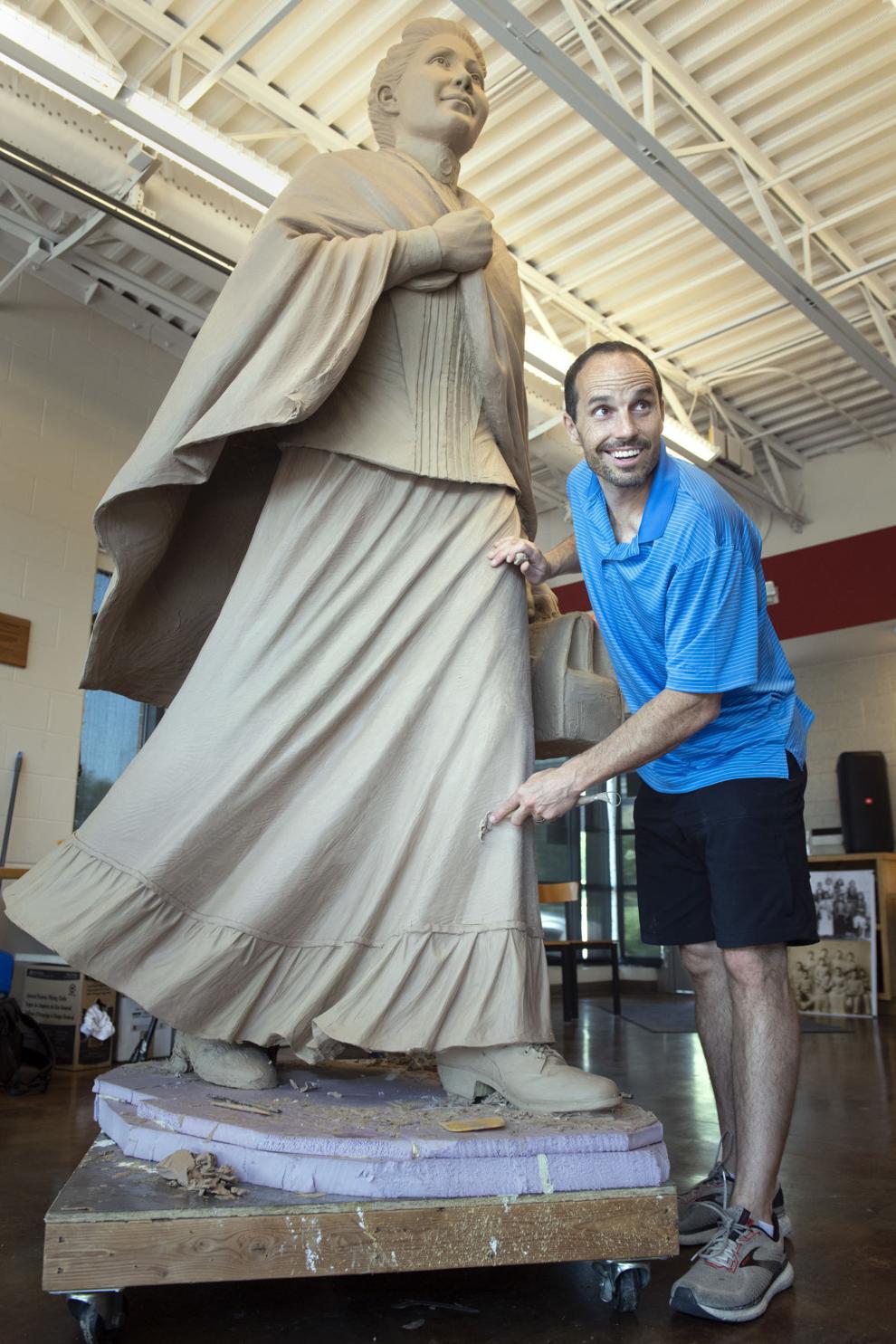 "Not only is it a likeness, but it's got personality to it."
Developing that "personality" and incorporating it into a work of art is a monthslong process for the award-winning sculptor.
To begin creating the piece, Victor read Lincoln author Joe Starita's biography "A Warrior of the People: How Susan La Flesche Overcame Racial and Gender Inequality to Become America's First Indian Doctor" and collected as many photos of her that he could.
He then thought about how to convey his impressions in bronze, going well beyond a 3-D replication of an old photograph.
La Flesche Picotte's groundbreaking life's journey, from the Omaha Reservation to the East Coast for an education — breaking a glass ceiling for woman and Native people — attaining her medical degree and returning to Nebraska in 1889 to practice among her people, provided the sculpture's aesthetic basis.
"With everything she did, I thought this has to be in motion," Victor said. "The element of wind, I've used that since I started sculpture. I read about it in art history and I really liked that idea. I was captivated by that as an icon of change. The change she brought about, the motion she's in, it seems to fit the pieces aesthetically."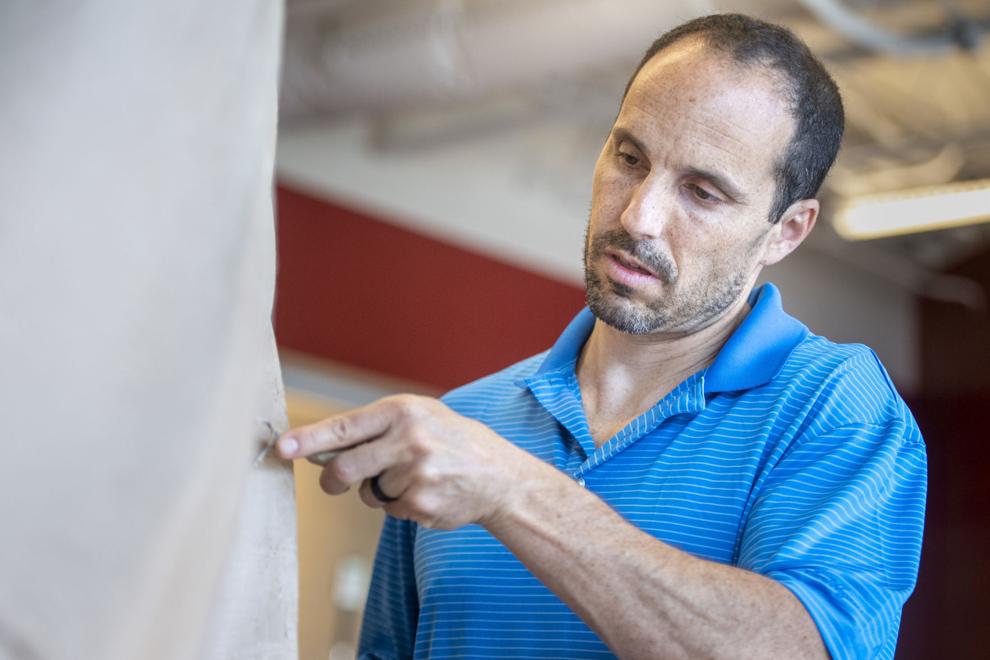 In March, Victor began crafting the sculpture, using clay over a wire and foam structure and positioning the figure, utilizing photographs to mold her face, hands and clothing, while aiming at conveying the qualities that made her one of Nebraska's most important historical figures.
"She's walking forward, there's a feeling of positivity with her brow up and her head's looking forward in leadership," Victor said. "She's just really striding with that wind blowing through. All of those things are a goal with the piece. I want to show leadership. Just the dignity of an intelligent woman who's able to beat the odds."
Conveying the essence of La Flesche Picotte extends to Victor's choice of footwear. On the left foot, stepping forward under the skirt, is an early 19th-century round-toed boot.
"I wanted it to be a women's work boot, not like a dress shoe that women would have worn, because every day, she went out and worked," Victor said. "She hitched up the horses when she got a horse and buggy, or she would walk and be out delivering a baby or all of these different activities that a doctor of her day had to do. Those were all work activities. So I thought work boots are more important than having the most stylish women's shoe of the era."
The shawl the figure clutches in her right hand is a traditional Native garment. While the shawl brings visual motion to the back of the sculpture, it serves an aesthetic purpose as well.
"It's the closest thing to a cape. It brings out the figure, widens out the entire space of the figure. It gives a real gravity to the piece. It really has presence, almost a stage presence."
A similar aesthetic decision will result in a last-minute change. An overcoat, which La Flesche Picotte can be seen wearing in photos, was initially envisioned to be part of the sculpture, but then discarded as Victor worked.
But, he said, he will be bringing it back, largely to aid in the creation of lines and motion.
Victor was in his final afternoon Thursday at the Hub. Friday morning, the sculpture went back on the trailer to return to Idaho. There Victor will add the overcoat, finish the right shoe and make some finishing touches before shipping the clay image off to a Lander, Wyoming, foundry where it will be cast in bronze.
He promised the sculpture will be done in time for an Oct. 11 dedication on Nebraska's first Indigenous Peoples Day when it will join Standing Bear on Centennial Mall.
Photos: Dedication of Standing Bear sculpture in Lincoln
A sculpture of Ponca Chief Standing Bear was unveiled at Centennial Mall near the State Capitol in Lincoln on Sunday. In 1877, Standing Bear and other members of the Ponca Tribe fled Indian Territory in Oklahoma, where they had been relocated by the U.S. government. The chief fought to remain on his ancestral land in Nebraska, winning a court case in Omaha that marked the first time that Native Americans were recognized as people under the law. The 11-foot statue was sculpted by Benjamin Victor of Idaho.
Reach the writer at 402-473-7244 or kwolgamott@journalstar.com. On Twitter @KentWolgamott