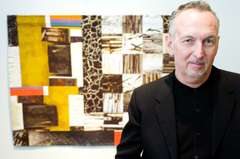 Michael James has long been interested in diaries and journals, creating a daily record of thoughts, feelings and impressions. But he's never been able to keep such a personal record for more than a few months at a time.
After working on large, time-consuming quilts for two major shows in 2006, however, the internationally known artist decided to try to bring the idea of a daily record into his work. The result of that effort is "The Life in a Day," a Modern Arts Midwest exhibition anchored by a series of small quilts that James calls "daybooks."
The idea behind the "daybook" quilts is relatively simple: James would go into the studio in his east Lincoln home, pick through the piles of cotton fabric printed with computer-manipulated imagery on the large table that dominates the room and begin to find pieces to put together to form the top of a quilt, pinning the sections of cloth to the wall until he had a finished composition that could then be quilted. 
The only restriction — the top had to be completed in a single day.
"I liked the fact that it was something that would embody the frame of mind I brought to it on that particular day, that would have within in it some element of my mood or my temperament or my thinking on that particular day," James said during a lengthy interview about his work in the gallery.
"I settled on this very simple architecture, not for any really deep intellectual reason, (but) it was a set of proportions that worked well. They allude to a building, a structure, supports for something. It's a very simple geometry that had a nice sense of balance and a reasonable sense of proportion within which I could work.
"So I determined at the outset that this series of pieces would have in common this simple structure of six shapes. That's the one thing about them that they share, that's identical. After that, this composition of forms became the receptacle for joinings or juxtapositions of imagery that come out of my, really, memories of places and moments from literally all over the world. Not exclusively in one place. Many of them actually are components from different places that are very far removed.
"The thing I'm not going to do now, and I've refused to do up to this point, is to dissect where a particular image came from. People are fascinated by that, but, to me, that's not the most interesting thing about them. What I'm trying to do is a kind of visual free verse. I'm using association of images to try to put in place a sense of someplace I occupied physically, but my mind still occupies."
LKW: In looking at them, there is a conveyance of various moods and places. Some are warm, some are colder, some are more apparent as to where the image came from, some are almost complete abstractions where I'd have to quiz you to find the origin of the image. Yet they all work together as a series of little windows into …
MJ: "I like that notion of the sense of a window into something. They're intended, really, to suggest that side of something that we don't see overtly, but that exists behind or within. And that can be a place, but it also can be a person, a human being who outwardly projects one persona or facade and inwardly is another universe completely, emotional, psychological, intellectual, etc.
"One of the things that has been an underlying current in all of my work for the last six or more years really has been this idea of these emotional and psychological undercurrents of all of our lives — how do you represent that or how do you depict that? These are, in parts, attempts to give visual form to these states of reality that are not the surface state but are the underlying conditions for an individual's personality or an atmosphere in a particular place."
LKW: It comes out of a particular time as well. There has to be a temporal thing to them.
MJ: "There's definitely a temporal thing to these. It's tied to ideas of the passage of a chronological time in the living of a life, the passage of hours in a day, which is essentially that notion of a life in a day. But also memory and how memory is a temporal condition."
LKW: By manipulation of the images, it's also a reflection that memory is as much a creation as it is a reflection of what really happened.
MJ: "Absolutely. If you could document some real phenomenon or some real event in any individual's life and you ask them to recount it 30 years later, it will have become something completely different. Memory will have colored it in lots of different ways. There's a little bit of that in this stuff, too."
Thirty years ago, James was beginning his career as a quiltmaker, venturing into a world that was considered craft and rarely was seen as fine art.
Trained as a painter, the Massachusetts native became interested in quilts in the early 1970s, coming to the medium through the Whole Earth Catalog and the anti-technology movement it inspired. James was part of that movement and found his first quilting books through the catalog.
Then quilting became the art form of choice for a man who was inspired by color field painters, such as Helen Frankenthaler.
"What happened was, in working on unprimed canvas, I started noticing the fabric itself, the substrate on which the color was being placed, and how interesting the weave and the texture of this fabric was. I started leaving more unpainted areas open as part of the compositions. Those unstained areas of white canvas started occupying more and more space in the painting. Right then and there was the start of the interest in fabric and textiles.
"By the time I got my MFA degree in painting, I had already gotten involved with quiltmaking as a hobby on a small scale, making objects like pillows and small-sized quilts. I made some small quilts for my then infant son. People were responding to that. Where I couldn't give away a print, I could sell a pillow and make 30 bucks, which was a lot of money for me in those days.
"Within three months of getting my graduate degree in painting, I was no longer painting. This was proving to be more consistent in terms of generating revenue.
"But part of what fed into my decision to just turn to quilts was I was intending to be a stay-at-home dad. I wanted to be able to integrate my studio life with my family life. That was really important to me. And I didn't see any way I could justify exposing my son to toxic chemicals in any way. We were screen printing in those days, and all the cleaners were all these really dangerous solvents. I didn't want to expose him to that. It seemed very convenient to be working in a medium that was totally non-toxic. By 1974, I was totally working in fabric."
LKW: As you were working in the late '70s, early '80s, that was the time that studio quilts began to get noticed?
MJ: "Let's put it this way, by 1978 it had started to really coalesce as a like-minded movement of artists who were practicing in different parts of the country and overseas. They had seen this form, they got involved in its history and the saw the potential within it outside the catalog of imagery that had defined the form. Once people recognized they could take it and do something more original with it, they brought their backgrounds as painters, printmakers, ceramic artists, etc.
"Most of those people in the early years of the movement were people who had gone to art school. Most of them women — really all of them women except for a small handful, which is still the case the today — who found this was a much more satisfying form and medium to work in than whatever they had been doing before."
Among the women who were part of the first generation of studio quiltmakers is Nancy Crow, an Ohio artist whose retrospective exhibition, "Nancy Crow: Cloth, Culture & Context," is on view at the International Quilt Study Center and Museum.
She and James have known of each other since the late '70s and have been longtime correspondents, critiquing each other's work and working to further the studio quilt movement.
"In our whole world of quiltmaking, and I don't pretend to know everybody who is serious, but there are almost none of us who have concentrated on composition, understanding that has to be honed," Crow said. "He's one of them. He's been rigorous about his approach to quiltmaking, and I've been rigorous. I think that's one of the reasons we are where we are. …"
"What I like about him is that he is rigorous. He's also willing to admit to failure. He's also tried to change. He knows how hard it is to change. That piece that's in the first gallery, that is the style he is known for. Everyone loved him for that work. When he tried to change, it was excruciating."
The piece Crow refers to is "Bias Cut," a quilt that is part of "Quilts in Common," the other IQSC exhibition. A hard-edged, geometric abstraction, it is a far, far different piece than the quilts at Modern Arts Midwest that have their imagery created by digital manipulation of photographs and other material that can be scanned into the printer.
LKW: How do you get to this (exhibition) from the quilt that's in the museum with the hard lines?
MJ: "That's a very good question. That piece I did in '87, 21 years ago. At that time I was working exclusively with trade fabric, commercial fabric I bought from fabric stores, the way most everybody who work in quilts gets their fabric. I was working in the strip-piecing process in which you take yardage and you cut it into individual narrow strips. I did anything from an inch and a quarter wide cuts, which when sewn together would make three-quarter inch wide stripes, up to two-inch cuts that would make one and one-half inch wide stripes. The piece in the show is one and one-half inch cuts that made one-inch strips.
"Once I cut all the strips, I'd resew them into large yardage sections, two yards long approximately, up to about 54 stripes wide. Every one is a different color all arranged in a sequence."
LKW: That must have taken forever.
MJ: "It took forever, yes. Twice a year, I would spend about a month to six weeks just sewing stripes, day after day, making new panels. I might make a dozen or 18 new panels, and I'd add them to what I had. Over a number of years I acquired a huge collection of these striped panels. It provided me with this palette of color and a rich range of every conceivable combination and sequence and wash of color that I could use to build these geometric structures that were these quilts.
"In a way, it's not that different from what I'm doing now in that I was making my own fabric, and I'm still making my own fabric. At the time, I was working alone. I did all my work myself until six years ago. I was singlehandedly doing it. I don't think that's significant because the work itself of making quilts is generally very tedious, very repetitive. …"
In the early '70s, James spent six months making a single quilt because he constructed it by hand, never using the sewing machine. By the late '80s, he was working entirely by machine to speed up the process. That allowed him to average seven to nine new quilts a year.
"In my best years, I got between 12 and 15 pieces done a year. What happened, because I was doing that all single-handedly, it was too much like a machine. It was almost like a monster I created. I was chugging this stuff out, and I was starting to lose my passion for it. It was just way too intense. I pulled back,  and pretty much I still average seven to nine pieces a year. The daybook year was more productive because those are a lot smaller."
James spent 25 years as a studio quiltmaker, earning national and international recognition, getting his work in museums and prestigious private collections, writing influential books on quilts and quiltmaking and teaching private courses.
By the late '90s, he and his wife, Judith, were ready to make some changes in their lives. They wanted to leave Massachusetts, and James began applying for university positions to teach art fundamentals — composition, color and design that are shared by all art forms.
Coincidentally, the University of Nebraska-Lincoln had a faculty opening in visual literacy in the College of Clothing, Textiles and Design, and James was already familiar with the school and program because he had served as an international advisory board member of the IQSC since 1997.
James came to Lincoln in 2000 and now serves as Clothing, Textiles and Design department chairman and works with the IQSC along with teaching graduate and undergraduate students.
"It was obviously a once in a lifetime opportunity because this facility and this program here at the university exists nowhere else," James said. "It's unique. And the skills and the background in the field I brought to it is also unique. The rest, as they say, is history."
Part of that history involves technology, specifically a large digital fabric printer that was already located in the Home Economics building on East Campus. Another professor obtained the machine to study dyes. But, after arriving in Lincoln, James took it over to print his fabrics after he worked with the images in his computer, using programs such as Photoshop and Illustrator to alter and layer original images.
Once the fabric is printed, James brings it back to his studio, puts it on the table and starts to work.
"My work almost always builds very intuitively. I almost never do any kind of preliminary drawings. Once in awhile I'll do a simple sketch to outline the organization. But, for the most part, especially with this fabric I've been making for the last six years, I like to cut a section out of some printed yardage. These are not printed as repeat designs in any way. They're printed as panels that are photo-based but have been enlarged and built on in multiple layers until I get something that I think is interesting and unique. Then I cut from parts of those fabrics to get the shapes that people actually see in these quilts.
"I pick that particular area because that area has the complexity of color, images, lights, darks, the balance of visual weight I need in the context. It gets put on the wall as a function of how that particular area is going to relate to what's around it. It will stay to the degree that it adds something to the conversation that's happening on the surface.
"That's really important, the notion that when I'm putting pieces of fabric on the wall, I'm looking to get some direction from the piece. I'm waiting to hear what it's going to suggest I do. Do I want something that's aggressive here? Do I want something that cancels a particular area out or reduces its strength or its value? These kinds of questions are constant."
LKW: As you do that, do the pieces change dramatically?
MJ: "Yes … (Usually) I build the whole top in three sections. I've often created a section, developed that and find that I like that a whole lot better than what I started with, and what I started with has to go in favor of something new. It's intuitive, it's driven obviously to some degree by formal concerns. But much more it's driven by the personality of the piece, its temperament, the tone it expresses as I'm putting it together."
LKW: In particular with quilts, the surface is important, maybe even more important (than paintings). The surface here really animates.
MJ: "What's interesting in my work is the quilting isn't purely functional. It's that element of the object wherein its original, historic function was found. Conventional historical quilts were usually created to use on a bed, to provide covering and warmth. To provide the warmth, they had to have a filling. To keep the filling in place, they had to be stitched through. That quilting eventually became a decorative element for these classic quilts that you see, for example, at the quilt museum.
"In my pieces, they do serve a function because they still basically define the object. Without that quilting, they wouldn't be a quilt in a technical sense. It would be something else, patchwork without the quilting. But they also articulate the topographies that these images represent or from which these images are taken … My studio assistant travels across all of the contours of every form, every shape, every color, marking out a sort of visual pathway through these fabrics that the viewer will also, if they give the work the time, get involved with in traveling."
Traveling is part of the theme of "The Life in a Day." Many of the pieces in the show, the "daybooks" and larger quilts as well, contain imagery based on photographs James took on trips to Japan, China and, most recently Korea.
The exhibition is James' largest show in Lincoln since shortly after his arrival here. Because of the nature of his work, it is likely to be several years before he has another show of similar size and depth on view here.
But he is already preparing to begin a new series of quilts.
"I've always been committed to exploring an idea until I felt I'd exhausted the possibilities and had resolved the questions I'd had about how those forms go together. Thinking ahead to the future, I already have ideas where I'm going to take this. I don't know that I'll continue working with digital imagery. There are a number of factors that could take me a completely different direction. There are some things I've been rolling around in my head that I might like to do. I'm not going to venture to say what it is because I don't want to be held to it.
"But one thing I can say about my work, and this has played into its evolution, is when I'm standing at the studio wall, I'm looking at what is there, but I'm always looking four, five, six years ahead. I'm seeing things I can't make now because I don't have the intellectual skills or the knowledge. I'm not talking about mechanical skills, although that might enter into it. But I don't have the accumulation of life experiences and exposures that I will need to realize those works that I can see in my mind's eye.
"It's interesting. I get a piece done and I stand back and realize that,  in an approximate way, I saw that in my mind's eye five or six years ago. It's working toward a vision."