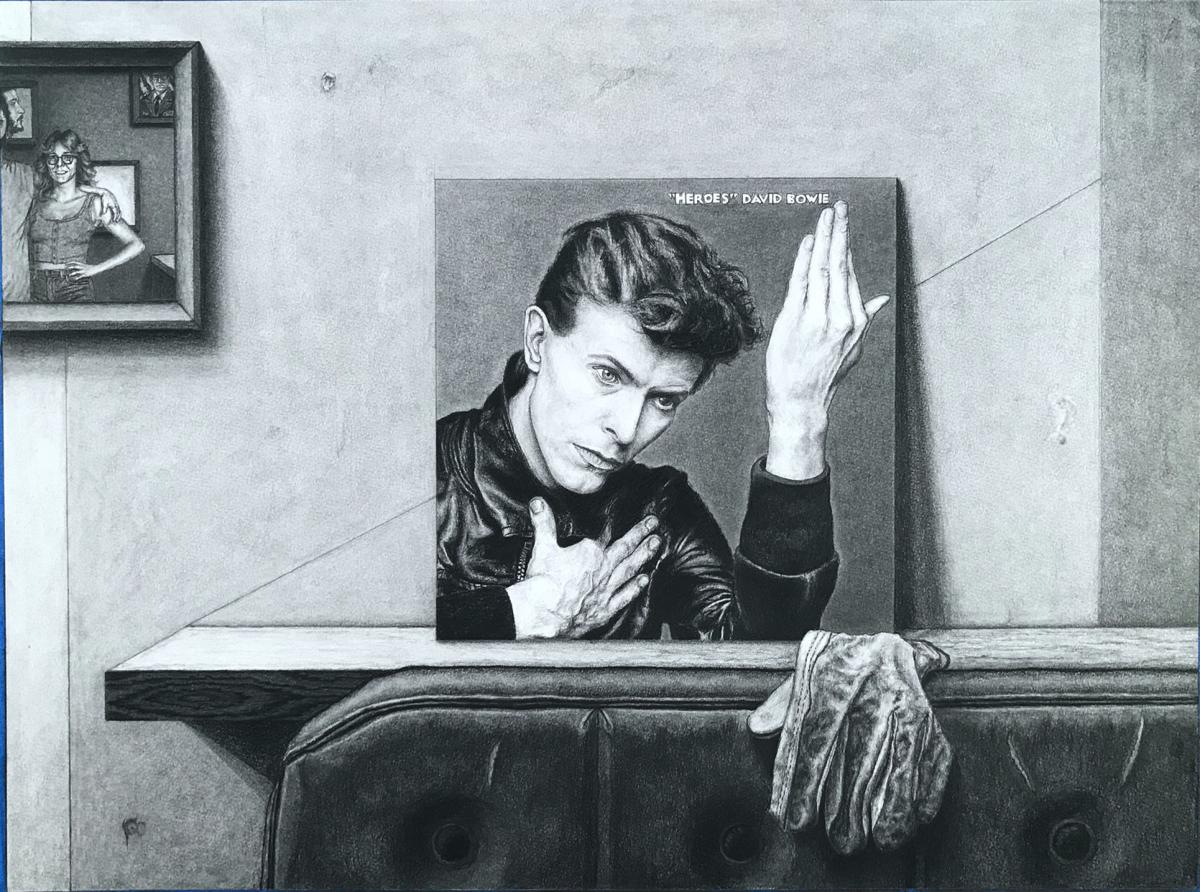 Painter Chance Lure Allen looks at his life, family and the future through a century of making gravestones in his Masters of Fine Arts thesis exhibition "Short Stories, Tall Tales."
Across the hall in the Eisentrager/Howard Gallery, sculptor Matt Carlson uses steel, paper and cast ceramics to reflect on living with a disability and the struggles of his son, who has autism, in his exhibition "Tomorrow is the Worst Day Since Yesterday."
Together, the exhibitions impress with their distinctive takes on identity-based art — Allen's work tempered with humor, Carlson's with powerful emotion — and technical excellence.
The latter is particularly true for Allen's exquisite graphite drawings.
"The Phantom Limb" finds David Bowie's "Heroes" album cover on a mantle, with a single work glove below and, hanging on the wall, a picture of a couple, with the man cut off by the picture's edge, leaving only his arm around the woman's shoulders.
And "Canned Love" puts the artist on an album cover, wearing a cowboy hat, sitting at a bar — "either it's the canned love you have to give, or maybe it just means beer," Allen said.
That humor continues through his paintings that pull from a gravestone maker's aesthetic, with simple, stripped-down imagery presented without much depth of field — albeit in bright colors.
A fortune cookie, for example, sits in front of a picture about death, complete with gravestone, while next to it, Allen's contemplation of his lineage led to an imaginary look at him holding his future baby — "I Dreamed I Met My Son Last Night."
Elsewhere, he confesses to "Stealing Mom's Smokes" with a painting of the family refrigerator paired with a Grant Wood painting, reproduces an old Polaroid of his father, grandfather and uncles, works in a Leonard Cohen album cover and uses Courbet's "Origin of the World" as a takeoff to look at the "Life Cycle."
Carlson's exhibition is, unavoidably, dominated by a large sculpture that hangs in the center of the gallery. Made of dozens of polished steel shards bent into points welded together into a silver whirlwind, the imposing piece threatens to strike out — for Carlson, reflecting the hostility of those living with a disability.
Carlson, who has multiple sclerosis, makes the exhibition powerfully personal with a claustrophobic square space in the gallery with walls covered from floor to ceiling with casts of the pens he has to inject every two weeks. "They keep me healthy, but I hate them," he said.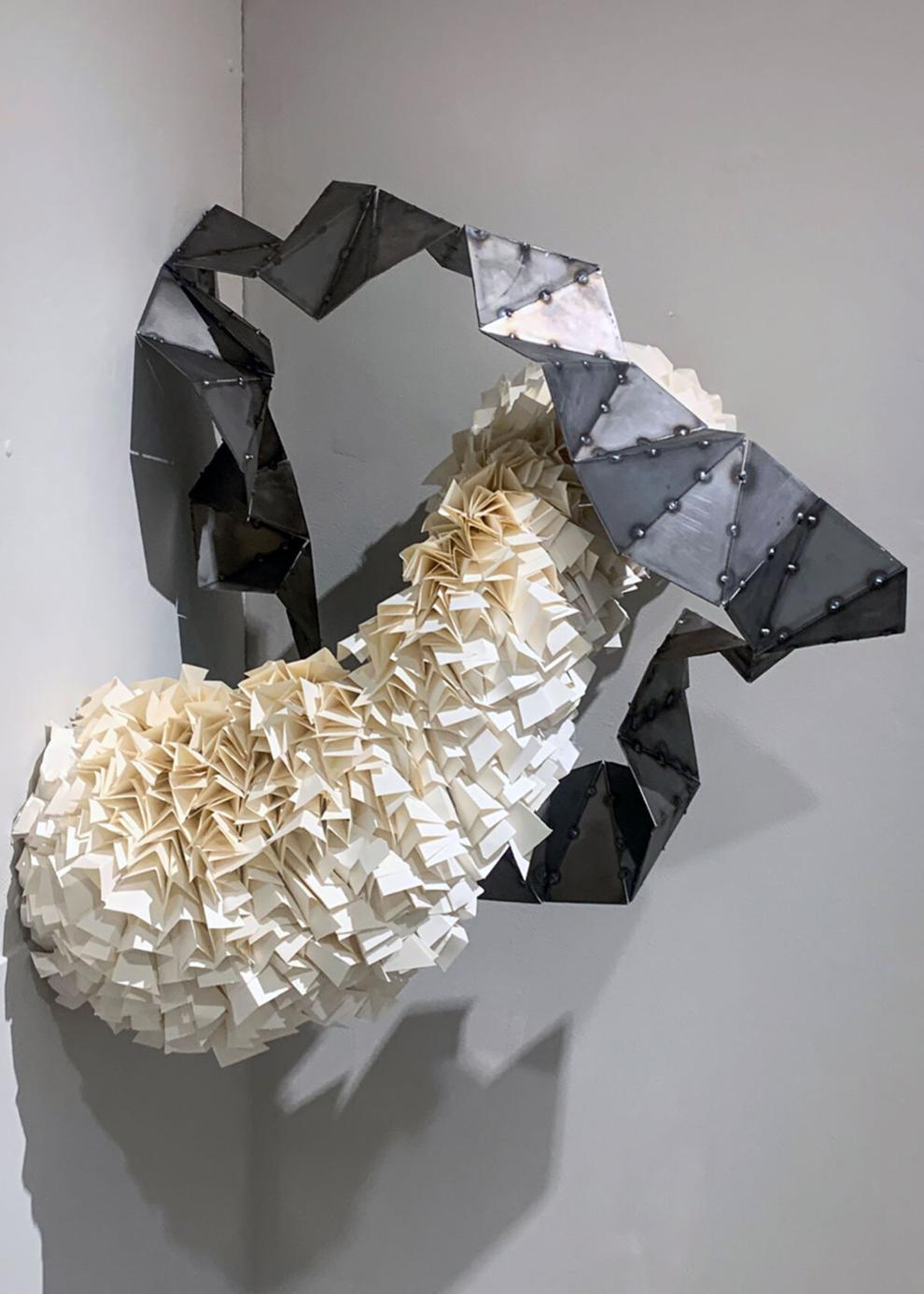 Arranged in rows, the 1,014 casts reflect the number of injections that Carlson will have, if he reaches the average life expectancy of 76.
On the walls surrounding the whirlwind sculpture are a series of large system-based drawings that resemble subway maps. They are coded records of Carlson's video chats with his son with autism, who lives in North Carolina, reflecting his frustrations and limitations.
A wall sculpture ties the exhibition together, with its contrast of vulnerability and strength echoing the themes of revealing how it is to live with a disability.
The superb "Short Stories, Tall Tales" and "Tomorrow is the Worst Day Since Yesterday" close Friday at the gallery in Richards Hall on the University of Nebraska-Lincoln campus. It will be open from 12:30 p.m. to 4 p.m.
Reach the writer at 402-473-7244 or kwolgamott@journalstar.com. On Twitter @KentWolgamott