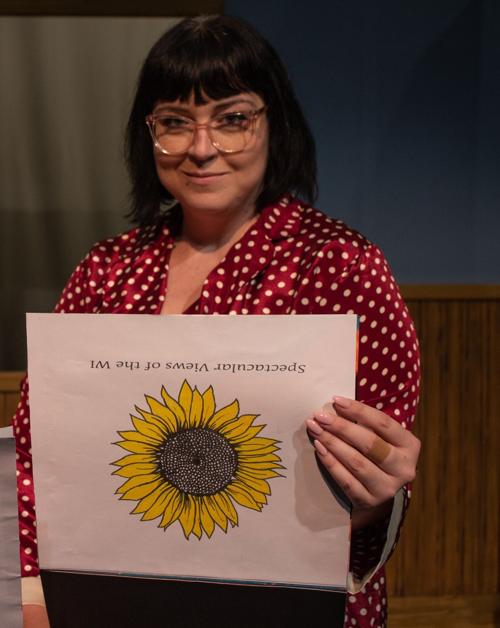 Amy Koepke, the owner of a downtown hair salon and mother of three, is in the midst of "a personal journey," a voyage that is taking her out of her comfort zone.
She's baring it all -- or at least looking as if she's doing so -- for the world to see.
Koepke is far from an ugly duckling, but insists she would never be mistaken for Celia, the vivaciously sexy trophy wife she'll play when the Lincoln Community Playhouse raises the curtain on "Calendar Girls" Oct. 15.
And it's there that her discomfort and vulnerabilities are manifesting themselves.
The play is based on a true story about a group of six women in England who do almost everything together. They share the joys of life, and also endure its hardships together -- none bigger than the death of the husband of one of the women.
While mourning his death, they somehow arrive at the decision to raise money for leukemia research and a new couch at the hospital by creating and selling a risqué calendar featuring themselves. 
And with that, the plot line quickly transitions from "Steel Magnolias" to "Striptease," which is both unexpected, heartwarming and at times hilarious because it comes from a group more suited for a bridge club.
It's a story of friendship that speaks to attributes like confidence and caring, about overcoming fears and obstacles to accomplish a goal.
More important is its resounding message that reinforces body positivity and serves as a reminder that beauty come in all sizes, shapes and ages.
It also stresses that opinions of others really don't matter, that being comfortable in your own skin is essential to happiness. It's only then that you can actually dance like no one is watching -- or not care if they are.
That's how we arrive at Koepke's personal journey -- her mission to overcome the obstacles and pitfalls that hinder all of us.
"I'm not super confident in my everyday life," she said, pointing out how different she is from Celia. "She is a trophy wife, the sexy one who wouldn't care. She's happy to do this kind of thing. For me it's black and white, completely different from what I am as a person."
And while the Playhouse's version of "Calendar Girls" would be rated PG-13, it still takes some courage to get on stage in a state of undress.
Make no mistake, the cast will be covered, and props will be used to give the illusion of nudity, while also providing some brevity.
"My character is covered in front by cherry buds. It looks like boobs," she said. "It looks quite hilarious. You're see a little bit of midriff and you'll see the naked arms, but the boobs are covered."
Still, that doesn't necessarily make it comfortable.
When she was cast into her role, Koepke didn't expect the scene in question to become an issue, but with opening night looming, she is getting a bit more antsy about it. A big part of her is anxious about dress (or undressed) rehearsal next week.
But, for the record, she isn't having second thoughts.
"There's no turning back," she insists.
Remember, this is her mission. It's not supposed to be easy or without the need for courage. 
"I said from the beginning of this journey when I got the role, if I can leave with a fraction of the confidence that (Celia) has, I will have gained something from this show," Koepke said. "I'm feeling that. Every day gets a little bit better.
"Every day feels a little more natural."