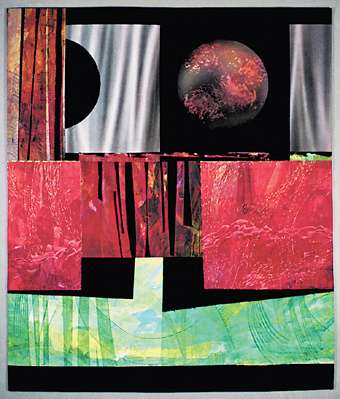 "Give and Take: The Artist/Student Dialogue," now on view at the Robert Hillestad Textiles Gallery, isn't your typical teacher/student show. Rather than simply showing the direct linkages between teachers at the Quilt Surface Design Symposium, an annual workshop for nontraditional quilt makers, the exhibition is a sampling of the work of some of today's best "art quilt" makers through the QSDS lens.
Organized by University of Nebraska-Lincoln textiles, clothing and design professor Michael James, himself an internationally renowned art quilt maker and QSDS instructor, the exhibition is made up of nine pairings of recent works by an artist and a student. The pairs are, with one exception, hung side by side in the gallery on the second floor of the Home Economics Building in the College of Education and Human Sciences on UNL's East Campus.
So, for example, Susan Shie's "The Punch Bowl/Star: Card #17 in Kitchen Tar" hangs adjacent to "A Mayan Child Moves to Maine in November" by her student, Elizabeth Cherry Owens. While the two quilts don't seem to have much in common in the way they are assembled, the link I found is in the autobiographical nature of the pieces.
Shie's quilt is a family story centered on her granddaughter, Eva, while Owens is documenting her first winter in Maine. Owens does so by using Guatemalan textiles, sequins, shells and even a pocket sewn into the quilt. Shie's work is covered with writing — printed stories that go on and on and on. But it's also covered with drawn images of her family members and all kinds of elements that illustrate the tale — from a peace sign to a Sunbeam blender, elongated cats and an astrological chart.
For me, however, finding the teacher/student connections isn't nearly as enlightening as examining the quilts without regard to the pairing.
Here are some observations I made on a couple of trips to the gallery, one of which I spent in discussion with James:
There's a linkage with "outsider" art in quilts by Therese May and Jane Burch Cochran. May explicitly credits the Rev. Howard Finster as an inspiration for her "Yes Dress," a quilt in the outline form of a dress covered with the repeated words "yes," "now," "love."
Cochran's "Moonlight" attaches beads (a small string of which spells out the quilt's title), buttons and recycled fabrics to a narrative image that finds the outline of a man, surrounded by butterflies and birds, against a giant white disc — obviously the moon of the title.
Terrie Hancock Mangat's "Walking Over Hot Coals" is an example of quiltmaking as a political statement. An anti-war piece, "Walking Over Hot Coals" uses black bows to symbolize tying hope to oil, embeds skeletons representing the dead into the fabric and pairs flowers with what appears to be flames. The connection with Iraq is impossible to miss if you take the time to look at the work.
In contrast to the narrative pieces, there are some striking quilts that are the visually not far different from hard-edged, geometric painting.
With "MOOG," Jan Myers-Newbury uses shibori dye to create a geometric rectangular abstract that is overlain with an organiclike print. From a distance, the piece brings to mind the paintings of Peter Halley. But the organic pattern and the nature of the fabric give it a different feel up close.
Pattern is, obviously, the key to "Pattern Fusion #8," Arturo Alonzo Sandoval's innovative piece that utilizes recycled Mylar, 35 mm library microfilm and netting. Woven in strips that result in small rectangles that resemble a slide, the piece is covered with multicolored patterns and seems to shift and move with reflected light.
His student, Niki Bonnett, also has a mixed media creation, putting clock parts, rulers and wooden pieces in "The Sacred Within," which also uses intricately dyed cloth, resembling both ancient maps and clockworks, to create a spiritual mystery that has a sculptural sensibility.
A piece that is likely to catch the eye of nearly every visitor is "The Gift," a hand-dyed printed "photograph" of a female massage artist from the Philippines by Hollis Chatelain. A technical tour-de-force, the image is sentimental and brings to mind a question that I've often had with similar works — why not just show the photograph?
More compelling is "Lunatic Blue" by Ginny Smith, an explosive abstract pieced quilt with checkerboard patterns bumping up against lines and colors going every which direction.
As is the case with all group shows, not every piece in "Give and Take" is strong or all that original. That said, overall the exhibition is, first, fun to look at and, second, instructive — whether it is viewed on its teacher/student premise or simply as a show of nontraditional quilts that are at least somewhat representative of contemporary work being done in that form.
"Give and Take" is on view at the Hillestad Gallery through March 2. That coincides with the International Quilt Study Center's Third Biennial Symposium titled "Traditions & Trajectories," which runs Thursday through Saturday. Three other quilt/textile shows will be on view in Lincoln that weekend. They are  "European Art Quilts IV" at the Haydon Gallery and "Tactile Traces" and "Mapping the Surface," the latter by Lincoln textile artist Judith James, both at the Lux Center for the Arts.