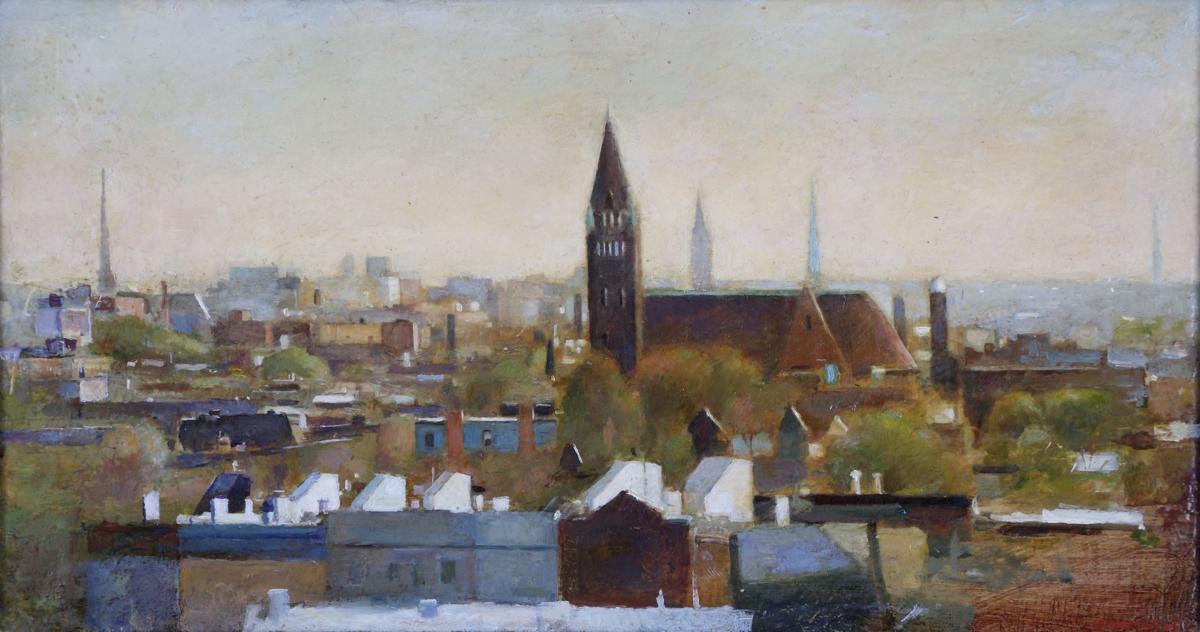 Putting together "The Aching Beauty of It All: Paintings by Stephen Brown" was a labor of love for Nebraska Wesleyan art professor David Gracie, who is paying tribute to his teacher with the Elder Gallery exhibition of Brown's paintings.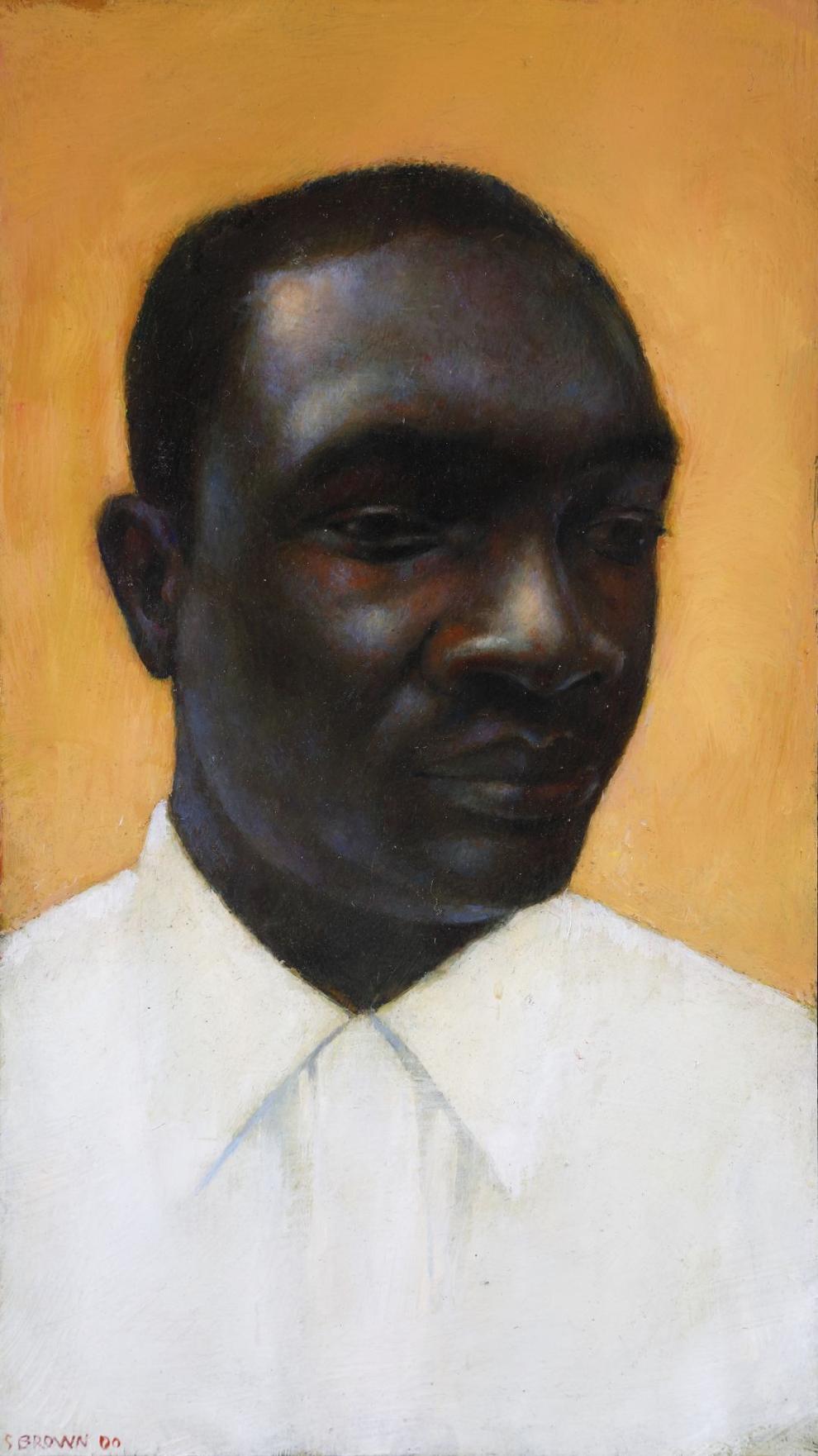 Gracie, who studied painting with Brown at Hartford Art School in Connecticut, traveled to the Kentucky home of Brown's widow Gretchen Treitz-Martin, selected some 75 works, brought them back to Lincoln in a van.
With Wesleyan colleagues, Gracie put together a catalog, with a bio written by Treitz-Martin, and effectively hung the show of small paintings in the gallery's three large spaces, showcasing the variety in Brown's subject matter, the repetition of his figurative subjects and, in a space devoted to 30 works that were unfinished at the time of Brown's 2009 death, his artistic process.
Primarily a figurative painter, who studied and worked as a studio assistant with Alice Neel, Brown used his wife, son Rushton, friends and fellow artists like magic realist painter Gregory Gillespie as his models.
As a traditionalist whose career began in the '70s, Brown also painted still lifes, interiors and landscapes.
But those subjects, whether the northern Colorado landscape of "Near Home" or "Pawnee Butte," the rooftops of Brooklyn or the doorknobs that he repeatedly painted near the end of his life were all deeply connected to the artist, a Greeley, Colo. native who worked in New York City before moving to New England to teach at Hartford.
"Everything he's done is about connecting his love of painting with everything he loved in life," Gracie said as we walked through the galleries. "It's an optimistic thing that, I think, is appropriate for this moment."
The show of Brown's paintings is appropriate for the moment for another reason. Figuration has, of late, returned to contemporary painting and work by Brown's mentors and colleagues like Wayne Thiebaud, Lois Dodd, Philip Pearlstein and Rackstraw Downes is being examined under a new light.
Brown's work deserves such a re-examination and, with close viewing, gets it via "The Aching Beauty of It All," and Gracie's illuminating catalog essay.
That examination instructively begins with the unfinished paintings, propped on shelves at easel-like angles.
Showing the masking of the subject matter, the layers of paint, the variation in looks at the same subject – including an pair of self-portraits, the unfinished works display something of a skilled artist at work, patiently striving to capture the combination of color, line, depth and luminosity that creates painting "magic."
Other pieces when seen from inches away, reveal Brown's techniques of scraping, sanding, layering and gluing in bits of dried paint to create a surface alive with texture and light while other figurative pieces explore the expression of their subjects, and, through a few pieces years done, Rushton growing up.
Treitz-Martin is the subject of multiple paintings, including the exhibition's nudes – that demonstrate that Brown was a superb, classic-style painter. But even when provocatively posed, the nudes aren't exploitative, hence the title "Gretchen, Leg Up."
Other pieces, like "Boots" seem odd. That is until Gracie explains that Brown loved Vincent Van Gogh, who painted his boots. So Brown's take on the battered worn footwear is his nod to Van Gogh, via subject matter rather than aping his unmatchable painting style.
With 75 pieces, there's a lot to take in in "The Aching Beauty of It All." I've made two visits to Elder since the show has been on view and will likely return again before the show closes.
That way, I can take closer looks at, say, the detailed, precise, glowing renderings of the doorknobs, the still lifes with the classic Dutch-style black backgrounds, the flowers and trees and revisit the fascinating gallery of unfinished paintings from the impressive painter who I'd never heard of before Gracie brought his work to Lincoln.
"The Aching Beauty of It All" is on view at Elder Gallery in NWU's Rogers Fine Arts Buiding at 5000 St. Paul Ave. through Jan. 30. Gallery hours are 10 a.m. to 4 p.m. Tuesday through Friday, 1 p.m. to 4 p.m. Saturday and Sunday.
L. Kent Wolgamott's five favorite reviews from 2021
I've chosen my favorite reviews of 2021 -- aimed at telling the year's arts and entertainment story through the biggest events.
Reach the writer at 402-473-7244 or kwolgamott@journalstar.com. On Twitter @KentWolgamott