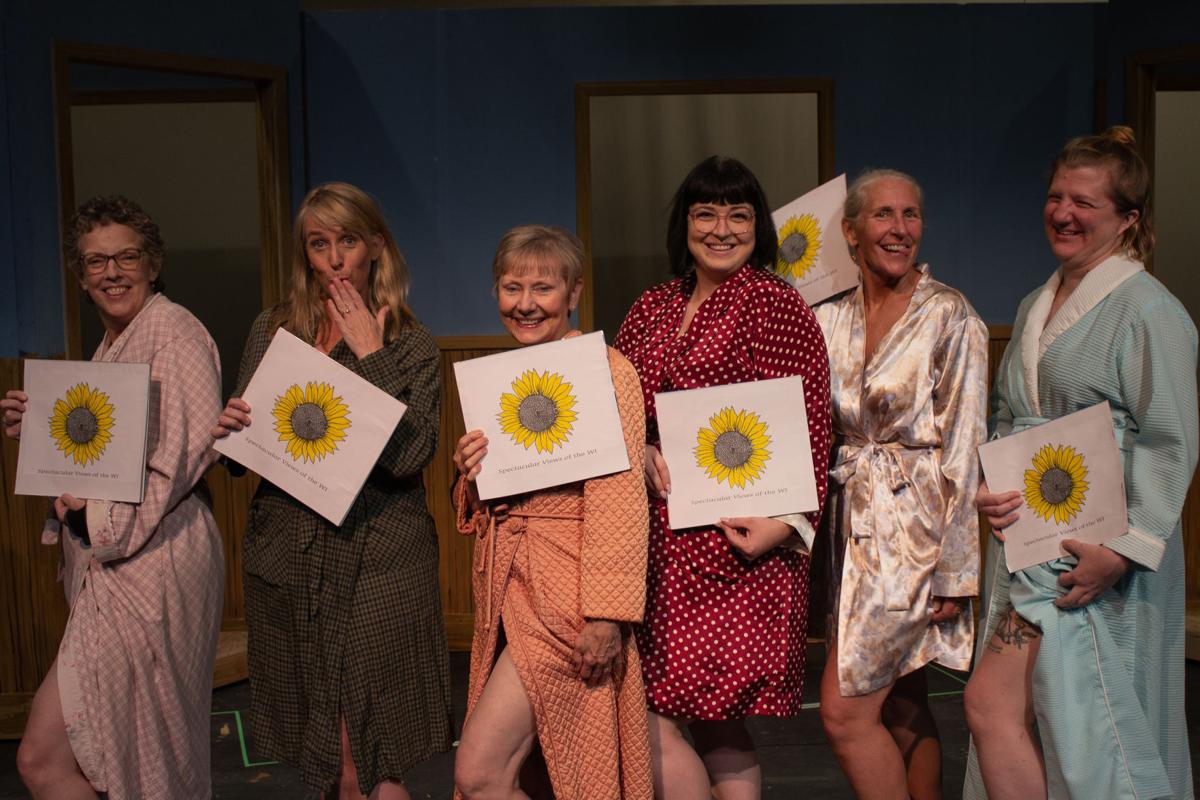 Morrie Enders took painstaking care to make sure the cast of "Calendar Girls," which opens Friday at the Lincoln Community Playhouse, featured women of all ages, shapes and sizes.
It's what makes a storyline that some might consider risqué to be more in tune with inclusivity, acceptance and female empowerment.
"There is such great camaraderie with the women of this cast," said Cecilia Burkhart," the eldest of the six co-stars who replicate a true story about a group of women in England who raised money for leukemia research and a new couch in a hospital waiting room -- after one of their husbands tragically dies from the dreaded form of cancer -- by creating and starring in a nude calendar.
The initial printing quickly sold out and gained international media attention. The women were flown to Southern California to appear on "The Tonight Show with Jay Leno." The publicity surrounding the calendar is life-changing.
"It's a delightful comedy," said Enders, the Playhouse's executive director who is also serving as this production's director. "These were normal women, not pin-up models. That's what we wanted. It's about body love, sisterhood and the affirmation of your body."
The headliners of the play are Burkhart (Jessie), Kay Siebler (Chris), Deanna Walz (Annie), Gretchen Foley (Cora), Amy Koepke (Celia) and Elizabeth Veverka (Ruth), who will be making her Playhouse debut.
The illusion of nudity during the calendar shoot scene is one that comes with great hilarity because this group of women -- seemingly more suited for a weekly bridge club than in baring it all for all to see – each has a prop that covers them from both the audience and the camera.
"They had clever ways of posing so you don't see anything," Enders said. 
He worked hard to make sure that any misgivings or discomfort was confronted early on.
"I'm comfortable with this," Burkhart said. "I've never done anything exactly like this."
The calendar shoot, while the prevailing theme throughout, is a very short scene. The friendship, camaraderie and self-confidence are the big takeaways from this story, which hit Broadway as both a musical and a dramatic play.
The battle with cancer is what attracted Koepke to audition for her role in the first place.
"For me, I've had great loss in my life from cancer," she said. "I almost feel like my modesty and whatever else is worth giving that to this (play). I wanted to help make it be genuine because I feel like this show deserves it and this subject matter deserves that."