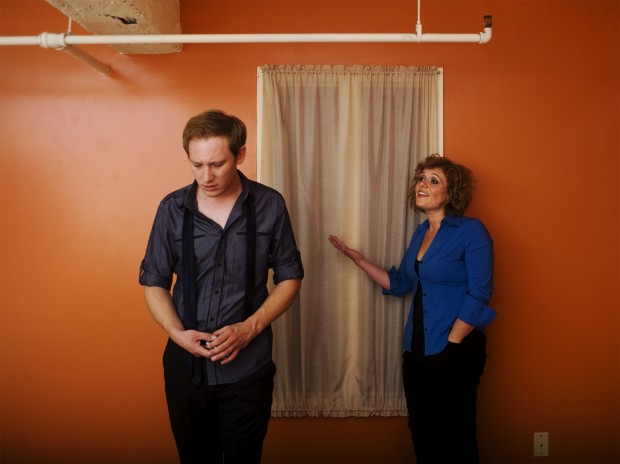 Neil LaBute has a reputation for writing uncomfortable plays, and none may be more unsettling than "The Mercy Seat," the playwright's take on 9/11.
Written by LaBute in 2002, the play takes place on Sept. 12, 2001, as a married man and his mistress, who also is his boss, debate their future.
The day before, the man was at his mistress' apartment when he was supposed to be at the World Trade Center when it was attacked by terrorists.
Expecting that his family believes he was killed in the towers' collapse, the man contemplates using the tragedy to run away and start a new life with his lover.
With the 10th anniversary of 9/11 approaching, The Angels Theatre Company will stage LaBute's drama next week at the Haymarket Theatre. Directed by Judith K. Hart, "The Mercy Seat" stars Sean McGill and Becky Key Boesen.
"I love the script," said Boesen, the theater company's new artistic director who selected the piece to kick off the Angels' 2011-12 season. "It asks a lot of questions, but doesn't give a lot of answers."
The first production of LaBute's play enjoyed a successful run in New York City, premiering in December 2002. It featured noted film and stage actors Liev Schreiber and Sigourney Weaver playing the adulterous couple.
In a New York Times article, Schreiber said he was impressed by LaBute's willingness to probe nonheroic feelings that disaster can inspire.
"It's much easier to be antiseptic, to remember it in a clean way, in a beautiful way, to wrap it up in a nice package and put it away," Schreiber told the Times. "It makes it easier to move on. But we have very complicated and disturbing feelings around loss and grief and terror. To address those issues and feelings head on in all of their ugly and naked glory helps us process it, to deal with it better the next time we confront it."
In interviews, LaBute said "The Mercy Seat" resulted from what happened to him on 9/11. He was in Chicago when the World Trade Center was attacked, planning to be back in New York on Sept. 13 to start rehearsals of a new play.
With flights canceled, he was forced to take a train back east. His normal two-hour commute turned into an irritating 21-hour train ride. He was not happy.
"I remember thinking, 'Ooh, that's not a very good thought to have,'" he said in an interview. "I knew it wasn't right, but the thought had already come out."
LaBute guessed he wasn't the only one thinking these kind of thoughts. He turned the idea into a thought-provoking piece of theater.
"I wouldn't say that these people are not likable," said McGill, who will appear with Boesen for the first time on a Lincoln stage. "It's just that these are very real people in a very extravagant situation."
Said Boesen: "These characters don't necessarily make good or moral choices, but there's something compelling about them, and there's something that can be related to."
Boesen comes to "The Mercy Seat" after playing the title character this summer in the Nebraska Repertory Theatre's production of "Becky's New Car." McGill recently concluded his summer melodrama commitment at Mahoney State Park.
"This is not an easy play to lay out there," McGill said. "It's about two people in a tragic situation trying to cope. They're deciding whether to move forward or not."
Stay up-to-date on what's happening
Receive the latest in local entertainment news in your inbox weekly!