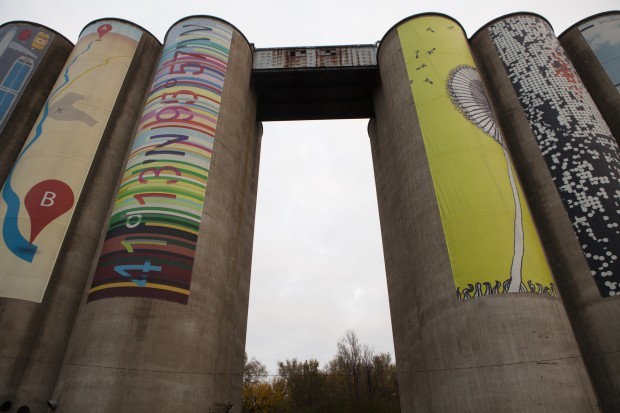 OMAHA -- With fast-moving traffic below them, 500 people gathered June 3 on the 36th Street bridge over Interstate 80 to enjoy dinner, art and conversation.
Organized by the nonprofit organization Emerging Terrain, the event, "Elevate," featured area chefs and spatial designers collaborating in an unexpected space.
Teams designed and built 19 "elevation stations" that lined the bridge and served a small dinner course prepared with locally sourced ingredients.
"With any arts groups, there are people who don't understand," said Kevin Shinn, owner and executive chef at Lincoln's bread&cup, who participated in one of the stations. "Why close the bridge? Why have a big dinner out there? Why do you need to block the traffic? You will always have that.
"But what it did for me, personally, is it connected me to a lot of other people, especially in Omaha. It not just brought together artists, but it brought a lot of creative people together."
Sitting at a long table inside a vacant building at 17th and Vinton streets in Omaha -- the place Emerging Terrain is renovating into a permanent home -- founder Anne Trumble discussed her nonprofit's successful and highly visible projects.
"Elevate" was a follow-up to the 2010 Harvest Dinner that celebrated Emerging Terrain's inaugural project, "Stored Potential" -- the installation of 13 20-by-80-foot banners on an abandoned grain elevator where I-480 breaks off of I-80 in Omaha. Designers created striking banners interpreting the interrelatedness among land use, food and agriculture.
In May, "Stored Potential" continued with the addition of 13 more banners exploring transportation and its connection to the original theme.
"Every project we do spins off into some other project, which is what we hope," Trumble said. "We hope everything we do inspires someone somewhere and fosters new collaborations between people."
Emerging Terrain inspired Brian Kelly, a University of Nebraska-Lincoln architecture professor, whose banner proposal was one of 26 chosen from more than 1,000 entries.
Kelly created 'concre(A)te synergies," the banner with stairs and windows on it. He also participated in "Elevate," working with chefs from Omaha restaurants M's Pub and Vivace to create "bifurcATE," a z-shaped wooden table representing how the construction of I-80 divided a neighborhood into two.
"I have a ton of respect for what they're doing," Kelly said. "The thing that's incredible about it as well is they are selfless. They are not getting rich off of it. They are doing it for the good of the city, making Omaha a better place to live. I can't believe in it enough. I can't believe in Anne enough."
Trumble is a born-and-raised Nebraskan, growing up on a farm south of Omaha. She earned her bachelor's degree in horticulture at the UNL and her master's degree in landscape architecture from the University of British Columbia in Vancouver, where she also practiced at a firm designing and building public landscapes in France, Italy, Russia and throughout Canada.
She returned to Omaha in 2007 to start Emerging Terrain before heading to New York City, where she was responsible for the design and management of the West 125th Streetscape in Harlem with the NYC Economic Corporation. She ran her Omaha nonprofit from afar before returning to Omaha for good in 2010.
She patterned Emerging Terrain after design groups she'd seen succeeding on both coasts.
"Every city I lived in is full of Emerging Terrains," she said. "They are really building up the local design culture while being this nonprofit entity that's unbiased."
Finding nothing like it her home territory concerned her.
"The community in Omaha is so strong and so enlightened, I knew I could start something that could have an impact," she said.
It hasn't been easy. Fundraising is a chore, Trumble said. The banners, for example, cost between $5,000 and $7,000 each for printing and maintenance. Sponsors receive little in return outside of philanthropic pleasure.
"We're still a little off everybody's radars," Trumble said. "We're not direct arts or social services. We rely heavily on grants."
Still, Trumble's organization has garnered attention and headlines. She won the 2012 Governor's Arts Emerging Leader Award.
"Her nonprofit is allowing her to do some of the things that wouldn't happen in the for-profit world and wouldn't happen in the strictly government worlds," said Richard Sutton, a UNL architecture professor and one of four original Emerging Terrain board members. "She has these innovative ideas about getting people together working on special projects."
Trumble and Emerging Terrain's early success has led to more opportunities and more projects.
The Omaha Chamber of Commerce, for instance, approached Emerging Terrain to collaborate on revitalizing Leavenworth Street between Interstate 480 and 24th Street. The collaboration led to "Trugs," uniquely shaped wood-and-steel seasonal structures used as benches, tables, planters and more.
Now, other cities, communities and organizations are coming to Emerging Terrain to lead projects. It's put the nonprofit in a bit of dilemma, Trumble said. Emerging Terrain doesn't have the time or the resources to say "yes" to these projects.
"Lincoln was one of them," Trumble admitted. "We had to do a lot of soul-searching. Did we want to be a franchising kind of nonprofit?
"(The grain elevator banners) came from the ground up. So that's what's been transformative about it for the city of Omaha. Just replicating that in other communities … we decided there was other more important work to deepen that kind of project here in our own community."
Emerging Terrain is in the midst of its latest and most ambitious project yet. "Shifting Threshholds: Investigating Relationships of the Land" primarily is funded by a grant from the National Endowment of the Arts.
The project explores relationships among people, land, development, ownership, agriculture, history and natural systems at Omaha's suburban/rural edge. It, too, will include a design competition in 2013.
"The Midwest is such a unique condition where suburbia hits the rural edge," Trumble said. "It's kind of nothing but potential."
Stay up-to-date on what's happening
Receive the latest in local entertainment news in your inbox weekly!