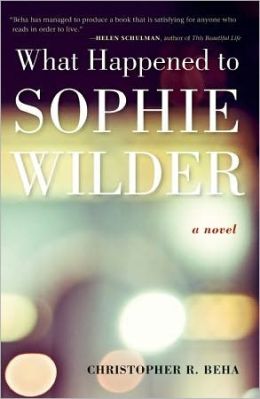 "What Happened to Sophie Wilder," by Christopher Beha, Tin House Books, $15.95
If "What Happened to Sophie Wilder" was what it appears to be on first glance -- a simple story about a lovesick writer and his mysterious on-again, off-again girlfriend -- I would not be writing this review.
But there is far more to it than that. Enough, perhaps, to make it the best fiction I've read all year.
The protagonist, Charlie Blakeman, has just published his first novel, which received mild acclaim but few readers. (He even agrees with some of his bad reviews.) Charlie lives bohemian in New York with his cousin Max, a film critic. He is floundering amid Max's incessant parties and the pressure to follow up his first book with something better.
His former girlfriend, Sophie, whose own collection of short stories catapulted her to renown, blankets his thoughts: "This wasn't just nostalgia -- though I might have idealized what we'd had," Charlie narrates, "I didn't want to recover the past. It was the incompleteness of it that haunted me. The story wasn't finished." Indeed, it wasn't: Long after their intense relationship faded, and Sophie married another, she shows up at Charlie's shabby doorstep.
The novel alternates between chapters recounting what happens next to Sophie and Charlie and chapters chronicling "what happened" to Sophie since she and Charlie split up. By the end of the book, the reader must question -- in a neat metafictional twist, similar to the denouement of Ian McEwan's "Atonement" -- what, in fact, did happen to Sophie and what happens to her and Charlie. This is Beha's first novel, but he already has a firm grip on storytelling.
"The stars are the apexes of what wonderful triangles!" Charlie quotes this famous portion of "Walden," but it's what Thoreau continues to say -- what is left out of the novel and many quote books -- that seems to draw closer to all "What Happened to Sophie Wilder" is about: "Who shall say what prospect life offers to another?" Thoreau writes. "Could a greater miracle take place than for us to look through each other's eyes for an instant?"
Greg Walklin is an attorney and a freelance writer.