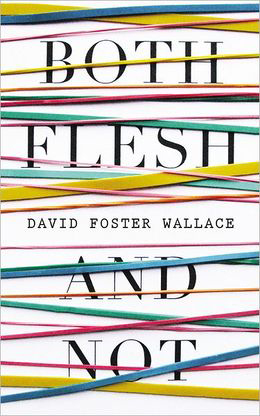 "Both Flesh and Not: Essays" by David Foster Wallace, Little, Brown and Company, $26.95
"I am not a journalist and I don't pretend to be one." Despite this claim — or perhaps because of it — David Foster Wallace wrote some of the most memorable nonfiction of the past quarter-century. Oddly, for a contemporary writer, he is as well-known for his nonfiction as for his fiction: Critical praise of his 1996 novel "Infinite Jest" seems to have no summit, and his essays' footnote-heavy mix of erudition and idiom has been often (poorly) mimicked. A.O. Scott called his style "the voice in your own head." The voice was so self-aware because it sought to — specifically in the fiction — help readers (Wallace once said) "become less alone inside."
You have free articles remaining.
"Both Flesh and Not," Wallace's third published collection of essays, culls most of the last of his uncollected nonfiction, starting with the acclaimed "Federer Both Flesh and Not," Wallace's final major essay published before his death in 2008. Federer, Wallace writes, is "Mozart and Metallica at the same time, and the harmony's somehow exquisite." A supreme meditation on the tennis champion, the piece contains Wallace's best writing on tennis (which is saying something). Federer is to tennis what Wallace is to literature: so perhaps Wallace knows Federer because he's also a harmonious combination of disparate elements.
The rest of the book progresses chronologically through other (inevitably weaker, if still wonderful) essays, including Wallace's deconstruction of the 1995 U.S. Open at Flushing Meadows; his analysis of "Terminator 2" and other "Special Effects Porn"; a blistering takedown of a biography of Borges; and his introduction to The Best American Essays 2007, which transforms into a nuanced exploration of "high-entropy amounts of info" in the current milieu of "Total Noise." There, Wallace observes, "to really try to be informed and literate today is to feel stupid nearly all the time."
Wallace's writing — even in this, his least interesting nonfiction collection — always illuminates, and if only in the reflections or refractions of his light, always makes us less stupid. Above all, he is an essential writer on thinking, on consideration, on the line between flesh and not, between body and mind, between their tensions and their symbiosis. Read this, or anything of his you can.
Greg Walklin is an attorney and a freelance writer.