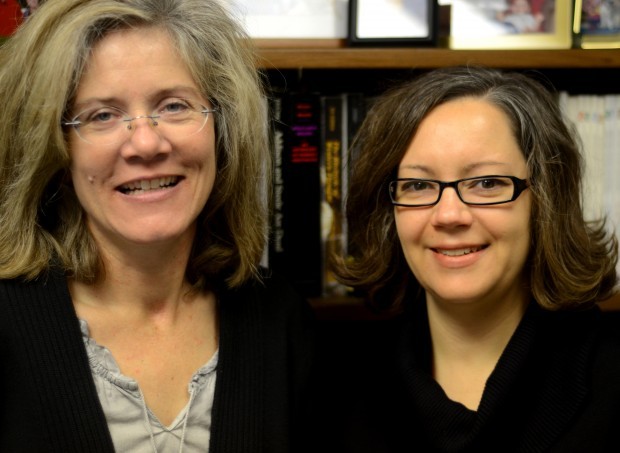 English 100 courses aren't usually something a new college student looks forward to -- reading, writing, rhetoric. Stuffy, dusty classics and a final paper.
But when you add an action-packed modern blockbuster book into the mix, things get a little more interesting. 
For their English 100 courses this semester, Union College professors Jill Morstad and Tanya Cochran decided to make Suzanne Collins' best-seller "The Hunger Games" the classes' core reading material. Composition and grammar are still part of the lessons, but now that stuff centers on adventure, romance and mutant wolf-human hybrids.
"We wanted to choose something that the students would read," Cochran said, "but something that would provide a springboard for critical thinking, for college-level conversation. We knew this book would be compelling to read, whether they loved it or hated it."
For many of the students in both Cochran's and Morstad's classes, this was only the second or third book they'd ever read all the way through. So the book needed to be, well, awesome. 
To the uninitiated, "Hunger Games" is a young-adult sci-fi novel published in 2008 that takes place in a dystopian society where North America once existed. In this new country, a totalitarian Capitol holds power over 12 districts. Once a year, each district sends one boy and one girl to the Capitol to compete in a televised battle to the death -- think "The Lottery" meets "The Running Man." The book follows 16-year-old Katniss Everdeen as she tries to survive the games. 
The book is being adapted into a big-budget movie slated for release this spring, starring Jennifer Lawrence as its heroine and various big names like Woody Harrelson and Donald Sutherland in supporting roles.
"The Hunger Games" is the first part of a trilogy, but these classes focus on just the first book. The goal for both classes is an edited collection of essays inspired by "Hunger Games." Morstad and Cochran are looking for a forum to share the essays at the end of the semester. 
The students had mixed reactions to the book, but pretty much all the reactions were strong. Some loved it, some hated it.
"Early on, some raced through it, and others read according to the pace of the schedule," Morstad said.
Some were so smitten, they even read the next two books. This made class discussion tricky, but they've avoided spoilers so far.
Student Cody Moser, 20, said he hasn't read many books all the way through.
"This book was different for me," he said. "I actually read it and really enjoyed it."
"It makes you think," said student Braden Frishman, "about morals, about society and what it can become."
Cifredo Montano, Cochran's student, had a reaction to the book his teacher said she'll never forget.
Earlier in the semester, Cochran asked students for their gut reactions to the book. Montano, who always sits in the middle seat of the front row, was the first to answer.
"OK," Cochran told him at the time. "Why did you hate it?"
"I hated it," Montano said, "because it made me want to read the second book."