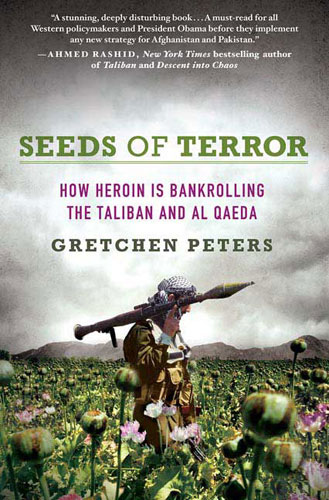 ("Seeds of Terror: How Heroin is Bankrolling the Taliban and Al Qaeda" by Gretchen Peters, Thomas Dunne Books, 286 pages, $25.95)
The war in Afghanistan cannot be won. At least this is a reasonable conclusion after reading Gretchen Peters' "Seeds of Terror."
Why? The answer is simple, according to Peters. The Taliban and Al Qaeda have more money than we do, and they own or buy anyone or anything they want in Afghanistan and most of Pakistan.
Do many of the farmers want the Taliban to go away? Yes. Do they need the money the Taliban pays them to raise opium poppies? Yes. The Taliban stays. A few Afghans actually believe they can destroy the United States through our use of heroin.
The enemy is practically everyone. The villager that smiles at you today shoots at you tonight. Nearly everyone is involved in the heroin trade in one way or another. Heroin brings in billions of dollars. The country's whole economy is built on it. The bad guys control everything from the poppy fields to the banks that wash the dirty money. But if we destroy the poppies we destroy the country, Peters believes.
"Seeds of Terror" includes way more documentation than the average reader needs in order to make its point, but Peters may be aiming at an audience determined to keep pouring dollars and lives into what she believes is currently a lost cause.
Can our efforts be turned into victory? Even her recommendations carry a hollow voice.
Peters is a Harvard graduate who has covered Pakistan and Afghanistan for over a decade for both The Associated Press and ABC News, so she has had opportunity to learn first-hand about the situation.
If you support this war, the book will disturb and enlighten you. If you are against the war, this book will make you sad.
But one sure conclusion is that every time someone is this country sells, buys or uses an opium poppy drug, they are helping to kill our troops.
Jim Danielson is a business owner and teacher.