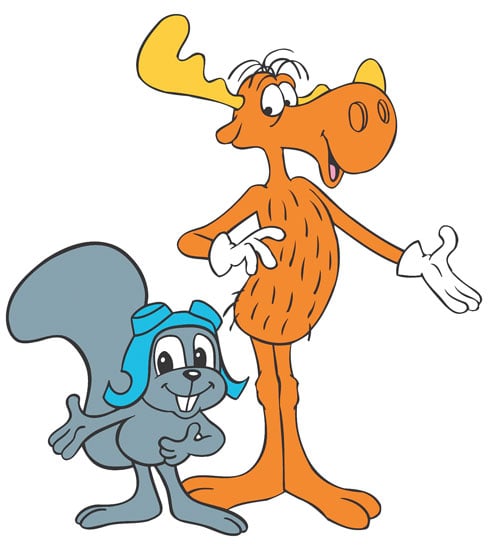 Fifty years ago Thursday, a squirrel wearing an old-school aviator's hat and goggles came flying across the screen followed by a goofy moose, launching arguably the greatest cartoon in television history.
The first episode of "Rocky and His Friends" debuted on ABC on the afternoon of Nov. 19, 1959. It introduced the world to Rocket J. Squirrel (aka Rocky), Bullwinkle J. Moose (occupation: former hatrack), no-goodnick Pottsylvanian spies Boris Badenov and Natasha Fatale, and a wealthy bespectacled dog named Mr. Peabody who took his "pet boy" Sherman on trips into history via the WABAC Machine.
Created by animator Jay Ward, the Rocky and Bullwinkle shows aimed at more than just the usual kid audience. Puns laced the clever dialogue, and topical humor (a la the Cold War spies) connected with adults but went right over the heads of the kids. Both, however, got the fractured takes on fairy tales, Mr. Peabody's wacky meddling in famous events and Bullwinkle's "Mr. Know It All" absurdity.
That combination of smartly hilarious elements created a cult following for the long-running cartoons, now known as "The Adventures of Rocky and Bullwinkle and Friends," and general recognition of the ahead-of-its-time brilliance of Ward's creations.
"We knew at the time how brilliant it was," said June Foray, who did the voices of Rocky and Natasha. "When we were canceled, we thought, 'How could they do that?' But we never thought it would grow to be the cult that it is."
Foray told me that two decades ago when she was in Lincoln to appear with screenings of the cartoons at the old Flatwater Festival. Little has changed about the series since.
Foray is the last living member of the voice cast. Ward died in 1989. Foray credited Ward for the inspiration behind the show and for creating all aspects of the characters.
"Jay wanted an all-American squirrel," Foray said then. "I gave him an all-American squirrel." For Natasha, the sultry secret agent, Foray gave Ward "stupid and sexy," just what he wanted.
The Rocky and Bullwinkle cartoons bounced around after their initial ABC airing. Moving to NBC in 1961 and changing its name to "The Bullwinkle Show," the series become one of the first prime-time cartoons, adding another set of memorable characters in "Dudley Do-Right of the Mounties."
In 1962, Rocky and friends moved to Saturday mornings, then to Sundays, staying on the air for a total of 14 years. Syndication kept them on television for more years before they moved to DVD.
The cartoons spawned a pair of live-action spinoff films: 1999's "Dudley Do-Right" and 2000's "The Adventures of Rocky & Bullwinkle."
"The Adventures of Rocky and Bullwinkle and Friends" no longer airs on TV. But you can watch episodes from the first year at hulu.com.
Hokey Smoke! Moose and squirrel have moved into the digital age.