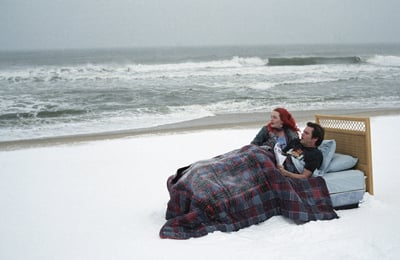 To choose our best of the '00s, we each came up with a list of 25 films, then negotiated their places on the final countdown. Note: No 2009 films made our list, but look for our best of 2009 on Jan. 1, 2010.
1. "Eternal Sunshine of the Spotless Mind" (2004): The decade's best movie hit all the sweet spots between comedy and pathos, romanticism and cynicism, joy and woe. No other '00s movie said what it wanted to say better, or with such grace and originality.
2. "Almost Famous" (2000): Director Cameron Crowe's semi-autobiographical picture is the best movie ever made about rock 'n' roll, but it's about a lot more than just that.
3. "City of God" (opened in Lincoln in 2003): Set in the teeming favelas of Rio de Janeiro, this story of kids in a gang is a riveting crime drama and a look at a culture of poverty and violence that resonates far beyond Brazil.
4. "No Country for Old Men" (2007): The Coen Brothers had a great decade, but nothing compared to this exhilarating Cormac McCarthy adaptation, a mean modern western on a mythic scale.
5. "Lord of the Rings Trilogy" (2001, 2002, 2003): The three LotR films were really one very long movie. Director Peter Jackson and everyone in the New Zealand movie industry did the seemingly impossible, bringing Tolkien's fantasy adventure perfectly to life.
6. "Kill Bill Vol. 1 and 2" (2003, 2004): Quentin Tarantino's uber-stylish paean to splatterly kung-fu trash remains his most quintessential work.
7. "The Royal Tenenbaums" (2001): Inspired by J.D. Salinger's Glass family, Wes Anderson made his warmest, most literary film, with a scathingly funny Gene Hackman at the heart of it.
8. "United 93" (2006): No big stars or flashy special effects here. Just an intense, perfectly written and crafted film about what happened inside the hijacked jet crashed by passengers on 9/11. Director Paul Greengrass made a rare masterwork based on a true, horrific event.
9. "The Dark Knight" (2008): The biggest box-office movie of a box office-obsessed decade was also one of the best. This is a stylish, action-filled comic-book adaptation powered by a memorable final performance by Heath Ledger as the Joker.
10. "Children of Men" (2006): Countless '00s movies strove for relevant political commentary. In taking a fictional scenario where women are unable to get pregnant and humanity is going extinct, "Children" reflects our troubled times better than a dozen heavy-handed polemics.
15. "A History of Violence" (2005)
16. "Moulin Rouge" (2001)
17. "The Fall" (opened in Lincoln in 2008)
18. "Million Dollar Baby" (2004)
19. "Slumdog Millionaire" (2008)
You have free articles remaining.
20. "The Departed" (2006)
21. "Good Night and Good Luck" (2005)
22. "The Diving Bell and the Butterfly" (2007)
24. "I'm Not There" (2007)
1. "The Fog of War" (opened in Lincoln in 2004)
2. "Fahrenheit 9/11" (2004)
5. "Super Size Me" (2004)
6. "When the Levees Broke" (2006) / "Trouble the Water" (2008)
8. "Food Inc." (opened in Lincoln in 2009)
12. "The King of Kong" (2007)
13. "No End in Sight" (2007)
14. "Capturing the Friedmans" (2003)