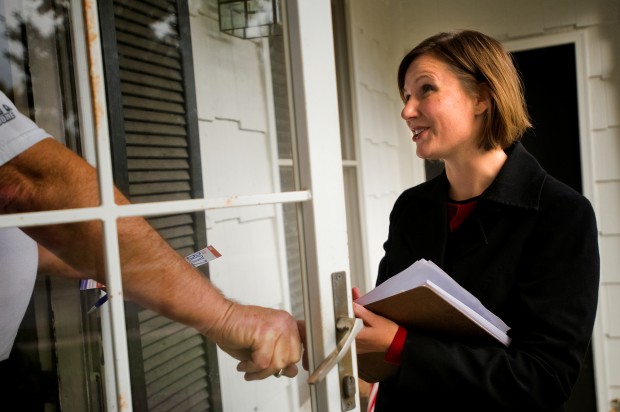 Kate Bolz will replace Sen. Tony Fulton in southeast Lincoln's legislative District 29.
Bolz, 33, beat challenger Larry Zimmerman, 67, who is retired from the Nebraska Farm Bureau. Fewer than 300 votes separated the two candidates in the unofficial count.
Bolz is a Democrat and Zimmerman a Republican in the officially nonpartisan legislative race. Gov. Dave Heineman had endorsed Zimmerman and contributed to his campaign.
Bolz, who will become the fourth woman in the Legislature representing Lancaster County, attributed the win to hard work and the efforts of her team. But she knew it would be close, she said.
"We're grateful that the voters in District 29 put their faith in us," she said.
She said she believed the personal connection to voters, and walking through neighborhoods four times made the difference.
"I really learned the power of listening and the power of being responsive to the people I talked to. And I learned the value of finding good teammates from all different points of view and perspectives," Bolz said.
Her team was made up of people of all ages, different levels of experience and both parties, she said.
Bolz, who works for Nebraska Appleseed, has expressed a desire to serve on the Legislature's Appropriations Committee, the committee that, along with the governor, determines state spending. Her priorities also include education, the economy, kids and older residents.