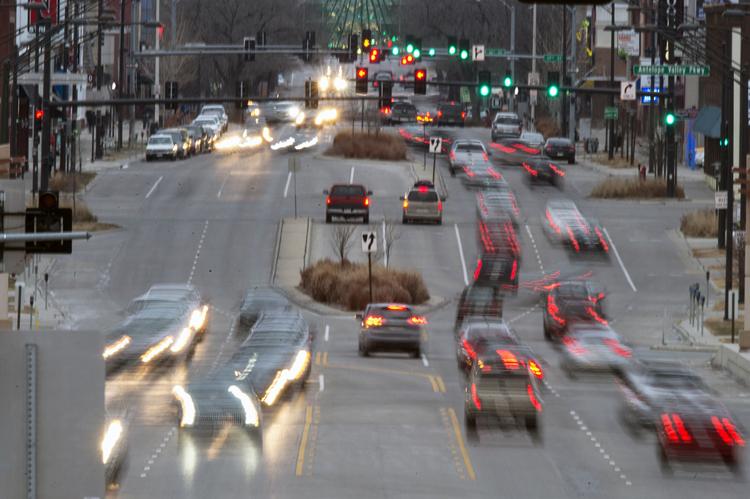 With its combination of new equipment and more sophisticated timing, Green Light Lincoln has shaved minutes off that O Street drive.
Mid-morning on a recent Thursday, Lonnie Burklund, assistant director of Public Works and Utilities, drove east from 25th Street to 70th without stopping at a single red light.
And he would have made it to 84th Street but for one driver, who lingered at the 56th Street light long after it had turned green. Texting, perhaps?
Along the way you could see the lights turning green at the intersections ahead, and the little platoons of cars -- as Burklund calls them -- moving together, down the street and through each intersection.
That's a good sign. Vehicles smoothly moving in platoons along a corridor means the timing of the signals are appropriate, he said.
The O Street corridor, one of nine corridors in Phase 1 of the Green Light Lincoln program, is almost finished. There is just a little tweaking left as drivers and city staff give suggestions and consultants make changes, collect data and write a final report.
The report for O Street, covering the 2.6 miles from 25th Street to Skyway Road (between 70th and 84th) shows these savings:
* It used to take about 10 minutes for people heading west in the morning, to downtown or campus, to drive that 2.6-mile stretch. Now it takes a little over 8 minutes.
* The evening drive home, east from downtown, used to take an average of 11.3 minutes, now it takes around 9½ minutes, an almost two-minute savings.
* Drivers heading west during the evening commute will see the biggest savings, from an average 11.2 minutes to around 8.2 minutes.
And when you add it all up, the annual numbers are big.
Drivers of those 31,100 vehicles that travel O Street daily will collectively save 93,500 hours, 132,700 gallons of fuel and will avoid 6.7 million stops and 13,000 kilograms of emissions over a year.
That's a total savings of $1.8 million, based on consultant calculations and using a standard dollar value for the time saved.
These successful changes mean less frustrated drivers and fewer crashes, according to city public works officials.
The 6.7 million fewer stops along O Street each year will most likely mean fewer rear-end crashes.
"If you can avoid stops or slowing down traffic you reduce the number of rear-end crashes," said Mark Lutjeharms, manager of Lincoln's traffic engineering division.
Drivers are seeing similar improvements in drive time and fewer stops along other major arterials that are part of Phase I of Green Light Lincoln, said Lutjeharms.
Corridors for Phase I were O Street, North 84th Street, South 84th Street, South 70th Street, Vine Street, Capitol Parkway/Normal Boulevard, Antelope Valley Parkway, Nebraska 2 and Cornhusker Highway.
Signals on O Street, and most major arterials, have five separate timing plans — morning commute, midday, evening commute, off-peak evening and late night, where the goal is reducing time spent behind the wheel.
Consultants are reviewing the practice in peer cities of using flashing red signals late at night, instead of green light-red light cycles, to determine whether that is a good idea for Lincoln, Lutjeharms said. It may be that improving detection — 30 percent of the city's intersections had failed vehicle detection systems before the Green Light Lincoln initiative began — will eliminate long waits at intersections in the middle of the night, he said.
There are also special timing plans for big events, including Husker games, both before and after, said Burklund.
Green Light Lincoln includes equipment, software improvements and signal timing adjustments.
It incorporates better detection (cameras rather than coils in the pavement that are hard to replace when they fail); new signals with flashing yellow turn signals that help provide more left-turn flexibility; and changes in signal timing to help get more people through each intersection.
Three consulting firms — Olsson Associates, HDR and Iteris — have been hired to collect the data, develop new standards and recommend new timing plans.
Consultants use information on traffic volumes, which direction traffic is going, the speed limit, even driving habits of the Lincoln public to determine the most efficient cycle length for red lights, green lights, left turns, even for timing between intersections. 
Improvements at 33rd and O streets include:
* A flashing yellow arrow signal in all directions gives greater flexibility. 
* Revised timing — increasing the time the light is green for westbound traffic by 4 seconds and eastbound green time by 9 seconds. 
"Now four seconds may not seem like much, but it allows you to get another three to five vehicles through an intersection in each cycle. That adds up over an hour," said Lutjeharms. 
* Cameras detect vehicles waiting to turn left and adjust flashing and solid arrows accordingly.
* Engineers also adjusted the timing between intersections along O Street, as part of the mission to move more vehicles, more quickly. 
The consultants' work,for the nine corridors, at a cost of about $550,000 this year, will continue as the city moves on to other corridors and intersections across the city. They'll tackle another 115 to 120 intersections next year, in Phase 2, Lutjeharms said.
Staff estimate the hardware changes for Green Light Lincoln will cost an estimated $2 million annually over the next three years as they work to complete all four phases, covering 430 intersections.