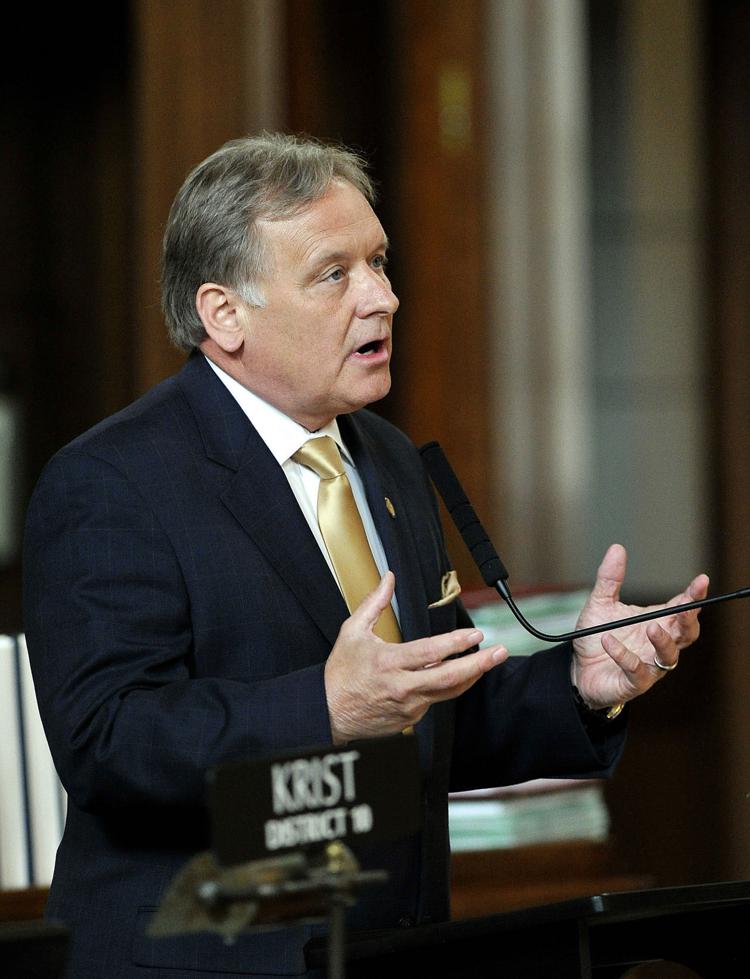 The director of the Nebraska Department of Correctional Services is holding on to the belief that prisons will meet a mandated deadline of July 1, 2020, to reduce crowding. 
Scott Frakes said at the Legislature's Judiciary Committee hearing Wednesday that he still believes the prisons will be at or below 140 percent of capacity by that date. The prisons are at about 156 percent of capacity now, and to get to 140 percent, the average daily population would need to decrease by about 530 inmates.  
Wednesday, Frakes opposed a bill (LB675) introduced by Omaha Sen. Bob Krist that would declare an overcrowding emergency if the prison population doesn't decrease to 140 percent in the next six months. 
A number of Nebraska's prisons continue to be full and overflowing, according to the capacities they were built to hold, and the state is facing an ACLU lawsuit to address crowding and conditions for inmates. 
State senators who feel the tug of oversight of prisons continue to be frustrated at the slow progress of decreasing the number of inmates. 
"Here we sit with a big-block Chevy in neutral, doing absolutely nothing to think outside the parameters of the box that we're in," Krist said. 
When July 1, 2020, arrives, and the emergency is put into place, that's not the time to start bailing water, he said.  
Krist told the committee he isn't suggesting prisons open the floodgates and put dangerous criminals on the streets. He's suggesting looking at options such as paroling inmates who are not a threat to public safety, or compassionate release for inmates with terminal illness, dementia or debilitating conditions. 
"I think the fire needs to be lit," he said. 
The department seems to be addressing the crowding problem by adding prison beds, such as the 100 added at Community Corrections Center-Lincoln and another 100 proposed for the state Penitentiary.
"When do we stop building to capacity?" he said.  
Frakes said releasing people on parole because of capacity does not serve public safety. Sixty percent of inmates who are parole-eligible are serving sentences for violent crimes. And nearly half have served previous sentences. 
There are people who need programming and who are past their parole-eligibility date, he said. Eighty-five have been in treatment and failed, 68 have refused to participate and 119 are on a waiting list. He said the department is providing greater access to treatment.
Rosalyn Cotton, Board of Parole chairwoman, said parole is the ideal way for a person to transition back into the community. However, there are inmates who are parole-eligible but not ready for it. 
"Paroling these individuals would not only pose a serious public safety risk but could also harm the individual's rehabilitation," she said. 
The Parole Board decides who gets parole based on data risk-assessment scores, offense severity, completion of recommended programming and misconduct reports. 
Krist also had hearings Wednesday on:
* A bill (LB672) that would give the Department of Corrections authority to provide medical release of offenders who are terminally ill or permanently incapacitated;
* A bill (LB676) that would allow inmates to be released temporarily to attend a funeral of a relative, contact a potential employer, obtain substance-abuse evaluations or treatment, attend rehabilitative programming or treatment, or participate in a structured program. 
On the medical release bill, Inspector General for Corrections Doug Koebernick said he remembered from his visits to prisons over the past few years one young man with a significant medical condition that would eventually lead to death. The inmate talked about how for the next one to two years he would only be able to stare at white, cinder-block walls and a white ceiling.
"He was not going to be able to really look outside, not really spend much time with family because of his condition. And that was quite impactful," Koebernick said. 
Care for the inmates with the top 10 most-expensive hospital stays was $2.4 million during the last fiscal year, he said. 
About 280 men in prison now are 60 or older. 
Inmates with medical release would be able to apply for Medicaid or Medicare to pay for treatment, or use family insurance or private pay options, and choose an appropriate place for care.  
Cotton said only the Parole Board had authority by law to release inmates before the end of their sentences.
Krist said he had the names of at least five inmates with Alzheimer's disease or a terminal physical illness that were sitting in prison and not being considered for release.
Cotton asked him to send her the names so she could work with the department on those cases. 
"I'm really happy to do that," Krist said.