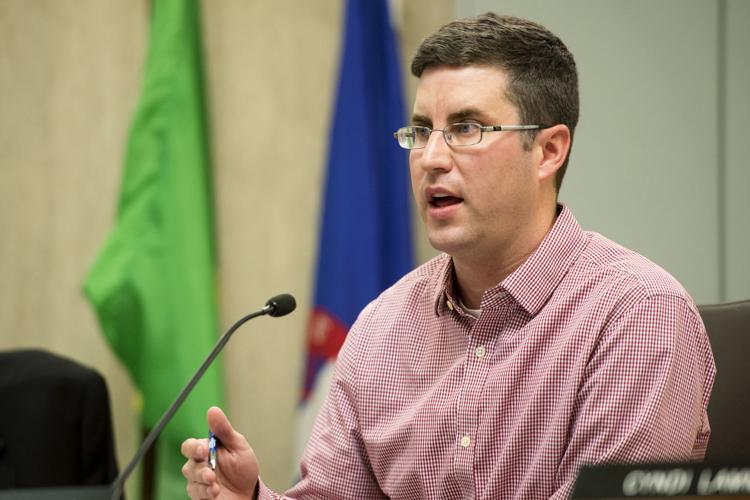 The $1.1 billion plan promoted by supporters of property tax relief can be implemented without gutting any state programs or services, initiative petition spokesman Trent Fellers of Lincoln said Tuesday.
In response to the alarm bells recently sounded by Gov. Pete Ricketts, the executive director of Reform for Nebraska's Future said one way the revenue required to fund the property tax plan could be raised would be elimination of a chunk of the $4 billion in state sales tax exemptions currently in place.
And careful fiscal management of state programs is always part of the approach to conservative government, Fellers said during an interview prior to the pending launch of a statewide property tax initiative petition drive.
To suggest that such a dramatic change in the state's tax system could result in wiping out state agencies or even eliminating funding for the University of Nebraska is "not true," Fellers said.
"It is disappointing to hear leaders at the highest level of state government use that kind of an argument," he said.
"We can do this," he said.
Adding $20 million in state property tax credits each budget year does not address the challenge of high local property taxes "when it's a billion-dollar problem in this state," he said.
"Our focus is to do this in a revenue-neutral fashion," he said, and that can be accomplished by creating a broader base of taxation.
"I think Nebraskans are smart enough not to fall for scare tactics employed by people at the highest level of state government," Fellers said.
"It's time to deal with this even though that might put me at odds with the governor," he said.
The proposed initiative would provide for property tax relief distributed through a state income tax refund or credit equal to 50 percent of local school property taxes paid by Nebraska taxpayers.
Sen. Steve Erdman of Bayard has introduced a bill (LB829) to accomplish the desired property tax relief and Fellers is spearheading the initiative petition drive that would place the issue on the November general election ballot if the Legislature does not act on the measure.
"The Legislature is the place to do that," Fellers said, "but this is a really good backup plan."
Fellers, a Republican who has managed statewide GOP campaigns and recently served on the Lincoln City Council, said he approached the governor's office last year to discuss the property tax issue.
"I took this to the staff and asked for feedback. I wanted to get their thoughts. There was no feedback. Instead, the governor is throwing mud at the idea.
"Maybe we could have solved this together," he said.
"I'd like to see a legislative solution," Fellers said. "But it has to be significant for this issue to go away. Otherwise, we might be right back here in a couple of years."
Responding to concerns he has heard, Fellers emphasized the proposal does not reduce funding for schools. What it does, he said, is "give half of the money back" that taxpayers paid in local property taxes to support the schools.
Fellers said he has been "overwhelmed by the support that people have voiced for this" during trips throughout the state.
"I am not able to move fast enough," he said.