City of Lincoln will allow voters to decide about quarter-cent sales tax to be used for streets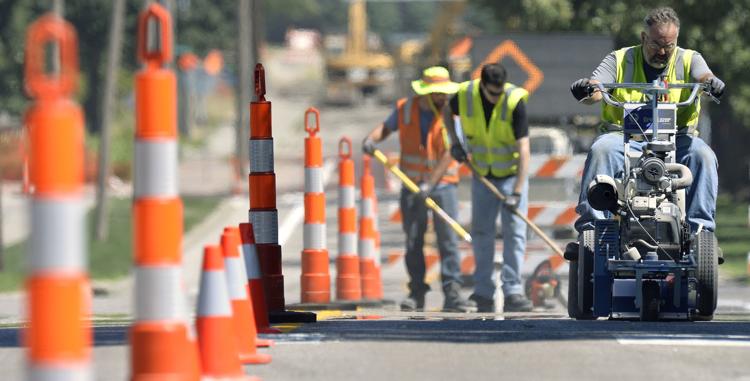 Lincoln voters will decide in April whether to approve a quarter-cent hike in the sales tax, expected to bring in about $13 million annually for street improvements for six years.
The City Council voted 6-1 after a public hearing Monday to put the issue on the April 9 citywide ballot.
Only Cyndi Lamm, a candidate for mayor, voted against putting the issue on the ballot. 
The proposal, Lamm said, turns a deaf ear to constituents, who don't support tax increases. "It seems like the taxpayers are dying a death by a thousand cuts," she said.
"It is time for the city to put proper priority on roads, pay attention to taxpayer dollars and live within our means." 
Another mayoral candidate, Councilwoman Leirion Gaylor Baird, voted to put the issue on the ballot.
"A no vote doesn't get anything done," Gaylor Baird said. "A no vote doesn't let people have the opportunity to weigh in. I want people to have the option to weigh in." 
Also voting in favor were Roy Christensen, Carl Eskridge, Jane Raybould, Jon Camp and Bennie Shobe.
The quarter-cent increase in the city's sales tax would be used only for street maintenance and improvements over the six years the tax would be in effect. It would not pay for sidewalks, bike trails or signals.
Several individuals and a representative for Americans for Prosperity opposed the increase and opposed putting it on the ballot for voter consideration. 
"This idea is ridiculous, it's like an episode out of the 'Twilight Zone,' which presents events that are out of the realm of logical reality," said Jane Kinsey, representing a citizens group Watchdogs of Lincoln Government.
Kinsey pointed to recent notices of higher home valuations, which will likely lead to higher taxes, and the lower-than-expected revenue from the city sales tax.
She also criticized the use of tax-increment financing and money spent for bike lanes "that disrupt traffic" and are used by a small percentage of Lincoln citizens. 
In addition, she pointed to the downtown trolley service and a plan to seek out a private company to bring in electric scooters, "when half the population is overweight and needs to walk." 
This resolution should be voted down and the city should find other ways to take care of the streets, she said. 
Members of the council also approved, on unanimous votes, two companion measures.
They approved a five-year freeze on any increases to impact fees paid by developers on each new home or business and used to help fund wider streets, new parks, and water and sewer lines to new-growth areas of the city. That freeze is part of a compromise with several business groups that are now supporting the quarter-cent sales tax plan.  
Representatives of those groups — the Lincoln Chamber of Commerce, realtors, homebuilders, the Lincoln Independent Business Association — supported the plan during the afternoon public hearing. 
The council also agreed to provide 1.5 percent of the sales tax revenue for use on the joint railroad and street projects around 33rd Street and Cornhusker Highway. State law requires a portion of any additional city sales tax to be used through a joint agreement with another local government. Funding for the Railroad Transportation Safety District project satisfies that requirement. 
The quarter-cent for streets proposal is one more instance where Lincoln can move ahead in a significant and meaningful way, said Mayor Chris Beutler, who spoke at the public hearing. 
He compared the plan to Pinnacle Bank Arena, the South Beltway and the previous quarter-cent tax earmarked for the city's emergency radio system and fire stations. 
And Beutler said the proposal is an example of the Lincoln way, with a series of compromises and then everyone working together. 
A citizens coalition, appointed by the mayor, recommended a sales tax increase as a way to address needed street work and maintenance.
If approved, the average Lincoln family would pay an additional $31 a year for the quarter-cent increase in the city's sales tax. About 30 percent of the revenue would come from people who live outside the city, based on studies of the sales tax. 
People had been paying a higher 1.75-cent city sales tax for the past three years. 
In 2015, city voters approved a three-year, quarter-cent sales tax used to buy a new emergency radio system and build three new fire stations and a combined police-fire station. That tax ended in October.