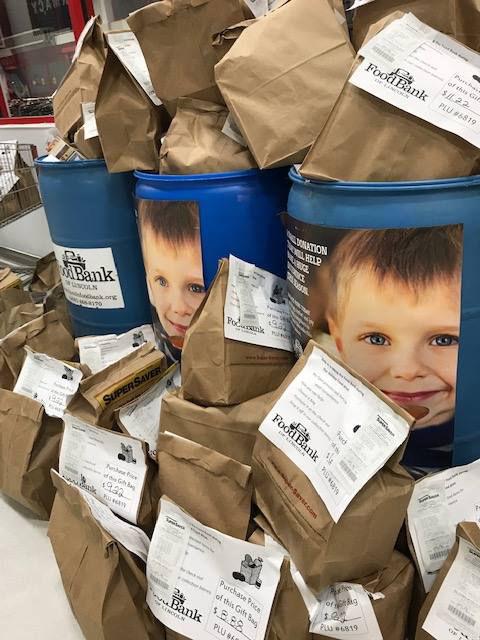 Several local nonprofits say donations are up slightly so far this year despite changes in the federal tax law that provides less incentive for charitable giving, but the final figures — including the all-important holiday weeks — aren't in yet.
"It's something I think about and worry about a little bit," said John Mabry, development director for the Food Bank of Lincoln. "Right now — fingers crossed — people have been very kind and have been giving in a very similar way to last year. We're holding our breath a little bit."
Giving is up about 3 percent over last year at this time, he said, but November and December are traditionally very big months — a common refrain among local nonprofits trying to navigate a new tax landscape.
A provision in the 2017 tax law nearly doubled the standard deduction, which the Congressional Budget Office projects will mean 31 million fewer households will itemize their taxes next year — eliminating the tax incentive for charitable deductions for those families.
Still, donations are up compared to this point last year at both the People's City Mission and HopeSpoke, the new name of the Child Guidance Center. Donations also were up during this year's Give to Lincoln day.
"Lincoln is such a generous place," said HopeSpoke Development Director Jenny Cardwell. "Philanthropy is at the top of people's list."
That follows a national trend: Charitable giving was up 2.6 percent during the first nine months of the year compared to the same time last year, according to the Fundraising Effectiveness Project of the Association of Fundraising Professionals at the Center on Nonprofits and Philanthropy at the Urban Institute.
But there appear to be some shifts.
The increase of about $39,000 in gifts to HopeSpoke — which provides mental health services to children and families — compared to this time last year is due in part to some larger gifts of $1,000 or more given through foundations, Cardwell said.
Some of those gifts come through charitable IRA accounts or from donor-advised accounts. Paula Metcalf, general counsel and vice president for gift planning at the Lincoln Community Foundation, said there's been an increase in donor-advised accounts because they allow donors to give larger sums, which can be held at the foundation and dispersed to individual organizations over time.
"It's a great tool," Metcalf said.
Some donors have considered bundling donations so they can itemize — giving bigger amounts every other year, said Wendy Van, president of the Foundation for Lincoln Public Schools. That possibility has also been considered by some United Way donors.
Brian Wachman, executive director of the United Way of Lincoln and Lancaster County, said that's not a great thing for his organization, which relies heavily on annual donations.
United Way donations will likely be down about 3 percent this year, Wachman said. Many factors play into that decrease, he said, and it's unclear how much tax code changes play a part. Much of the United Way's support comes through workplace campaigns and some businesses have downsized, while others have opened their gift-giving campaigns to other groups, Wachman said.
However, a United Way group for larger donors grew by about nine members, he said.
Still, about 85 percent of their gifts are under $500, Wachman said, and the national United Way organization predicted the tax code changes will result in a 5 percent dip in giving, though it could take a few years before that happens, he said.
Nationally, while charitable giving is up overall, the number of donors is down 4 percent and small donations under $1,000 are down slightly. Tribune News Service reported that gifts from bigger donors are up more than 3 percent, according to the Fundraising Effectiveness Project.
HopeSpoke has seen some new donors, Cardwell said, but they've seen a slight decrease in some gifts under $1,000.
Although giving is up about 5 percent at the People's City Mission so far this year, about 40 percent of the gifts come in the last two months of the year, said mission CEO and Pastor Tom Barber, and the vast majority of donations come from individual donors who give fairly small amounts.
That makes the tax code changes worrisome, especially since the need — not only at the Mission but at other nonprofits like the Food Bank — keeps growing.
"The need is growing faster than the donations," Barber said.
Because of that, Barber said, he's trying to increase the business side of the mission — a recycling program that has nearly made their help center self-supporting, and a contract with the state to house those on probation.
Mabry, with the Food Bank, said he's been more worried about the volatile stock market in recent weeks. He thinks part of the reason donations have continued to come in at similar levels is that people were feeling good financially.
"People are really watching that with a little anxiety," he said.
Last year at this time — with the tax code changes looming — the Food Bank saw some large donations come in at the end of the year. Mabry doesn't know if that will happen again, but he and other nonprofit leaders are cautiously optimistic.
"I would say our best and most loyal donors are that $25 a month that keeps on giving," he said. "It's been really pretty promising that we haven't seen a real downturn so far."