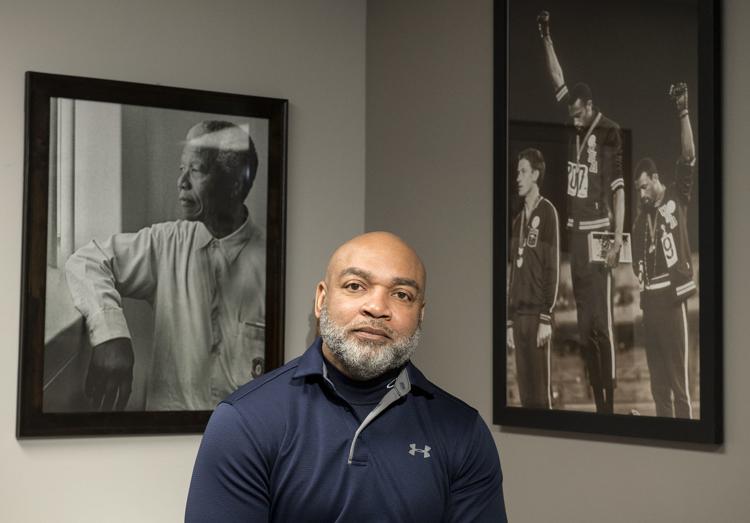 James Davis III is an open book.
Ask him anything, and he will tell you.
"The inmates know who I am and what I'm about," he said. 
To Davis, a deputy ombudsman since 1996, it's about transparency.
That book — the rich life he has led — is worth the reading, said ombudsman Marshall Lux, who recently retired.
"The story is that he's doing things that nobody else is doing, or could do, in our state," Lux explained.
If you've ever seen the movie, "A Few Good Men," you'll remember the oft-quoted speech by Col. Nathan Jessep, played by Jack Nicholson, in which he told a courtroom, "Deep down in places you don't talk about at parties, you want me on that wall, you need me on that wall."
Davis spends a lot of his time not on the wall but behind the walls of the state penitentiary, Lincoln Community Corrections, the Tecumseh prison, the York women's prison and other state lockups.
Wherever he's needed, whatever the problem, he's walking through prison doors and interviewing inmates and corrections officers and wardens, and then administrators, to offer solutions when he can.
That's where he's comfortable. Not sitting in this large conference room in the ombudsman's office, telling his story. 
"I usually don't give interviews; (it's) not like people are knocking down my door asking for interviews," Davis said.
But Lux asked him to do this. His relationship with his now-former boss is a mutual admiration society. Lux took off his rough edges, Davis says, and gave him a different perspective.
Lux counters: Davis came fully equipped to do the job as he does it.
And one of the things Lux is proudest of, as he reflects on his many years in the office, "is working with James and empowering him to do the good work that he does."
*  *  *
Every wall in James Davis III's office in the Centre Terrace building is a tribute to African-American icons.
Frederick Douglass, a slave who became a free man and one of the first black Americans to become a diplomat.
Harriet Tubman, a strong black woman who overcame adversity, and who he looks to for inspiration.
Muhammed Ali, a fighter not only in the ring but out of it, who reminds him to never give up.
Jackie Robinson, Nelson Mandela, Malcolm X, Martin Luther King Jr.
The weighty part of the 58-year-old Davis' story, the richness, is framed by his growing-up years in Washington, D.C.'s predominantly black southeast projects and in his North Carolina summers.
When he was days from turning 3 years old, people marched on Washington for jobs and freedom, and King delivered his famous "I Have a Dream" speech.
When he was 4, the D.C. adults in his life were allowed to vote for U.S. president for the first time. And when he was 5, anti-Vietnam marches erupted.
In 1968, when Davis turned 8, the D.C. schools began busing kids from the projects, and young Davis ended up in a predominantly white school, John Eaton Elementary in Georgetown, two minutes from the Washington National Cathedral.
At the time, the nation's capital had segregated housing, and poor public schools in the inner city, with 92 percent African-American students.
After the assassination of King that year, the D.C. communities erupted in riots for four days. Martial law was declared and the National Guard occupied the district, with heavy artillery moving through the streets. Relationships with police were strained.
With the civil rights movement at its apex, Davis said, his childhood was chaotic.
He and his brother, Yancy, lived with their mother Elaine Alexander and grandmother Mary Alexander. His dad, James Davis Jr., also lived in the district.
During summer vacations, he spent time in North Carolina with his paternal grandmother, great-grandmother and cousins. They lived in a house with indoor plumbing and no running water.
It was a Deep South kind of life.
"There were certain people I couldn't talk to, certain places I couldn't go," he said. "And we would always have to walk in a group so we wouldn't stray off and something would happen to us."
It was his family that shaped him, Davis said, family that took the time to teach him about right and wrong, how to show respect for elders.
From his maternal grandmother Mary, who was both African-American and Native American, he learned perseverance, integrity, respect and to always work at sharpening his skills.
"She was a fiery person. She didn't take any crap," he said.
In 1979, Davis graduated from D.C.'s McKinley Technology High School. His Nebraska life took form when he came to Lincoln that year, via Husker football, to play for Frank Solich on the freshman team.
*  *  *
After leaving college, Davis worked a variety of jobs, then started in 1986 with the Lancaster County Jail as a corrections officer. After a couple of years he moved to the Lancaster County Sheriff's Office as a court officer, transporting inmates.
It was shortly after that, in 1990, when he was 29, that life-as-he-knew-it took a strange turn. He was accused of a crime he didn't commit and thrown into county jail for 10 days.
"It's not like a year, or two years, in segregation. But I do know how it feels to be isolated," Davis said.
Investigators collected his DNA, and a public defender tried to get him to plead to a lesser charge. He wouldn't do it, he said. He didn't commit the crime.
The DNA testing, believed to be the first time it was used in a Lancaster County court case, cleared him and another man, a University of Colorado football player, of the crime with which they were charged. The case was dismissed.
After the charges were dropped, Davis filed a lawsuit against Lancaster County and the city of Lincoln, saying he was arrested even though no evidence implicated him in the crime. It humiliated and disgraced him, damaged his reputation, credit and community standing, and caused him to lose his job.
The civil suits were dismissed, the judge saying that under Nebraska law the city and county had immunity from false arrest and false imprisonment.
Walking through the process of false accusation as he did, he said, gave him more understanding of people who end up in prison without the advantage of a good attorney.
*  *  *
After the experience, his reputation in tatters, Davis sought a way to repair his good name.
Sen. Ernie Chambers stepped in, and in 1991, Davis went to work for him as an administrative aide. Chambers and his longtime legislative aide, Cynthia Grandberry, helped to ground him and to restructure.
He got an education on legislative processes, how to treat people and how to deal with those who might approach him inappropriately. Working with Chambers and Grandberry, handling constituent complaints and inquiries about the departments of corrections, health and human services, and roads, and the University of Nebraska, restored his confidence.
"I became familiar with the complaint system at an early stage," he said.
He worked for Chambers until 1996, then joined the Nebraska Ombudsman's office to work on corrections cases, coming with the recommendation of not only Chambers but Corrections Director Harold Clarke.
"I was one of the first to have a director support me to come and work in the ombudsman's office," he said.
He still has the letter Clarke wrote, he said.
"Now, he later probably regretted it, but still … ," Davis said.
* * * 
You know the story of the Emperor's New Clothes, about the naked king's subjects who don't dare to tell him they don't see his clothes for fear that they will be seen as stupid?
Davis is that rare person who is willing to say to the prison administration: You have no clothes on. The person who calls administrators on an issue that is not what he believes they say it is, he said.
When asked if someone from the Department of Corrections could comment on the work Davis does in the prison, spokeswoman Laura Strimple responded that it would not be appropriate for the department to provide opinions about the work of another government agency.
Davis loves his job, getting out of his office and going to the prisons. He could take a complaint via phone, letter or email, but he wouldn't have the complete picture of what's going on, he said.
"It's a passion," he said. "That's how you learn, when you're out there."
He has been able to calm down inmates, de-escalate altercations, talk to administrators about the rights of prisoners. He works on the problems inmates have in getting access to out-of-cell time, recreation, showers, the law library, visitation, mental health and medical care — those things that contribute to basic quality of life.
"They are inmates, I agree, and their rights have been taken away because they've been sentenced to do time," Davis said. "But we still as a state need to take care of these guys and provide the quality of life that they should have ... because they're going to get out."
They need to be prepared to transition back into society, he said, not come out worse than when they went in.
He asks: How would you like one of those guys who hadn't been treated properly to move in next door to you?
"I use that as a barometer. I want this guy to get this program because he could be my neighbor one day," he said.
Doug Koebernick, the inspector general for Corrections, said Davis plays an important role. He has developed relationships with people throughout the system, including staff, that provide him access others do not have, Koebernick said.
There are many good people working on the front lines, Davis said.
"What I have a problem with is the administration that lacks transparency," he said. "I go over there and I see something different than what they're telling me, then I have to bring it back to the attention of the powers that be.
"I get in the weeds. I talk to folks, I interview inmates, I interview staff ... I get the real story."
Davis does it with respect, of the inmates and the staff, he said.
"I think respect goes a long way," Davis said.
There's no formula, other than building trust and relationships, he said.
"They see me as someone who will listen and deal with their concerns seriously," he said. 
Davis and others in the ombudsman office, including Koebernick, have helped ensure some of the things that happen in other states' prisons, such as staff abusing authority, don't happen so much in Nebraska. 
"I think the fact that we're there, and especially that James is there in those units, has a laudable effect in terms of making it clear that there is accountability and that there are eyes from the outside on that little world," Lux said.